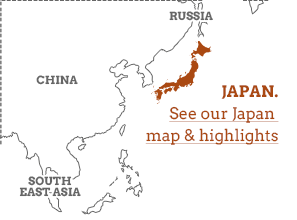 If you havenít been there, just talk to someone who has. People get hooked on Japan. On their rituals, quirkiness, history and innate welcoming nature. Japan has one of the most well preserved cultures in the world with traditions such as tea ceremonies, gift giving, temple going and bathing still playing a central role today. All with a plethora of picture book backdrops: snow covered mountains, volcano lakes, coastal expanses as well as islands and forests scattered along its 3,000 kms archipelago.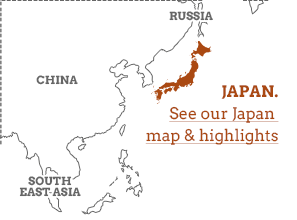 Photos of Japan are so pretty, a temple emerging from a misty lake, or a hike through the most perfect maple forest, they almost look photoshopped.

And joy of Japanese joys, everything is so accessible by public transport too. In fact, you are considered slightly odd if you drive as a tourist. Why would you, when you have bullet trains to get you just about everywhere you want to travel in Japan? Itís a country that runs smoothly, with a culture that is ostensibly soothing too. No wonder people get hooked.

Discover more about this extraordinary collection of islands and ideas in the rest of our Japan travel guide.
Japan is...
captivating, cute and camp, all in a morning
Japan isn't...
laissez faire
What we rate & what we don't
Ryokans rock
Called ryokans, they are the traditional inns in rural areas, with sparse rooms covered in tatami mats, and nothing but a low table for drinking tea or eating meals. Futons will be spread out on the mats when you are out. Or in the bath, because communal baths are also a feature of ryokans. Check out minshuku which are the more budget versions, with less fancy food.
Islands
As well as Japanís four main ones, Japan has over 6000 islands. Combine a spiritual escape on Shikoku, famous for its 88 temples, with a trip to the beach. Or seek out beach bliss when your culture vulture wings tire on the sub-tropical island of Ishigaki, or the Kerama Islands, where they do white sands and clear waters to a T. Turquoise green tea.
Taking the kids
Japan is a great country to
visit with children
as the Japanese make a big fuss over western kids. Japan is also quite childlike as a culture, with cartoons and theme parks everywhere, the traditional ryokans are great value for families, food is brilliant and good value, with bento boxes perfect snacks. And trains are superfast. So no more, Ďare we nearly there yet?í
Winter
Japan is made for winter. Already so well versed in prettiness, the snowfall is simply the icing on its already delicious cake. With over 500 ski resorts, try skiing or snowboarding in the Minakami Mountains, head to the Sapporo Snow Festival, or just take in all the temples looking even more stunning in their blanket of white.
Food
Japan is well known for its fine fare, but in most tourist countries you would expect there to be exceptions to the rule. The fact, it is hard to find bad food in Japan. Yes, they eat some weird stuff, and you want to stay clear of whale meat (unesu or onomi) but, in general, from bento to miso, sushi to sashimi, they just get the gourmand thing.
Rail-y good trains
The train network is impeccable and way up there with Switzerland in terms of speed and efficiency. Most tourists travel by train, from the famous
Shinkansen bullet trains
going between, say, Tokyo and Kyoto, to the sleeper trains into the mountains in Sapporo. Best value is to buy a rail pass in advance of your travels. Tour operators will organise this for you.
Bath time
Hot springs or onsen baths, sand baths, cold baths and even cedar sawdust baths are all on the mellowing out menu in Japan. Water is almost sacred here, with public sento baths everywhere. The same goes for all Japanese homes, where bathing is a whole ritual. Always soap and rinse before you get in the tub though. They are places for chilling, not cleansing.
Hike through history
Hiking
is a must when travelling in Japan, with mountains and forests covering 70% of the country. The Kumano Kodo and Nakasendo Trails are pure rapture for ramblers. The former an ancient pilgrimage route through the richly forested Kii Mountains, and the latter a 17th century historic byway from Kyoto to Edo, now Tokyo. Take a super modern train to Kyoto, and hike back along a parallel path through history.
Geisha tourism
There was a flurry of interest in Geishas a while back, following the film Memoirs of a Geisha. It is a real, albeit fading, tradition, and not aimed at tourists, but youíll spot Ďmaikosí or Ďapprenticesí in the hanamichi (geisha quarters) of Kyoto and Tokyo. Just donít fall for the misnomers that a) they are there purely for tourists and b) even worse, they are prostitutes. They arenít.
Dolphinariums
Although many places in the world are waking up to the fact that dolphins or whales in captivity are just wrong on so many levels, dolphinariums are still big business in Japan. Just ensure that you watch the excellent film,
The Cove
, before you go, and you will never enter a dolphinarium again.
Tsukiji fish market
This got out of hand as a tourist attraction, because it is a serious working fish market, and the sellers were being disturbed by tourists. They have restricted numbers now, but still people queue up at the crack of dawn to get one of the 100 first- come- first-served tickets to witness the tuna auction. Eat at the sushi markets anytime, but leave the people to earn a living first.
Our top Japan Holiday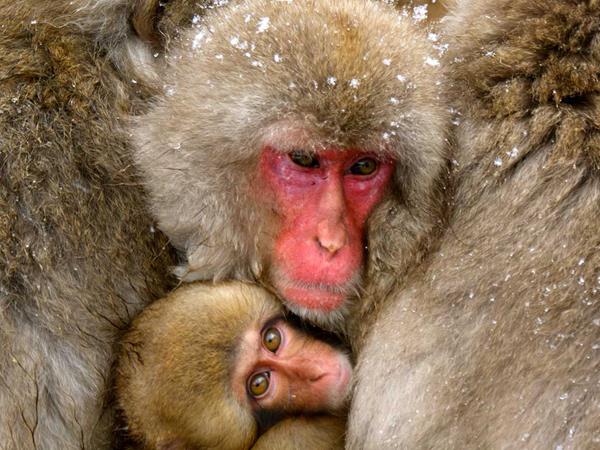 Whistlestop Japan highlights with an expert tour leader
From
£2610

to

£2940
14 days
ex flights
Small group travel:
2022: 28 Feb, 25 Apr, 9 May, 27 Jun, 18 Jul, 22 Aug, 12 Sep, 26 Sep, 10 Oct, 24 Oct, 7 Nov, 21 Nov
2023: 27 Feb, 3 Apr, 8 May, 5 Jun, 26 Jun, 24 Jul, 4 Sep, 9 Oct, 6 Nov, 27 Nov
If you'd like to chat about Japan or need help finding a holiday to suit you we're very happy to help.

Eating & drinking in Japan
I scream for green tea ice cream.

Okonomiyaki, is like an omelette, prepared on a hot plate in front of you.

Mugicha, tea made from roasted barley, very cooling in summer.

Nabemono, or nabe, is a good old winter stew, with lots of variations.

Be warned: 'unesu' or 'onomi' is whale meat. Don't go there.

It is customary for women to give men chocolate on Valentine's Day in Japan. The man then offers her a gift one month later on White Day.

People & language
The national language is, of course, Japanese, with several dialects throughout the country, the standard language known as hyojungo. We are spoiled as tourists because most signs are now written in English. Otherwise, the written language is notoriously hard to understand for foreigners.

Itadakimasu means, ďI humbly receiveĒ and is said before meals, like Bon Appetit.
ohayo gozaimasu - good morning
konnichiwa - good afternoon
konbanwa - good evening
oyasumi nasai - good night
arigatou Ė an informal thank you
Gifts & shopping
Ukiyo-e prints are the traditional wooden block prints, with intricate designs.

Japan is great for junk shops, with gems like antique kimonos and antique pottery or ceramics.

Green tea comes mostly from the hills and plateaus around Shizuoka. Check out the powder form, matcha, with the beautiful handmade bamboo whisks to mix it.

Warosoku Candles with wax from the hazenoki tree and a wick made of traditional Japanese paper.

A Yukata is like a light kimono, wonderful for summer.

The Japanese excel at getting it wrong when translating into English. There is a cartoon character called Wanko the Dog, its merchandise a firm favourite for souvenirs!

How much does it cost?
One way train ticket from Tokyo to Kyoto: £100

Glass of sake: £1.20

Bowl of lunchtime noodles for lunch: £3 for fast street food

Set dinner menu in modest restaurant: £8.50 always with free green tea and water

3 kms taxi in Tokyo: £6-£8
A brief history of Japan
The Japanese donít let the grass grow under their feet. They have gone through extreme changes in their history, with periods of total isolation from the outside world, to rapid external expansion and colonization. Or from a policy of extreme military destruction during World War 2 to pledging peace and being active campaigners for nuclear disarmament still today. The Japanese are also experts at preserving much of the architecture, artifacts and archaeology from these times in history, all of which are top of the list for most Japanese tourists.
Read more