It's one of the great joys of travel that the best way to explore a new culture is to dive wholeheartedly into its cuisine. And where food is concerned, it doesn't get much better than Japan. In fact you would be hard pushed not to eat well here, or healthily for that matter. The average life expectancy in Japan is among the
highest in the world
, and a lot of experts put that down to
the diet
– heavy in fresh vegetables and fruit, seafood and grains. Much of the food you'll eat here is also seasonal, and locally sourced, resulting in both subtle and dramatic differences in the range of dishes and ingredients available at any time of the year. In autumn, for instance, you'll enjoy ginkgo tree nuts freshly roasted with a sprinkle of salt, or slices of foraged
matsutake
mushroom (prized for its aromatic flavour and texture) in a
nabe
hot pot, or fine
dashi
broth. So Japanese cuisine isn't only good for your tastebuds, with the exception of some sushi it's generally good for the planet too, as the food mileage could be measured with a long ruler .
Guides on small group tours take great pride in escorting their guests to their own favourite haunts, where they know the food is good and the atmosphere authentic. In many places you will settle down for meals in family homes, helping to support local communities, especially in regions where Japan's rapidly ageing society and movement of young people to metropolitan centres means that local towns are slowly hollowing out.
With this page we're going to take you through some of the best cities in Japan for food and drink, as well as some of the signature dishes not to be missed. You're advised not to continue reading on an empty stomach.
Tokyo
After an evening out, the capital's 'salarymen' restaurants are perfect for fast, delicious late-night food in an exciting atmosphere. You punch your choice of dish(es) into a vending machine outside, print your tickets and exchange them on entry. Then just pull a stool up to the open kitchen and join in the regular sake toasts, and the singing, until your food arrives.

The Tsukiji fish market is a must-visit when in Tokyo. The massive wholesale seafood market has now been moved to Toyosu, but the sushi restaurants remain at Tsukiji. The market is a sprawling, chaotic landscape where some workers carve up gigantic tuna and swordfish with great aplomb, others clad in aprons and goggles shuck barrel after barrel of oysters and clams, and heavily laden forklifts whizz down narrow channels honking at unwary tourists to get out of the way. Ruth Hubbard, from our specialist tour partner InsideJapan, warns that the market remains very touristy even after the relocation: "If you want to go, you can do so at four in the morning and get one of the first come first served 100 tickets to witness the tuna auction. However, if you want to go along at 8-9am you still get the feel of the market, and there loads of sushi restaurants for breakfast. But remember it is a busy, working market."
Should I eat whale meat in Japan?
Japan's fishing industry is not without its ethical problems. The country started
commercial whaling
again in 2019 – if you see whale
(Geiniku)
on the menu, give it a wide berth. Whales are routinely speared with grenade-tipped harpoons before being hauled aboard ships where they can take hours to die – it's a horrific business. With so many culinary wonders to explore in Japan, there's absolutely no need to encourage this cruel and unsustainable practise. We'd also recommend you avoid
endangered bluefin tuna
, which is both expensive and unsustainably fished. And a
recent report
indicates massive amounts of Japanese seafood imports are actually illegally fished.
If you're on a budget, stick to streetfood – it's inexpensive, and it's almost uniformly fantastic. Fried sweet potatoes tossed with sugar, mirin and soy sauce is a tasty dessert in the Asakusa district. Neil Coletta of our specialist holiday operator Intrepid, is a particular fan of
nikuman
, a staple of fast food stalls: "Japan forever reinvents its food and is constantly adding new tastes – both local and foreign – to traditional dishes. You can get a range of alternate takes on the traditional pork filling, such as pizza, curry, spicy cod, and Korean BBQ, as well as a huge variety of ingredients in steamed sweet buns including chocolate, cream cheese and matcha. There are also regional differences, with Nagasaki's braised pork belly buns being particularly popular." You might also follow the advice of Jeremy Spencer from another of our specialist Japan tour operators, Oku Japan, and consider one of the food halls in Tokyo's many department stores: "They are wonderful places to wander around, trying out samples of things they give out. Mitsukoshi is the most upmarket store, such as the one in the Ginza area of Tokyo."
Kyoto
Regional specialities in Kyoto include ornate Kyo-wagashi (sweets), hamo – conger eel, and silken tofu known as yudofu using recipes perfected by Buddhist monks over hundreds of years. Even meat eaters will happily tuck into tofu dishes in Japan, and while vegetarianism as a concept isn't that well-known, if you want to stick to plant-based foods you will have very little difficulty, especially if travelling with one of our specialist operators such as Oku Japan, as Ruth Hubbard explains: "We give our vegetarian customers a translation of ingredients they can or can't eat, they can show it to restaurants when they go there, so that they don't serve it."
Kyoto is the city to try a cookery class to master a few
obanzai ryori
(home-cooked) dishes, which requires seasonal and locally sourced vegetables, or a lesson in how to assemble the perfect
bento box
with friendly and helpful tuition from a professional Japanese chef – never go hungry on a bullet train again. Neil Coletta on what distinguishes Kyoto from elsewhere: "As you might expect, Kyoto as the former imperial capital infuses its food with an extra layer of refinement. In terms of presentation alone, it definitely stands out. The careful selection of serving plates, artful arrangement of individual elements, and complete alignment with the season is best evidenced in kaiseki haute cuisine."
And if you'd like to learn the mystic arts of the traditional Japanese tea ceremony – everything from how to prepare and clean the utensils correctly, to how deep to bow upon receiving a cup, then a tour of a local Kyoto tea farm will be ideal. Neil Coletta explains some of the intricacies involved: "The tea ceremony is delivered by experienced tea masters dressed in kimonos in a traditional Japanese setting. From the colour and design of the kimono worn by the tea master to the selection of the tea bowl for the whisked matcha tea and ikebana arrangement or scroll in the alcove in the tea room, all are selected to make the perfect seasonal statement." You can walk through tea fields surrounded by mountains to learn about how the tea is farmed, and taste a variety of homegrown specialities including the famous
matcha
.
Osaka
Osaka is Japan's best-known foodie city, the best place in the country to embark upon a streetfood safari, especially in the legendary canalside Dotonbori district. The motto here is 'kuidaore' – eat until you drop, so unbuckle that belt and indulge. Okonomiyaki, a savoury pancake, is the must-try dish, but you might also try skewers of meat and vegetables known as kushikatsu, or takoyaki, a hot snack comprising shredded octopus with pickled ginger and spring onion, cooked with batter.

Hitting up the stalls and little side-street restaurants of Osaka will send your tastebuds to ecstasy, and also support local producers and businesses – something that makes the food taste even better. Neil Coletta considers it to be Japan's most accessible destination for foodie travellers: "Osaka is known unofficially as the 'kitchen of Japan.' It's a very welcoming city where you can walk into an affordable restaurant that looks appealing and feel at ease. Osaka is also a place where you can easily rub shoulders with the locals. And there's so many options – whether one of the many backstreet restaurants or a tachinomi (literally 'stand-drink') bar where people stand around tables enjoying a craft beer, sake or shochu on busy street corners."
Takayama
The alpine climate and pure mountain water of Gifu Prefecture are ideal for crafting Japan's signature spirit, sake rice wine. Tour a Takayama brewery to learn about the process involved, as well as to taste some of the strong stuff. You could also opt for a private tasting session, with food pairings, and be taken through a range of wines with a local expert.

Takayama is also the spot to tuck into a portion of Hida-gyu, beef from black-haired Japanese cattle raised for at least 14 months. True, we all need to eat much, much less meat, especially beef. But if you're not ready to go full vegan quite yet, gloriously marbled Japanese beef certainly won't convince you.
You can make up for your carnivorous shame with an overnight stay in a Buddhist monastery. Here you'll be sleeping on traditional futon bedding and tatami mat floors, joining in early morning prayers and meditation sessions by candlelight, sharing communal baths and eating only simple monastic fare prepared by the novices. Shojin ryori uses seasonal vegetables, tofu and foraged mountain plants, reflecting traditional cuisine that Japanese people ate for centuries before the advent of widespread livestock farming or access to fresh seafood. Monastery stays help to reinvigorate Buddhist centres, providing an income stream to help maintain aging buildings, traditional gardens and community infrastructure.
Our top Japan Holiday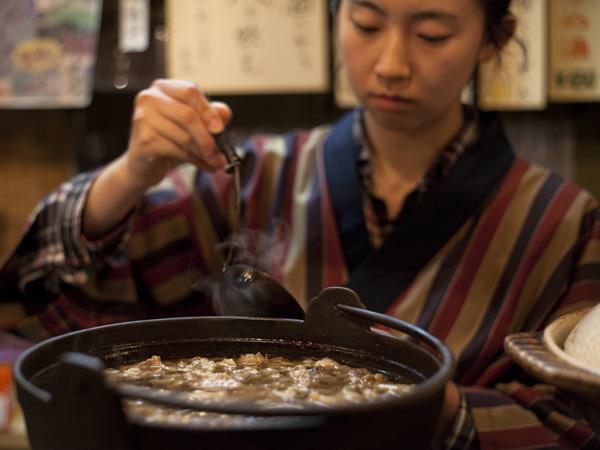 A foodies' dream: a culinary journey across Japan.
From
£3070
15 days
ex flights
Tailor made:
This trip can be tailor made throughout the year to suit your requirements
If you'd like to chat about Japan or need help finding a holiday to suit you we're very happy to help.

Kanazawa
This port city is a great place to sample the freshest seafood straight off the boat, with plenty of restaurants near the harbour which will prepare it for you with rice, noodles or sushi. The attractive teahouse district of Chaya gai is pleasant for an evening stroll, rubbing shoulders with apprentice geisha as they walk between appointments. You can taste wagashi sweets here, which usually accompany a tea ceremony. These delicate confections are an art form dating back to the Edo period, they take a long time to produce, and so by treating yourself, you're also helping to keep a great Japanese tradition going.
Shopping for foodies in Japan
Japan is one of those countries where you really want to bring an empty suitcase on holiday just to load up with souvenirs. Foodies (and drinkies) could probably fill two. Start with a few flasks of excellent
sake
, or whisky. Japanese whisky has been favourably compared with Scotch, and has won many awards, particularly impressive since the first distillery only opened in 1924.
We recommend carrying your own reusable, non-plastic chopsticks everywhere you go (or a knife and fork if you can't get to grips with sticks). Japanese people get through an astonishing
24 billion
sets of
waribashi
(disposable chopsticks) every year. Where to find a pair? A good place to start is Tokyo's famous
Kappabashi
, or Kitchen Town, where you can also purchase plenty of other superbly crafted cutlery, such as knives, that you can pass down generations.
For something a little more unusual, consider
sampuru
. Everywhere in Japan you'll encounter restaurant window displays that render up amazingly realistic displays of their food in plastic. It's actually an art form that has
become a vast industry
. See if you can find a model of your favourite dish.
Some holidays with a foodie bent will make a point of visiting department stores, ceramic studios and local markets where you can witness the wide range of serving dishes and understand their different functions. And when you visit towns that have a distinctive ceramic style or operating kiln, such as Kanazawa, you may also be invited in to learn the style and techniques used.