Japan walking holidays travel guide
The wise words of Japanís most celebrated writer ring true for any traveller, especially walking wanderers. However, if any walking trails in the world are going to shake off the shadow of self, then Japanís will. The combination of ancient history, spirituality and remote mountain landscapes is not only uplifting but unique.

No matter how far you travel, you can never get away from yourself. Itís like your shadow. It follows you everywhere.

Follow in the footsteps of Samurai warriors as they covered the country from Tokyo to Kyoto on the Nakasendo Trail. Or ancient and modern day pilgrims on the spiritual, shrine bedecked Kumano Kodo Trail. The mountains are a spiritual place in Japanese culture, with Mount Fuji being the holiest of holies. However, Mount Koya on the Nakasendo Trail is the site of one of Japanís most revered Buddhist monasteries, and Mt. Gassan, Mt. Haguro and Mt. Yudono, collectively known as the Dewa Sanzan, are all sacred peaks. Religious beliefs aside, there is no getting away from the fact that Japan is hiking heaven.
Our Japan walking Holidays
Is a Japan walking holiday for you?
Go on a Japan walking holiday ifÖ
...you want a completely unique cultural experience along the trail.
...spiritual stop-offs appeal. Temples and shrines are part and parcel of life on the road in Japan.
...staying in traditional inns or ryokans appeals.
...you value the kindness of strangers on your travels. The Japanese welcome is not created for tourists. It is an innate part of their culture.
Donít go on a Japan walking holiday if...
...laissez-faire and going with the flow are your religion. Rules and rituals are big in Japan. ...you donít like Japanese food. You fill your boots on these trips. ...nudity is an issue. Hot spring baths are a common feature in the mountains, and nudity is the norm. Although they are not mixed. ...otherworldliness isnít your thing.
Our top Japan walking Holiday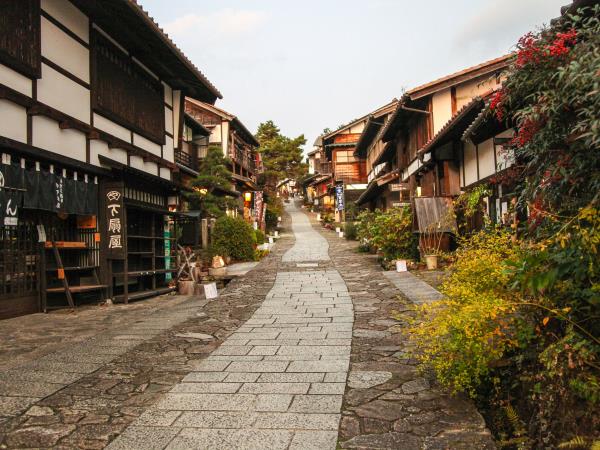 Self-guided walking along Japanís ancient Nakasendo trail
From
£815

to

£1475
5 days
ex flights
Tailor made:
This trip can be tailormade at a time to suit you and can be adapted to suit your interests, budget and requirements as necessary
If you'd like to chat about Japan walking or need help finding a holiday to suit you we're very happy to help.

Walking holidays in Japan
Guided or self-guided?
Japan is so efficient in terms of transport, accommodation and food stops, it is very easy to go hiking here without a guide and so there are plenty of self guided and tailor made options open to you. Organised by experts in Japan, they will give you a good idea of which trails to take on, how much you can do in a day and so on. If you want all decision making taken out of your hands, however, then join a guided, small group walking holiday. Be it on the Nakasendo, Kumano Kodo or summiting Fuji trails. Many people enjoy travelling with like minded hikers especially in a country that is so culturally exciting and unique, and where it is rewarding to have a local guide on tap to help navigate both landscape and culture.
How tough are they?
Japanese walking holidays are often as much about experiencing local history and culture as they are about the hikes. Check the number of days of full walking in the itinerary, because sometimes it might only be for half of the actual trip, if it is a guided trip. If it is tailor made, then you can hike as much as you like. And generally the walking is not too strenuous. On Nakasendo Trail walking holidays, there are only about four days of walking, and outings vary from two to five hours in length on mainly flat-ish, well trodden mountain paths that twist and turn through ancient forests. On Shikoku Island hikes, you will walk on gently rising mountain paths, a bit rough underfoot but nothing too taxing. On the Kumano Kodo Trail, the mountains are a bit tougher and on a guided hiking tour you will walk for about five days, between two and six hours a day, but with more climbs. So, although it is not Kilimanjaro by any means, a good level of fitness is required to tackle up to 1,000m ascents some days. But they are always interspersed with easier days, so donít panic.

If you are going to take on the summits of Fuji or Yari, however, it is a different story. Some days involve six to eight hours of trekking, with challenging climbs and descents on Yari for two days. Indeed the final summit involves a scramble, ladders and chains. This is not for people with knee issues Ė nor vertigo, for that matter. Fuji is not as challenging but you still need to be ready to hike for two days, get up early to summit at sunrise and have a good level of fitness.
Centre based or nomadic?
Most walking holidays in Japan are nomadic, given the linear nature of the famous walking trails. On the Nakasendo and Kumano Kodo Trails you generally walk from one Ďpost towní to the next, stay in traditional ryokan or minshuku inns. On the Nakasendo Trail, you may have an opportunity to stay overnight at the Mount Koyo monastery, sleeping in the traditional temple lodgings known as shukubo. When taking on the summits of Fuji or Yari you will spend a night or two in basic mountain huts with lots of other fellow trekkers waiting to summit, or celebrating their having just done it.
Most walking holidays in Japan also make the most of the countryís brilliant public transport system and use the bus service or bullet Ďshinkansení trains to transit from one walking location to another. Or one city to another. And of course your holiday company will organise these for you.