Kumano Kodo Walking Trail in Japan
The history of the Kumano Kodo Trail
To
walk the Kumano Kodo Trail
is to follow in the footsteps of pilgrims going back thousands of years. Pilgrims who have sought out not only the three magnificent Kumano shrines, Kumano Hongu Taisha, Kumano Nachi Taisha and Hayatama Taisha, but also the spiritual influences of the mountains en route. Because these peaks and valleys of the Kii Mountains, straddling the Kii Peninsula south of Kyoto, have long been a focus of worship in themselves, as they are considered to have a sacred power, according to the doctrine known as
sangaku shinko
. This 258km walking route and the shrines that line it evolved during Japanís Heian period (794-1185) when emperors and their entourage emanating from the ancient capital city of Kyoto sought spiritual solace in nature and mountains.
Pilgrims still follow this route to visit the main holy shrines but also many other temples and small Oji shrines that are perfectly poised among bamboo forests, with views overlooking the Pacific or mountain valleys. There are also small, traditional villages to visit en route and ethereal landscapes all around, whether you worship a deity or not.
Kumano Kodo pilgrimage routes
The Kumano Kodo pilgrimage routes can be categorised into three sub-routes: Kiji, Kohechi and Iseji. Most hikers coming from Kyoto only take on a section of it, and the most popular is on the Kiji sub section which runs down the west coast of the peninsula as far as Tanabe and then takes two forks. One fork, the Nakahechi section, goes inland into the mountains and the other fork, the Ohechi section, continues on down the coast. It is the mountainous Nakahechi section that most tourists seek out, taking four or five days to complete. Nakahechi also takes in Hongu Taisha and Hayatama Taisha, two of the three main shrines.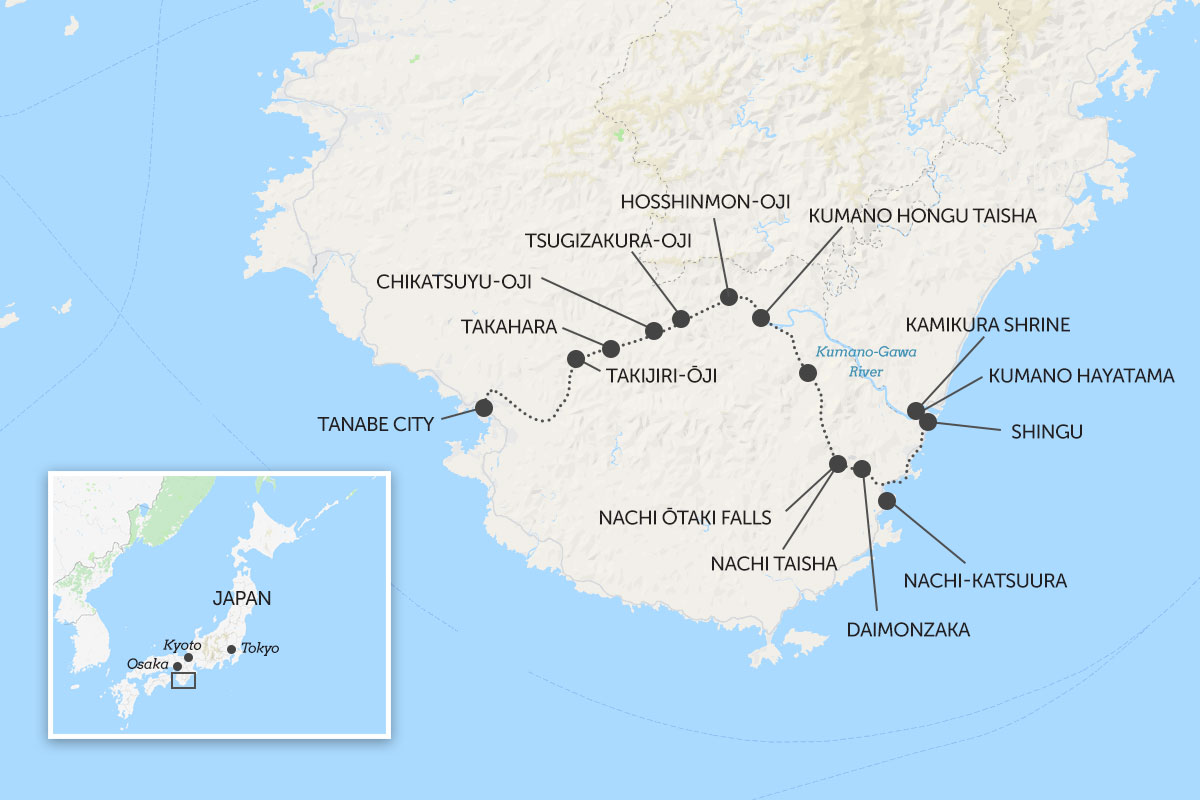 If you'd like to chat about Japan walking or need help finding a holiday to suit you we're very happy to help.

The holiday
On the Nakahechi section you can spend four days walking over mountainous terrain, hiking from west to east and finishing in the coastal town of Katsuura. Choosing either a guided or self guided walking holiday, walkers usually start this section by taking the bullet train to Tanabe, near the gateway to UNESCO World Heritage sacred ground at Takijiri-oji, where they begin a 40km trail to the great shrine Hongu Taisha. You can break up this hike at traditional villages such as Takahara and Chikatsuyu, staying in ryokan or smaller minshuku inns with their own thermal spring baths or onsen. The most celebrated hot spring baths are Yunomine Onsen. Tsuboyu is a small cabin on the creek that runs through this isolated onsen village. Inside is a small rocky bath that is the only UNESCO World Heritage hot spring that you can bathe in, and one where pilgrims have Ďpurified themselvesí before taking the final climb to Hongū Taisha.
This section of the Kumano Kodo Trail also includes a boat ride from Hongu Taisha shrine, down the Kumano River to one of the other main shrines, Hayatama Taisha in the coastal town of Shingu, a unforgettable river pilgrimage that takes in 40km of the Kumano Kodo, and one that is also part of the UNESCO World Heritage Site. Once you have completed this section of the trail, you are zipped back to Kyoto in no time from Katsuura by bullet train.
More Japan walking articles