Takayama
in the Hida Mountain region holds a festival every year to celebrate the blossoms, usually mid April, although they can come in by the end of March. A favourite thing to do is float down the Suimon River in a boat, with petals falling all around.
Nagasaki
has two fabulous places to enjoy the serenity of the
sakura
. One is Omura Park where the ruins of Kushima Castle are surrounded by 2,000 trees. Also, the Peace Park, where 500 trees now thrive, thankfully, from late March until early April. Long may the peace reign.
Hiroshima
is also a moving place to contemplate the transience of life, with the cherry trees starting a journey in Senkoji Park and climbing up the side of Mt. Senkoji (137 m). There are nearly 10,000 trees here and, aptly, some weeping ones too.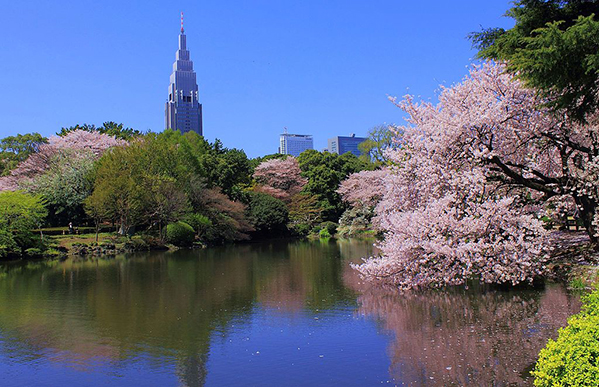 Mount Yoshino
, popular on our walking holidays in Japan, is considered the cherry on the cake when it comes to all things
sakura
. This emanates from a time when pilgrims gifted cherry tree seedlings at the Kinpusen-ji Temple and since then they have been dispersed all over the mountain and those nearby too. You get a monthís worth of blossom here thanks to the different varieties and how they are scattered. April is the best month for Yoshino, usually earlier than later.
In
Tokyo
itself, Ueno and Shinjuku Gyoen Parks are the happening places from late March until late April. With tree lined streets and the world and his wife picnicking and partying, this is a sight to behold not just for prettiness but for all round, flower filled fun in the sun.