Things to see & do in Kyoto & Nara
The former imperial capitals of Kyoto and Nara (Kyoto served as such for 11 centuries until Tokyo claimed the title in 1868, Nara for less than one) complement each other perfectly, and make for a natural combination since they are just 45km, or an hour by train, apart. Both cities are integral to Japan's cultural legacy – geishas with painted faces like living dolls, wrapped in colourful silks wait at traffic crossings alongside salarymen and students in Kyoto; Nara's National Museum holds one of the world's most prestigious collections of Buddhist art, and a superb middle-Edo period tea house,
Hassoan
, on its grounds. Yet Nara is frequently overlooked by visitors, perhaps because it is smaller than Kyoto and because its proximity means it is seen, undeservingly so, as more of a day trip destination.
Across the two cities you'll find an unrivalled collection of ancient temples, pavilions, shrines and palaces; some 22 UNESCO World Heritage Sites; nine
National Treasures
in Nara alone; wonderful traditional festivals such as Kyoto's Yabusame Shinji in May, celebrating horseback archery, and in Nara the Hōryū-ji, a Buddhist temple with a pagoda reckoned to be the oldest wooden building in the world. Of the two, Nara has the more relaxed atmosphere, Kyoto a sometimes disconcerting blend of modern metropolis and such historic significance that it was deliberately spared from Allied bombing in World War II.
In recent years Kyoto locals have bridled at increased levels of tourism – the sense of
omotenashi
, looking after one's guests wholeheartedly, is a little under strain there. So while Kyoto should definitely be on anyone's itinerary, you're well-advised to learn a little of the local etiquette, and spend some of your time in nearby Nara too - both will expand your exposure to Japanese culture and help relieve some of the strain on Kyoto.
Highlights of Kyoto
In 2017 a number of media stories appeared outlining the complaints of Kyoto locals that their buses were becoming full with bulky baggage, and their pavements with inconsiderate tour groups. The growth of unlicensed
minpaku
, short-term holiday lets, has also led to issues with the availability and cost of accommodation, while there have been reports of
tourists hassling geishas on the streets
, and paying scant attention to
local customs
. More responsible tourism here is essential, but there is good reason why tourists are drawn toward Kyoto like samurai to a shogun: because its architecture and culture have been so well-preserved, it's like stepping back into the Japan of centuries past.
Gion
is best seen in the evenings, when trainee geishas can frequently been seen walking under lamplight between the teahouses that line the narrow streets of this historic neighbourhood. As Babur Moghul from our specialist tour operator InsideJapan emphasises however, there is a need for cultural sensitivity here: "Overtourism in Kyoto is causing problems for local people, and one result is there is now a photography ban in the private streets and alleys in Gion. This is due to too many tourists trying to take photos of geisha and ending up chasing them down the street. Our mission is to try to give our guests the best experience of Kyoto, but not at the expense of the local population." Gion is the best place in the city to shop for traditional handicrafts from wooden sandals to fabulously ornate combs, fans and kimonos, and perhaps the best place in all Japan to discover the exquisite art of the tea ceremony.
Nishiki Market
runs for five blocks, and is fondly known as 'Kyoto's Kitchen', while the thousand
torii
gates of the
Fushimi Inari shrine
are among Japan's most iconic landmarks.
In just this one city there are over 1,000 shrines, temples and gardens where cherry blossom blooms. The Tofukuji Temple is famed for its vibrantly colourful leaves in autumn, Nijo Castle was once residence for the Tokugawa shoguns, and the waterside Zen temple of Kinakuji, built in the 14th century, is sheathed in gold. Kyoto is sheer cultural bliss, though known for being incredibly exclusive – without the knowledge that can be obtained from touring the city with a local guide you'll never get further than skin-deep.

To catch the delightful seasonal changes in the vegetation, most people visit Kyoto in spring or autumn, but there is much to recommend coming outside of the peak months - Ruth Hubbard, also from InsideJapan agrees: "I love the really old traditional festivals in Kyoto, such as the the Gion Festival which happens for the month of July and people put on their traditional clothing and parade through the streets." You'll also find it a more pleasant experience with fewer crowds at the big-ticket attractions. Babur Moghul points out the value of joining a small group tour in this respect: "Our tours are led by people who know Kyoto inside-out and can tailor the itinerary not only around your interests but also to less busy locations. At temples such as Fushimi Inari, for example, that are always very popular, they only take you early in the morning or for atmospheric sunsets. Although we advise travelling elsewhere during peak cherry blossom season in early April, most people do want to see the iconic cultural capital in bloom."
Our top trip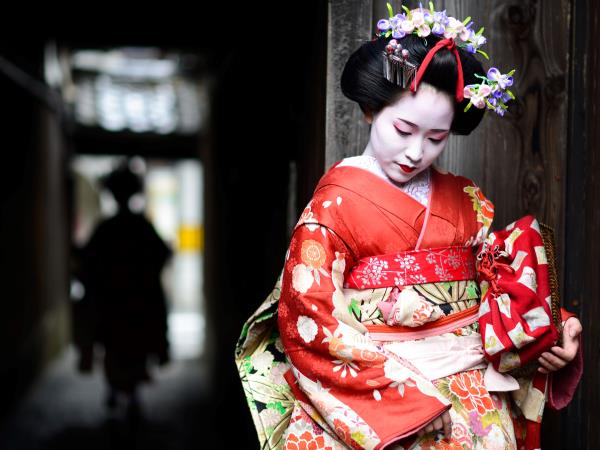 A visually striking railway journey through Japan
From
£5995
14 days
inc UK flights
Tailor made:
This trip can be tailor made throughout the year to suit your requirements
If you'd like to chat about Japan or need help finding a holiday to suit you we're very happy to help.

Highlights of Nara
Not to be outdone, Nara just to the south boasts more than its fair share of cultural treasures too. There are no fewer than eight UNESCO World Heritage Sites including the eight century Tōdai-ji Temple, home to an immense bronze statue of Buddha. Easily walkable, and easy to find your way around, the city is famed for the Nara Koen Park, around which many of the must-see historic attractions such as the Nara National Museum are clustered.
In the history of the Kasuga Taisha Shrine (also located within the park's grounds) it is said that the god Takemikazuchi appeared on a white deer, and since then the animal has been regarded as sacred. The grounds of Nara Koen Park are populated by a large herd of sika (spotted) deer, numbering around 2000. The deer are semi-tame, and can sometimes be fed by hand – indeed there is no shortage of snack vendors around happy to sell you a packet of senbei (crackers) – but the animals are already generously proportioned and will probably survive going without a treat. Naturally, it's important to treat the deer respectfully (harming them is no longer punishable by death but could certainly earn you deportation or even a short prison sentence), and also be warned that their behaviour can be unpredictable. East of the park, the Naramachi district is lined with beautiful old merchants' houses that now serve as boutique shops, restaurants, museums and even a sake brewery – a lovely spot to spend your evening if as we suggest you do spend at least one night in Nara.