Travelling in Kerala with kids
---
What does Responsible Travel recommend?
There is a temptation for this to just become a beach holiday destination for families, with the worldwide epidemic of all-inclusive resorts spreading to this southern tip of India too, and families being particularly vulnerable. There are wild elephants to be seen in the Periyar National Park, rivers to be kayaked along in the famous backwaters and, for those hollow legs, food like you have never tasted in some of the most remote, and unexpected spots . Also, Keralites are very family orientated, and so the more you delve into the culture as a family, the more they welcome you with open arms. You will make friends for life.
Activities for families in Kerala
---
What to do with little ones
Welcome home
You might think that this will take you out of your comfort zone, but staying in a homestay will be one of the most memorable things you will do in Kerala as a family. Keralites genuinely love to include you in their everyday lives, whether it is farming, coir making, visiting the local school, or teaching you their natural cooking skills. Bring a cricket ball and just watch those kids bond in minutes. Bring a bat and they will be friends for life.
Crafty rafting
In peak season you need to book bamboo rafting early, but it is a great way to see Periyar National Park, and you have a much better chance of seeing elephants from a raft, as you drift slowly into remote spots, away from the crowds on the cruise boats. If you are lucky, one will even swim over from the banks to see you. Either way, you will get wet on this trip, making it an ideal way to have a fun time immersion in one of Kerala's wilder spots.
Kayaks are cool
Kayaking through the backwaters is the cool way to go, as you paddle past the traffic jams of houseboats and straight out into the real backwaters, alongside dugout canoes with kids going to and from school, and chatting with farmers and fishermen transporting their produce along the waterways. Plus, it is just a peaceful way to hang out as a family and kayaking guides are always switched on local people, who not only love these waterways, but know them like the back of their hand.

Hello.
If you'd like to chat about Kerala or need help finding a holiday to suit you we're very happy to help.
Rosy & team.
01273 823 700
Travelling in Kerala with kids
---
responsibletravel.com asks the experts
Rajat Kumar, Managing Director of our supplier ExplorIndya
"Kerala and southern India generally are an 'easier' starting point for families compared with the north. The north of India is a product of its turbulent history, and a bit more brusque. Keralites are innately more peaceful, creative and spiritual. It is also more accepting to and tolerant with visitors. And I come from the north, but live here, so I feel I can say that".
Vishal Koshy, general manager of our supplier Kalypso Adventures
"Our advice to families is come with an open mind. Because it is a different culture here. We highly recommend homestays, but don't expect super luxury for example. All the properties have excellent standards and all very well kept, but it is about changing your mindset so that you can make the most of interacting with local people. Then you will have a great time."
Rajat Kumar, Managing Director of our supplier ExplorIndya
"Don't rush a trip to Kerala when you are here with kids and try to do too many things. You can keep the kids occupied with activities, such as kayaking, bamboo rafting or cycling, where they can still discover nature. "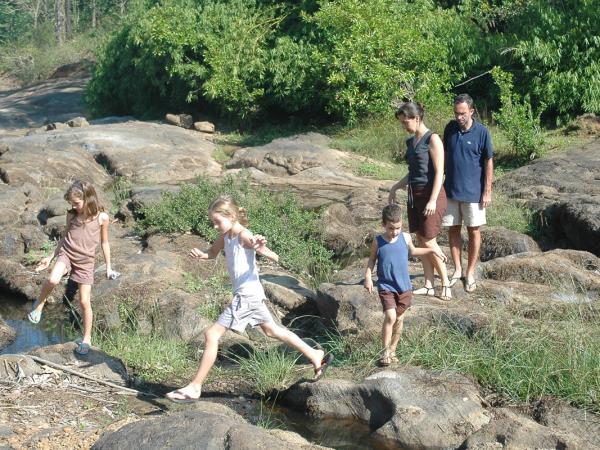 Discover lush green forests & magical Kerala backwaters
From
£985
14 Days
ex flights