What is the food like in Kerala?

Coast, backwaters and cool hill country Ė Keralaís geography explains its diverse and delicious cuisine, characterised by seafood and spices, rice, coconut and simple veggies.

Though small, Kerala is a perfectly formed package of beautiful landscapes, big beaches, exotic wildlife and colonial history, but read any reviews of holidays here and another highlight gets raved about again and again Ė the food! Travellers wax lyrical about the crisp dosas loaded with potato curry served up for breakfast, the fresh seafood simmered in coconut milk, and the epic celebration sadhya meals of rice and numerous tiny, tempting portions of curry, dhal, pickles and pappadams.
Our Kerala Holidays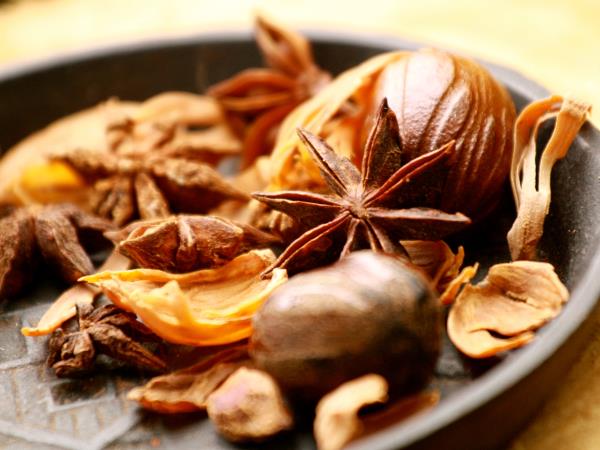 An Immersive Hands-one Culinary journey of food & culture
From
£2500

to

£4000
19 days
ex flights
The geography of Kerala is behind its unique regional cuisine. This southern state occupies a skinny strip of land along India's western coast, packing around 600km of Arabian Sea shoreline, a network of fertile backwaters and the cool slopes of the Western Ghats into its footprint. This multi-layered landscape produces a great diversity of ingredients; travel anywhere and you'll see them growing by the roadside or being plucked from the water.

On the coast, you can watch fishermen bring in the catch of the day, then simply pick your poisson and have it sizzling on the grill in moments. Then travel inland, along coconut groves and past pineapple bushes, rice paddies and mango trees, to find hillsides cloaked in tea bushes and spice plantations where pepper and cardamom grow – the king and queen of spices. Up in the hill country around Thekkady you'll find numerous spice shops and the air is perfumed with cardamom. Down in coastal Kochi, meanwhile, brightly painted warehouses, many of them dating from Dutch colonial times, are piled high with sacks of tea and spices – cloves, nutmeg and mace, cinnamon, cardamom, plus ginger, chillies and pepper of every persuasion. Kochi was the centre of the Keralan spice trade, and merchants began trading spices with the Chinese, Arabs and Portuguese more than 600 years ago. It remains today the commercial centre of Kerala.
Fish
Fish is served everywhere around the coast and backwaters of Kerala, with both freshwater and sea varieties on the menu. Often itís served in a spicy pollichathu style, flavoured with curry leaves, lime juice, onions, garlic, ginger and spices, and then fried. Or you might find it simmering in a bath of coconut milk and mango curry sauce. Keralaís seafood is superb, too. Jhinga kachcia aam kari is a speciality made with green mango and prawns cooked in coconut milk and spices. There are also Goan-Portuguese seafood classics like peixe recheado which is grilled, spice-stuffed fish, a legacy of Portugalís colonisation of Indiaís west coast.
In Kochi, you can see the unusual Chinese nets that local fishermen use, operated from the shore. The nets are strung across bamboo and teak poles which are lowered into the sea, counter-weighted by large stones tied to ropes. On the footpath behind the Chinese nets are several fishmongers, where you can buy the just-caught fish, prawns and lobster, then take it to one of the nearby outdoor restaurants to have it cooked and served for a small extra fee.
Brilliant breakfasts
While bland, Western-style hotels in Kerala will offer up the predictable trio of toast-butter-jam, an authentic Keralan breakfast is way more exciting, nutritious and savoury. Here are some of its classic dishes, fantastic for breakfast but delicious any time of the day.

Appam is a Keralan staple, made with a fermented rice flour batter and coconut milk. Itís a thin pancake with a pillowy centre, typically served with a simple vegetable curry. There are lots of variations on the classic appam, including one with an egg cooked on it, which is the same as the Sri Lankan hopper.

Dosa is also made of fermented batter and looks more like a crispy pancake. Its main ingredients are rice and black gram (a type of bean) ground together to create a smooth batter, then cooked on a hotplate, crepe-style. Itís typically served with sambar (lentil and vegetable stew), chutneys and a potato stuffing.
Uttapam is another pancake-like dish, but unlike a dosa, which is crisp, uttapam is thick, with toppings cooked right into the batter. These might include tomato, onion, chilli, coconut and peppers.
Idli are savoury rice cakes, which look like little white flying saucers, made by steaming a batter of fermented black lentils and rice. They are pretty bland on their own, so for breakfast youíll find them served with lentil stew or chutneys.
Puttu might sound cute but they look more like giant rolled up white flannels. They are made from steamed rice formed into cylinder shapes, usually served with kadala, a black chickpea curry.
Our top Kerala Holiday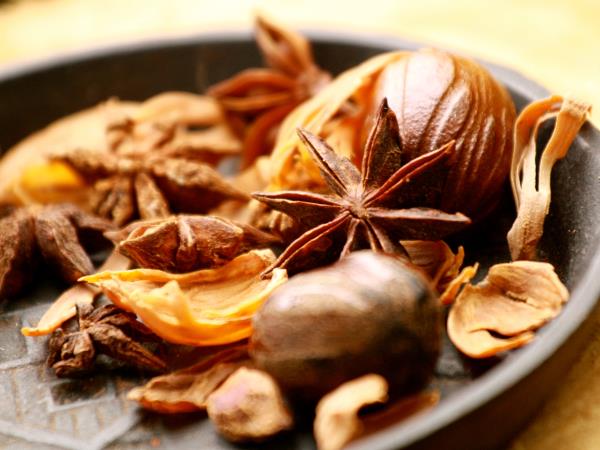 An Immersive Hands-one Culinary journey of food & culture
From
£2500

to

£4000
19 days
ex flights
Tailor made:
This trip can be tailor made throughout the year to suit your requirements
If you'd like to chat about Kerala or need help finding a holiday to suit you we're very happy to help.

Influences and specialities
Syrian Christian dishes
These dishes are traditional to the community of Syrian or Saint Thomas Christians living in Kerala since the first century AD. Many have now found their way into mainstream Keralan cooking, including karimeen, or pearl spot fish. This speckled freshwater fish, which lives in the Keralan backwaters, is traditionally a Syrian Christian delicacy and itís typically marinated in a mixture of lemon juice, red chillies and spices before being wrapped in plantain leaves and baked.
Fish molee is another Syrian Christian speciality, made in a traditional manchatti (earthenware pot). Fish such as kingfish or seer fish is first marinated in lemon juice, salt and chilli, then lightly fried and stewed in coconut milk and spices including turmeric, pepper, cinnamon and cloves. Green chillies are added to produce a flavour that is both tangy and hot.
Malabar cooking
The Malabar region lies in the northern part of Kerala, above the River Bharathapuzha, and itís contributed some tasty dishes to Keralan cuisine. One simple example is the parotta/paratta, a classic street food flatbread. Balls of flour dough are rolled thin, pulled into strips and then curled up. The curled rolls are then rolled out again and cooked on a hot plate, with a splash Ė literally Ė of oil, producing a layered flatbread with a flaky, crispy texture. Chicken cooked in coconut milk is another Malabar classic, as is chatti pathiri, a layered pastry dish that can be sweet or savour.
Sadhya
This celebration meal is served on a banana leaf, and is traditionally eaten by every Keralan during the spring harvest festival of Onam, as well as on other special occasions during the year. A portion of rice is accompanied by at least 10 mini dishes and dollops of deliciousness, all vegetarian, providing an extraordinary array of tastes. Youíll find curries, sambals, pickles and chutneys, as well as small portions of crisp pappadam and servings of sweet kheer and spiced buttermilk. Each taste is balanced following the principles of Ayurveda, promoting equilibrium and a sense of well-being in mind and body.
Where to enjoy Keralan food
Tailor made foodie tours of Kerala exist, which include cooking sessions, farm visits, spice plantation tours and lots of eating, but really, to enjoy the food of Kerala all you need to do is turn up. Great food is everywhere, from luxurious hotels serving delicately spiced classics to friendly homestays where you can see how the morning idli are cooked. Organised small group and tailor made holidays to Kerala will often include a spice plantation tour up in the hill country, a visit to a tea estate, a backwater cruise with freshly caught fish for dinner and coconuts bought from the riverbank with their tops macheted off so you can drink the fresh juice inside. The street food is also superb here, with many breakfast favourites served up as snacks during the day, alongside the waistline-busting banana fritters beloved by all Keralans. Just make sure itís cooked freshly in front of you and youíll be fine.