Masai Mara Conservancies
---
Naboisho Conservancy
The savannah grasslands of the Masai Mara in Kenya play host to one of the most breathtaking and celebrated wildlife experiences in the world. Although packed with wildlife all year round, the highlight is without doubt the annual wildebeest migration from the Serengeti. Over a million of them, along with zebra and other antelope, flood the plains and cross the Mara River dodging the attention of crocodiles and prides of lions along the way.

Naturally, the Masai Mara is popular with tourists. In some areas, it's arguably too popular. Wouldn't it be wonderful to experience the Mara as if you were one of the only tourists? Perhaps to experience it as it used to be, when the Maasai tribe and the wildlife were its only visitors?

Well now you can. In 2010, 500 Maasai families set aside 50,000 acres of their lands in a unique partnership with five highly responsible safari companies, led by Basecamp Explorer, to create a conservancy called Naboisho. This vast area, with some of the highest density of lions in the entire Mara ecosystem, enables small numbers of tourists to experience the Mara in a very different way.

With just a handful of intimate camps (about a fifth of the density of the popular, less controlled areas) Naboisho offers a wilderness experience plus walking safaris and night drives not available in other parts of the Mara ecosystem.

Naboisho means 'meeting' or 'gathering place' in Maasai. This a place where the paths of the wildlife, fellow travellers and the Maasai community - whose ancestral lands you are visiting - come together. The Maasai are equal partners in this new form of tourism, in which the Norwegian Government, via Norfund, has also invested. The Maasai guide you, manage some of the camps, and often join you for dinner. You'll get to know a little about them, their lives and culture and there is nobody better to help you find and understand the wildlife. Income from your visit, paid in the form of guaranteed leases from each of the safari companies, supports their community, education, clinics and conservation.

Naboisho is a special and ancient place. The Maasai and their safari company partners understand this as after all, it's their home. They want you to experience and enjoy it as much as they do. They've tried to create spaces for you to absorb the landscapes, for nature to speak to you, and for you to listen.

I stayed at Basecamp Explorer's Wilderness Camp in Naboisho, a member of Responsible Travel. My wife and I enjoyed it there almost as much as Barack Obama did on his visit judging by the smile on his face in the photos. It's very small, just five luxury tents, and the service is informal but first class - just how we like it. The walking safari guide, Derrick, who trained at the Koyaiki Guiding School nearby, is superb. We were also privileged to witness the Maasai fire ceremony to launch Naboisho.

Highlights of our game viewing was a pride of 14 lions that we encountered twice. The first time we watched them to start to hunt wildebeest as it began to get dark, which was very exciting. Over dinner at Wilderness Camp (perched on a bluff with magnificent views overlooking the plains) the noises of lions calling was so loud that it drowned out conversation. We saw elephant, giraffe (one of our favourites), eland, Thomson's gazelles, zebra and much more besides (including a 7ft African python)...

Hello.
If you'd like to chat about the Masai Mara or need help finding a holiday to suit you we're very happy to help.
Rosy & team.
01273 823 700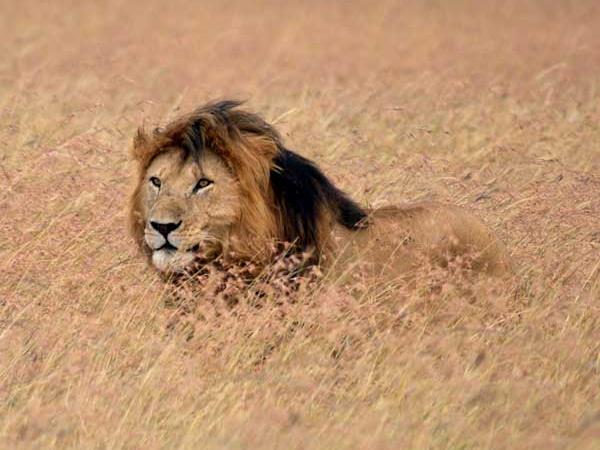 Luxury tailormade safari and beach holidays in Kenya
From
£2835
13 Days
ex flights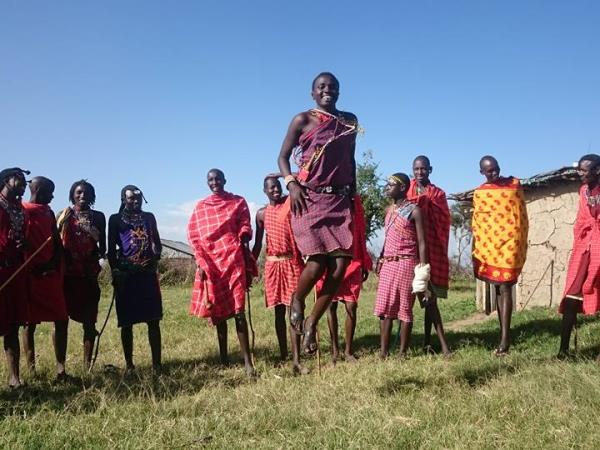 Live with a local Maasai tribe
From
US $70
per person per night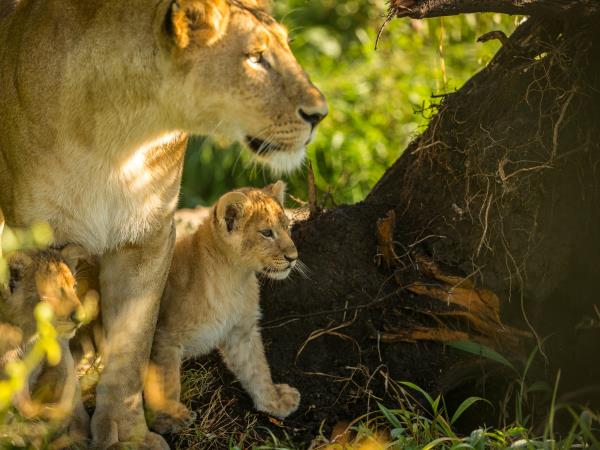 Short on time? Fly in Kenya for maximum adventure!
From
£1880
5 Days
ex flights