Family holidays in Mauritius
"
Ki position
?" It's a familiar Kreol phrase in Mauritius, meaning, "How are things?" Family terms are sometimes added, and you don't always have to be related to be rewarded with these titles of respect:
cousine
,
frère
, and even
mama
and
papa
can be used between friends so close that they're like family, paired with the French
la bise
kisses. When you go on a
family holiday to Mauritius
, you'll bask in this shared warmth and the feeling that you've been temporarily fostered by the islanders.
What with the diverse religions and varied etiquettes that come with them, many Mauritians err on the side of caution when expressing public affection with newbies. However, when you travel with a company like our partner Mauritius Conscious, they skip the 'stranger' part and connect you with Mauritians who are already akin. The tour guides and B&B hosts know you're like-minded folk, because you're exploring the Mauritius they know and love in an exciting and sustainable way.
Family activities in Mauritius
City treasure hunts
Your children can have a go at being tour guides for a day on a city tour in the Mauritian capital, Port Louis. Just hand over the reins to the kids, who'll use a map and clues to work out your route. Fun facts and interesting stops trick young minds into learning about the religions, languages, history, food and architecture all around them.

Gerald Ami, co-founder of our partner Mauritius Conscious, says it works a treat: "The adults will be captivated by the story and everything that behind the story of a building or an area of the city. And at the same time, the kids will be learning some fun facts around the story of Mauritius."
Zip lining
Zip lines (or Tyrolienne) are strung across valleys in the craggy, wild south. Riviere des Galets is a good spot. Six lines add up to a 1.5km-long adventure that swoops you past rainforests, banana plantations and secret waterfalls from 20-40m above. Children usually need to be five years or older to fly.
Sea kayaking
Barrier reefs protect much of the Mauritian coast, sheltering lagoons and bays ideal for sea kayaking with kids. You can paddle for the waterfall in the Grand River South East, the longest river in Mauritius. You'll pass the Bamboo Mountains, moored fishing boats, and forests alive with monkeys and white-tailed tropicbirds. Guided sea kayaking trips to Amber Island, on the east coast, are also a good fit for families. The nature reserve is a mix of ruins left behind from French occupation, knotted mangrove forests and bright turquoise lagoons. Swimming kits and snorkelling gear are essential packing.
Foraging & street food
Food and drink is something to be shared in Mauritius. Children's eyes might glaze over at the words 'biodiversity', 'endemic' and 'permaculture' – but that doesn't mean a botanical tour has to be boring. The best tour guides get kids excited about the concepts without getting caught up in the nitty-gritty.

Walk with a gardener around his beachside (we'll whisper it: permaculture) forest on the west coast. They'll highlight the weirdest and most wonderful botanical facts as you walk among (yes, endemic) trees and explain how their patch promotes (we're just going to say it) biodiversity. You'll finish the day cooking and eating together with the ingredients you find.

For something different, explore Port Louis, the capital city of Mauritius. The street food stalls are made for busy city workers, and a tour guide can zip you between food that's influenced by Indian, Chinese, Madagascan and French cuisine, but is wholly Mauritian. A city food tour is best for older children with more adventurous appetites.
Hiking
Thanks to ancient volcanic activity, the terrain changes every few miles in Mauritius. Basalt monoliths rise from flat forests more suitable for little legs, and river walks lead to waterfalls, caves and natural plunge pools. Raised walkways explore the canopies of Ebony Forest Reserve, where a rewilding project is bringing back native flora and fauna such as prehistoric-looking Mauritian flying foxes and the paradise flycatcher. You can help plant a tree at the end of your walk.
Craft workshops & cooking
Some guest house owners run workshops from their home – an amazing opportunity to learn about their craft. You might learn the dying art of basket weaving, starting out by picking the best vacoa palm leaves and ending up with a little woven box. Other hosts will invite you to market, show you the best produce and meet the people who grow and sell it, before taking you back to the guest house for a cooking lesson. Kids will love getting their hands messy and the passed-down recipe will be one of the best souvenirs you take home with you.
Cycling & fat biking
Mauritius has winding coastal roads made for easy cycling. Pack a swimsuit and picnic in your pannier, and you can stop off at any hidden coves you find. Fat biking is the next step up from mountain biking; oversized tyres easily navigate bumpy terrain. You can explore Wolmar Nature Reserve. Once a Dutch colonial hunting ground, it's now a private reserve of sandy trails through forests home to over 5,000 deer and wild boar.
Our top trip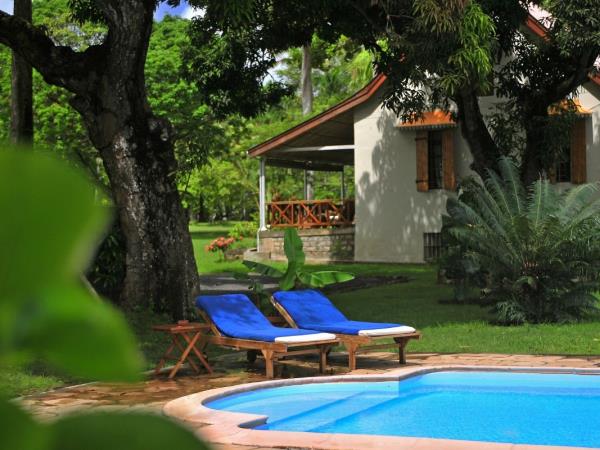 The perfect family activity and beach holiday
From
€4696

to

€5007
11 days
ex flights
Tailor made:
This trip can be tailor made throughout the year to suit your requirements
If you'd like to chat about Mauritius or need help finding a holiday to suit you we're very happy to help.

Family accommodation in Mauritius
It's less about the provision of cots and creature comforts that make accommodation family-friendly – although you can definitely get those – and more about the welcoming hosts with a near-bottomless tolerance for the occasional grumps and unscheduled naps that come with travelling with kids.
You might stay in a traditional Creole auberge with an animal farm (for the kids) and rum distillery (for you). Ecolodges provide camping experiences that are more like glamping. You might not get Wi-Fi (a blessing, if you've heard
that TikTok shanty
one too many times), but you will get comfy, well-equipped elevated tents and free shuttle buses to places like Ile aux Cerfs.
You don't have to worry about getting greens into the children, either – meals will usually be organic and locally produced. That doesn't mean boring; it means
dholl puri
pancakes, lychee and dragon fruit salads, and milkshake-like
alouda
with rose syrup.
What are family holidays to Mauritius like?
Family holidays to Mauritius are usually tailor made, so they can take any form that suits you and your family. Our experts recommend around 11 days in total, moving on every few days so you can easily explore different corners of the islands from your base.
Mauritius has smooth roads that are easily navigated (although driving into congested Port Louis is best avoided), so our tour operators usually include car hire. You can request transfers, if you prefer. If you don't mind a slower, more relaxed way of travelling, you can also try the comprehensive public bus network that spans the island. Gerald says: "A lot of Mauritians use public transport… If you want speed, this is not the most efficient way to travel. If you have your whole day, if you just want to chill, grab a bus."