Mauritius honeymoon ideas
Like many Mauritians, Gerald Ami started his working life in hospitality, and he soon became frustrated by the holiday packages being sold on his home island. "Mauritius was being promoted and sold as a honeymoon destination, pristine beaches, gorgeous resorts… All of this is true, of course: our hotels and beaches really are beautiful. But there's that other part: the authenticity of the island."
Like Indian Ocean neighbours the Maldives and Seychelles, Mauritius has been a popular honeymoon destination since the 1960s. The hotel is usually the holiday. "Five years ago, people were locked in the hotel on an all-inclusive basis and would be taken from the hotel to the excursion and back to the hotel," says Gerald. "Growing up, I really felt that people were not experiencing the best my country had to offer."
Gerald co-founded our partner Mauritius Conscious to create holidays that he felt reflected his home properly.
These honeymoons
are less about the beach resort and more about that heart-skipping feeling of discovering things you didn't know existed: a lychee wine vineyard; the unspoiled lagoons of Ile Aux Aigrettes; Tamarin River at sunset; the soaring landscapes of Black River National Park.
Beach for two
The beaches in Mauritius really are as beautiful as rumour has it – but they're not the beaches you'll see in the honeymooners' resorts. These big hotels have a habit of levelling the coastline, removing dune systems and trees that stitch together ecosystems and prevent flooding. Their beaches are also filled with sunloungers – and lots of other honeymooners.
Our travel partners prefer to show you their favourite beaches: the "imperfect" ones with rugged volcanic edges and flame-red flamboyant trees shading the sand. The only other sunbathers you'll see are endemic Mauritian geckos. You'll find better snorkelling waters here, too. The remnants of long-gone volcanoes are now turquoise lagoons and coral reefs visited by parrot, damsel and angelfish.
Scuba diving trips take you further out into the Indian Ocean. Our Mauritius honeymoons avoid motorised watersports and boats where possible, but when a motorboat is necessary they'll hook you up with a PADI Green Star certified company that abides by exacting marine conservation standards. There won't be any hugging dolphins or stroking sea turtles on their watch.
Rivers flow through the mountainous inland of Mauritius, too. You can kayak to the waterfalls of Grand River South East or go for a sunset stand-up paddle along Tamarin River. When you travel with our partners, they'll make sure it's done with a romantic flourish – picnic and secret beach recommendations included.
Passion projects
Permaculture. There are certainly spicier words in the dictionary, but when you're walking through a beachside forest with a gardener explaining how he's created a food forest that works with – and even boosts – the environment it's in, you can't help but get excited about permaculture too.
You can stay at a guest house with a micro vanilla plantation and homegrown rum distillery, and admire the work that goes into keeping the giant water lilies, baobabs and spice garden in Pamplemousses Botanical Garden. Meet a brilliant cook who'll show you how to whip up a Mauritian recipe from island ingredients – perhaps a puit d'amour (or a "well of love" cherry and coconut tartlet).
"If you were on a honeymoon with the big players on the islands, their highlight would be a super expensive resort," says Gerald. "But ours is something that's more about the discovery of the place."
Rather than anchoring yourself to one place, you'll get the chance to stay in several accommodations. It might be a mountain lodge, boutique hotel on the beach, chic self-catering apartment, or luxury tent in a forest hideaway. Honeymoons in Mauritius are completely tailored, so you can pick a hideaway that suits you.
Our top trip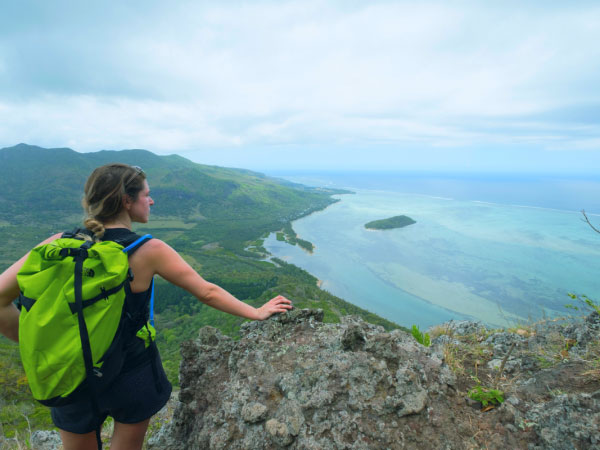 Paradise island hopping in the Indian Ocean
From
€4794

to

€5451
13 days
ex flights
Tailor made:
This trip can be tailor made throughout the year to suit your requirements
If you'd like to chat about Mauritius or need help finding a holiday to suit you we're very happy to help.

LGBTQ+ honeymoons in Mauritius
As we say in our
LGBT travel guide
: we don't sell LGBT holidays; we sell holidays that welcome everyone. However, the countries our holidays operate in can have discriminatory laws and attitudes.
The Mauritian government is good at making noises towards protecting LGBTQ+ rights. The Equal Opportunities Act was introduced in 2008, banning discrimination based on sexual orientation. Alain Wong, Minister of Civil Service and Administrative Reforms, said in 2019: "Let us be clear: everybody is equal. No-one has more rights than others and there should not citizens of first or second category. Therefore, we should all join hands and work together to ensure that there is no discrimination against anyone."
But the Criminal Code criminalises sex between men – a law left over from when the island was colonised by the British. It's rarely been imposed and has been challenged as unconstitutional several times in recent years, but despite ongoing pressure from politicians and the public, the Mauritian government has yet to fully protect LGBT rights in law.
However, Mauritius remains one of the safest places in Africa for LGBT couples. It's a conservative society, so public displays of affection can be frowned upon, but many gay Mauritians
feel safe to do so
. Visit
Collectif Arc-en-Ciel
and the
Human Dignity Trust
for more information on LGBTQ+ rights in Mauritius.