Kazakh eagle hunters in Mongolia
Meet the Kazakh hunters in Western Mongolia
Footage of Kazakh eagle hunters riding on horseback across the vast landscape of Mongolia's Altai Mountains inspired gasps of awe when shown as part of the BBC's Human Planet series in 2011. Clad in animal skins to ward off the sub-zero temperatures, the weathered-faced father and son each rode with one arm outstretched and a huge, blindfolded golden eagle perched on their hands. As a fox sprinted across the plains below, the blindfolds were removed and the eagles soared down to hunt the prey – the ultimate test of the eagle handler's skill. The scene barely looked real, much less like something you might find in the 21st century.

Indeed, the Kazakh practice of hunting with birds of prey is hardly a modern one. Cave paintings depict falconry practices dating back to the Bronze Age, Genghis Khan was said to be a fan, and Marco Polo described eagle hunting with Khan's grandson in the 1100s.

Any intrepid travellers who were awestruck by the Human Planet footage will be thrilled to learn that the Kazakh eagle hunters (berkutchi) are now opening their doors to guests, who can learn about their lives and observe these falconry skills. And modern festivals in Western Mongolia showcase the unique relationship between the hunters and their eagles, along with traditional horsemanship and other aspects of the Kazakh culture.
Why are eagles used for hunting?
Hunting with golden eagles is primarily a source not of meat, but of fur. The main prey species are red and Corsac foxes, hares, wild cats and the occasional wolf; no match for the powerful golden eagle. The Siberian golden eagle, known as berkut, is one of the largest subspecies, and the huge females, which are used for hunting, have wingspans of 2m, with 6cm-long talons. They can weigh over 6kg; hunting with them requires skill, strength and no little courage. Only around 240 Kazakhs actually practice eagle hunting; it's a skill usually passed down through semi nomadic herder families, and is carried out in winter.
Another reason for hunting with eagles is the sense of identity. There are around 100,000 Kazakhs in Western Mongolia, mostly in the semi autonomous province of Bayan-Ulgii. They distinguish themselves from Mongolians by speaking Kazakh and practising Islam; most Mongolians are Buddhist. Eagle hunting is a uniquely Kazakh tradition, which also provides them with traditional fox skin clothing. In 2011, UNESCO added Kazakh eagle hunting to the List of the Intangible Cultural Heritage of Humanity, as an example of living human heritage.
Eagle hunting in Mongolia
How to catch & keep an eagle
Traditionally, female eagles are captured from their nests while a few months old – old enough to survive away from the nest, but not yet able to fly. They are nurtured and trained by their hunter-owner, and a close relationship develops. Hunting only takes place in the winter months, when the vast landscapes are blanketed in snow; once spring arrives the prey species give birth, the eagles are moulting, and hunting ceases. Throughout the summer, the eagles will be chained to a wooden stand, or sometimes a rock, and will be fed to boost their strength. Kazakh eagle hunters are also livestock herders, so there is a constant supply of meat. The eagle will stay with her owner for anywhere between four and 10 years, when she is of breeding age. She is then released as far as possible from her 'home' in order to discourage her from returning. Her owner will continue to check up on her to ensure she is feeding and reintegrating.
To Western eyes, the relationship may seem cruel, or cold, but it is important to remember that these are not pets; they are working animals. The relationship can be compared with that of a farmer and working sheepdog, rather than the cuddly mutts we keep in our homes. The Kazakh hunters have an incredibly close connection with their eagles, they are virtually family members, but it is sometimes hard for outsiders to recognise this.
What can be tricky for the eagle, however, is the influx of tourists. As many of the Kazakh families open their homes to paying guests, or welcome day visitors, the eagles may be crowded by tourists, and by snapping cameras. The eagle is more than used to being left on her rock; she is not used to crowds of strangers.
Our top trip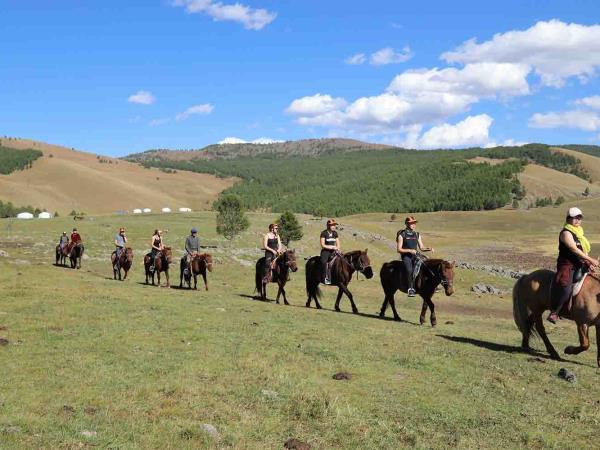 Horseriding & staying with local Nomadic familes in Mongolia
From
£1899
9 days
ex flights
Small group travel:
2024: 6 Jul, 24 Aug
If you'd like to chat about Mongolia or need help finding a holiday to suit you we're very happy to help.

Hunting with the berkutchi
Join a Kazakh eagle hunter in Mongolia
During the Golden Eagle Festivals each spring and autumn, you can stay with local families as you visit the festivals to witness falconry displays and traditional Kazakh games, played on horseback. But to experience real Kazakh eagle hunting, you need to head out into the remote Altai Mountains – and you need to visit in the Mongolian winter.
Out here, all schedules go out of the window. You're on nomad time, and the daily activities depend on your host family, the eagle hunter, and the weather conditions. Days are spent trekking in the mountains, or heading out on horseback. You'll witness the eagle hunt, and the close relationship and communication needed between hunter and eagle. Returning home in the evenings, you may be treated to performances by local musicians playing the dombro – a Kazakh lute.
Visiting Mongolia in winter
is a special experience in itself. These semi nomadic families stay close to home during the iciest months rather than grazing their animals out in the pastures, so you'll have a much more intimate experience of Kazakh herder life.
Responsible tourism in Western Mongolia
Many tours in Western Mongolia offer the chance to meet or stay with Kazakh eagle hunters. Responsible holiday companies will know this region well, are friends with the Kazakh families, and offer very small group tours in a way which benefits the eagle hunters, rather than disrupting their lives. They will employ local guides who have personal connections with these communities, and can check with the families to ensure they are happy to host tourists at certain times. They also safeguard the wellbeing of the younger eagle hunters, which includes a new generation of girls who are taking up the practice for the first time.

We have been made aware recent of reports on hunt companies which are arranging for prey (foxes, rabbits, young wolves) to be pre-captured and then released on demand of the photographers. It is typically the larger tour companies with 'well-heeled' or luxury tourists visiting in the summer/ early spring that are creating this situation. Their tourists are spending big money and want 'results'.

Our operator Eternal Landscapes offers the following advice: "For those concerned about the welfare of the eagles, the Kazakh eagle hunters have a respectful yet practical approach to their eagles - they have a close connection with their eagles - they are virtually family members although it is sometimes hard for outsiders to recognise this. The eagle hunters only hunt in the winter months (early November through to February) as they hunt specifically for the winter coat of the prey. The eagles are released back into the wild after about ten seasons so that they can breed. Once released, the birds are observed to make sure they successfully reintegrate back into the wild."
Jessica Brooks, founder of our leading Mongolia supplier, Eternal Landscapes:
"We ask, 'it is ok to bring people now?' And sometimes they say 'no, we're busy, can you work with another family?' They are all personal contacts that we have sought out. What we never do is just turn up, find a guy with an eagle and stay with him. You can do that, but we prefer to have a relationship with the families. The girls are early to mid teens. I think that's got to impact on them sometimes, so we tend to stay with the older Kazakh hunters, the ones that are typically granddads. When it comes to the younger hunters, we may only stay there one evening then we move on the next day, otherwise it will then impact on their school life and that is the one thing we don't want to do."