John Williamson from our supplier, Zavkhan Trekking, shares his Mongolian cultural advice:
"People travelling to Mongolia should not miss the opportunity to visit a nomadic family. To meet a genuine family and experience their incredible traditional hospitality will be the pinnacle of your trip. They will offer you salty, milky tea, which doesn't sound too appetising, but is actually quite pleasant, and they'll offer you preserved milk products like yoghurt and dried cheeses. There are myriad cultural dos and don'ts, but a few to get you started are: don't hesitate on the threshold of a ger because that questions their hospitality, instead you walk straight in; men walk round to the left and women to the right; and the most respected members of the party sit at the head of the ger. Having a local guide and translator with you is invaluable because it'll save you doing anything wrong and accidentally causing offence and it will help you understand the intricacies of their fascinating way of life."
Jess Brooks from our supplier, Eternal Landscapes shares her advice on what to pack for a trip to Mongolia:
"Bring layers – for warm days, loose-fitting, lightweight cotton materials. For cold days, thermal layers, fleece tops, jumpers, and for inclement weather, a waterproof/windproof jacket. In case you go horse or camel trekking wear trousers (not shorts) and make sure they are not too loose otherwise they may rub. Safety helmets are rarely provided so check this before you arrive."
Jess Brooks from our supplier, Eternal Landscapes shares her Mongolia travel advice for families:
"Mongolia won't necessarily be an 'easy' family holiday. It is the 18th largest country in the world so you must be prepared for some travelling days if you want to experience a variety of landscapes. Make sure your tour vehicle has some books and travel games in it. Try to arrange a trip that includes ger accommodation provided by rural families and ask your tour operator to arrange for you to spend a day helping a nomadic family with their daily chores. This includes activities such as collecting dung to dry for fuel, collecting water from the well and rounding up the sheep and goats for milking. These are all tasks that they repeat day in and day out and they are often delighted and appreciative if you show an interest and get involved"
John Williamson from our supplier, Zavkhan Trekking, shares his Mongolia travel advice for coping with the cusine
"The food in Mongolia is probably some of the worst in the world. Your average nomadic herder in the countryside eats boiled mutton with some flour every day. There are no vegetables or fruit, although you can get those products in Ulaanbaatar and the odd rural location is starting to grow some cabbages, but other than boiled mutton, out in rural Mongolia all you're going to get is dairy products. The yoghurt and cheese they make aren't particularly flavorsome either, but as with any country, you have to try all of those things for an authentic food experience. To cope with the food situation, my tip would be to take some extra provisions from Ulaanbaatar into rural Mongolia with you if you're going to be in the countryside for an extended period. Your tour group will have fruit and vegetables anyway to make sure your meals are made more exciting, but if you like sweet treats then it's handy to grab some chocolate in the city before you leave."
Our top trip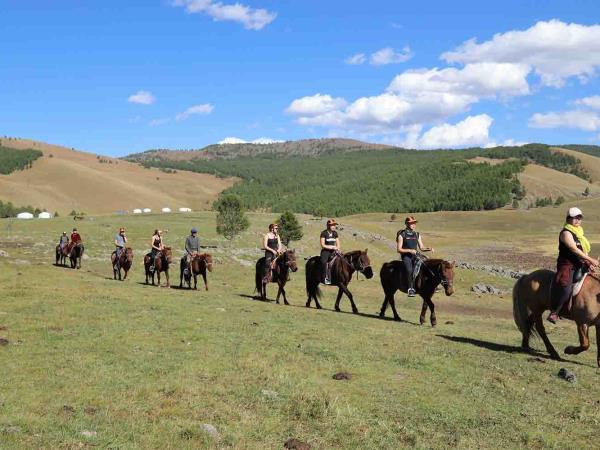 Horseriding & staying with local Nomadic familes in Mongolia
From
£1899
9 days
ex flights
Small group travel:
2024: 6 Jul, 24 Aug
If you'd like to chat about Mongolia or need help finding a holiday to suit you we're very happy to help.

Health & safety in Mongolia
HEALTH
Visit your GP or travel clinic at least 6-8 weeks before departure to ensure you have all the necessary vaccinations and that they are up to date.
Ulaanbaatar's polluted air can aggravate respiratory problems; asthmatics should take particular care. Minimise exposure by staying off the main streets, and think about bringing a filtering face mask if you're spending much time in the city.
Apply insect repellent to skin and clothing to prevent being bitten: wear long sleeves, long trousers, hats and shoes (rather than sandals), and for rural and forested areas, boots are preferable, with trousers tucked in, to prevent tick bites.
Only drink bottled water and avoid ice cubes.
The standard of healthcare in Mongolia is variable, especially outside Ulaanbaatar and even in UB only basic health care is available and Western medicine can be in short supply. Most medicine is imported from China and Russia and the labels won't be in English, so bring whatever you think you might need from home, along with a copy of your prescription.
Medical bills can be high and upfront payment is often expected, so make sure you have comprehensive travel insurance that includes medical evacuation.
Many travellers experience stomach upsets in Mongolia. These are not usually serious, but do be prepared and bring medication including rehydration and diarrhoea remedies to ensure this disrupts your trip as little as possible.
If you need emergency medical assistance during your trip dial 103. Contact your insurance company promptly if you are referred to a medical facility for treatment.


SAFETY
Crime rates in Mongolia are low. However, as with any major city, pickpockets and bag slashers have been known to strike in the more crowded areas of Ulaanbaatar, so be mindful that your valuables are not on show.
The general standard of driving in urban Mongolia is poor and the roads are badly maintained. During your free time, exercise caution when crossing the road.
As with anywhere, walking alone at night isn't recommended in Mongolia and neither is walking alone in the remote countryside.
Homosexuality is not illegal in Mongolia, but it is still frowned upon, so same-sex couples should act discretely.
For more detailed Mongolia safety advice visit the FCO website here.
Mongolia tips from our travellers
At Responsible Travel, we think the best people to advise our travellers are often... other travellers. They always return from our tours with packing tips, weather reports, ideas about what to do - and opinions about what not to.

We have selected some of the most useful Mongolia travel advice that our guests have provided over the years to help you make the very most of your holiday - and the space inside your suitcase.

Genghis Khan warrior training was an absolutely amazing experience - just be ready to let yourself go and enjoy being in a very different authentic existence for a while.

"Not everything always goes as scheduled because it's an adventure trip with no paved roads. That's what makes it an adventure. There were some scary moments but just know you're in capable hands."
- Charlotte Lundemo
"I'm a veggie and though rural Mongolians eat mainly meat, it wasn't a problem for me because the tour assistant cooked too and was very good - obviously you do miss out on some of the activities involving meat but that is your choice."
- Lynne George
"Do pre tour exercises to strengthen the thigh muscles (toilets!) and practice bobbing under low doorways (ger entrances)."
- Elizabeth Wingate

"This trip is for people who want to see Mongolia and get to know more about what life is like for Mongolians rather than just visiting famous places. It is for people who care more about the environment than about luxury." - Alison Cathles

Be prepared for rough roads. I've traveled all over the world and Mongolia does win the prize for the most consistent bumpy roads. That's part of the experience, though.

"Take a lavalava. It makes an emergency tent when the hot sun is beating down on your head, it can be a towel, a bathrobe, a shoulder covering for temples, a modesty screen when having a public pee stop. Never travel without your lavalava." - Monica Holland

"Do some physical preparation before your trip as the trekking was quite challenging." - Stephanie McDonald

"Take matches or a lighter for the stoves in your ger and LOADS of camera memory and spare batteries as you won't be able to charge." - Helen Bichard

"Research the country and decide where you want to spend your time, it's big with vast distances to travel. Don't be afraid of the wilderness, the Mongolian people have survived in it for a very long time." - Rebecca Cleaves