The Golden Eagle Festivals
Starting a new tradition
There are three Golden Eagle Festivals in Mongolia's westernmost province of Bayan-Ulgii that showcase the astonishing skills of the Kazakh golden eagle hunters. They are becoming increasingly popular with tourists, but the festivals' origins are not as ancient – or traditional – as they may appear.

The Altai Golden Eagle Festival was founded in 2000, a collaboration between two tour operators and local Kazakh eagle hunters. It has taken place in the first week of October each year since then; a slightly smaller festival was founded in 2002 in nearby Sagsai, and is held each September. These festivals are aimed primarily at spectators, comprised of local Kazakhs, and Mongolian and foreign tourists. A third festival was launched by another travel company in March 2018.

The festivals' huge success has been credited with raising awareness of eagle hunting in Mongolia and abroad, and of encouraging young Kazakhs to take up the practice. In 2011, eagle hunting was added to the UNESCO Representative List of the Intangible Cultural Heritage of Humanity, as an example of 'living human heritage'.
What happens at the eagle festivals?
As the festivals take place in September, October and March, which are just before or after the winter hunting season, it is rare that any actual hunting takes place. Instead, the competitions between the hunters will showcase traditional falconry skills and demonstrate the communication between the hunter and eagle, which is key to a successful working relationship. Unfortunately, during the autumn festivals, the eagles will have been idle throughout the summer months so communication is somewhat rusty – and it's quite common for the eagles to simply ignore their handlers and fly around doing their own thing, to the great amusement of the assembled Kazakh crowd.
How responsible are the festivals?
Golden eagle ethics
There are three issues to take into consideration: the hunting, the capture of wild eagles, and the impacts on local communities and traditions.
Hunting
As these festivals are about showcasing cultural traditions and public spectacle, little – if any – hunting actually takes place. In addition, hunting traditionally takes place in winter, and the festivals are held in spring and autumn. Most demonstrations, therefore, use fox furs dragged by horses, with perhaps just one final display of an eagle hunting a fox or wolf cub. In fact, the festivals have even been criticised for discouraging hunting, as the Kazakhs have realised they can earn money from tourists by carrying out traditional falconry demonstrations without having the complex skills and knowledge required to actually hunt in the depths of the Mongolian winter.
Captive eagles
Generally we do not promote keeping wild animals in captivity, but we recognise that exceptions should be made for certain traditional cultural practices. Having taken place for centuries, the capture, keeping and releasing of female golden eagles has been done in a way which does not threaten wild populations. The eagles are taken while young, well treated and then, crucially, they are released when they are still of breeding age. The hunters, who develop close relationships with their eagles, will return to the release site for up to a year to ensure their eagle has successfully readapted to life in the wild.
The festivals have, of course, raised the profile of the eagle hunters internationally. As tourism to Western Mongolia increases, and visitors want to spend time with the hunters, golden eagles may be becoming more of a commodity. There have been reports of eagles being trapped as adults and traded – rather than captured from their nests by the hunters themselves – and of these eagles not being released. They are not being used to hunt; rather they are props to attract tourists to the herders' homes, and perhaps demonstrate a bit of falconry. Traditionally, hunting is a family tradition, with skills and wisdom passed down from father to son. Those cashing in on the tourist trend may not have the knowledge to treat the eagle correctly. It is noticeable that eagle ownership has grown in the districts where the eagle festivals are held.
This is not yet a widespread issue, but if it continues, it could of course threaten wild populations. If you are considering visiting, or staying with, Kazakh eagle hunters, do ensure they are genuine hunters, and be careful, too, with behaviour that could distress the eagle.
Jessica Brooks, from our leading Mongolia supplier Eternal Landscapes:
"You get Westerners coming along with their cameras, and maybe they are making it more of a stressful environment. The eagle is used to being handled by the eagle hunter, and is used to being manhandled in and out of the vehicle by the hunter, going up and down on a horse – that's no problem. But all of a sudden their space is invaded by a lot of people with very large cameras and I wonder if that has more of a negative impact that then behaviour of the Kazakh eagle hunter himself."
Our top trip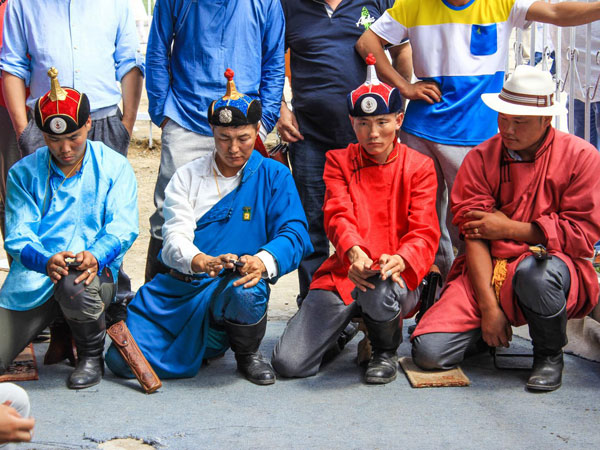 Mongolia tour with Nadaam Festival departures
From
£5599

to

£6299
16 days
inc UK flights
Small group travel:
2024: 8 Jul, 21 Sep
If you'd like to chat about Mongolia or need help finding a holiday to suit you we're very happy to help.

Communities & culture
Jessica Brooks, Eternal Landscapes:
"At the festival you get eagle hunters, you get horsemen and you get members from the local community as well – the children, the mums, the grandparents, the people coming in from the provincial capital, it's a really good day out; it's great fun. So it's probably a bit like a summer fete, that's a good way to look at it."
Although the Golden Eagle Festivals are not 'traditional', they do showcase classic Kazakh skills and traditions, particularly eagle hunting and horsemanship, which is hugely important to the Kazakhs. The herders are scattered throughout a vast province, and the festivals are a brilliant opportunity to gather and catch up. They are also a way of promoting traditional skills to younger Kazakhs, who may otherwise have dismissed these games and activities as irrelevant or old fashioned.
Jessica Brooks, Eternal Landscapes:
"Each year when I go to the festival there are the older, more traditional hunters, but now you are getting the younger ones entering the ranks as well. It is a generational thing: it is father to son or father to daughter. So maybe the festivals in a way have helped that, they've helped them think the tradition is there, and helped it get revived."
Another benefit of course is income for the herders, who can host visitors overnight or act as drivers and guides. Herder life is incredibly seasonal, so extra money to see them through the long winter will be welcomed.
One more unusual cultural consequence may be the impact that the festivals are having on Kazakh girls. Hunting with golden eagles has always traditionally been a male domain, but in 2016 the film
The Eagle Huntress
documented a teenage girl, Aisholpan, who followed in her father's footsteps to capture and train her own golden eagle. She went on to demonstrate her skills at the Golden Eagle Festival. The combination of the film, of the tourists who want to meet the eagle huntress, and the popularity of the festivals has resulted in a number of teenage girls from eagle hunting families beginning to take up the sport.
Of course, when any cultural activity becomes popular with tourists it runs the risk of being diluted, altered, and even turned into a commodity, and the influx of tourists in these tiny communities could also imply changes to traditional ways of life. Keeping things small and low key is the way to go, working with responsible holiday companies who know the herders, speak the language, and ensure their travellers know that the wellbeing of the Kazakhs and their animals is the most important thing during a Mongolian holiday.