Montenegro cycling highlights
There's fabulous mountain biking in Montenegro's central and northern national parks, but cycling here usually features as part of a multi activity holiday. For a true cycling break, with consecutive days of riding on roads, tracks and disused railways, head to central and southern Montenegro, where the Bay of Kotor has level shores to cruise around and Lake Skadar offers climbs to wonderful viewpoints. From here, it's easy to cycle into neighbouring Albania, too. Montenegro's two main airports, Tivat and Podgorica, are perfectly placed, or you can even fly to Dubrovnik in neighbouring Croatia which is close to the border and to Montenegro's great cycling.
1. Bar
'Modern' Bar was founded in 1908 and is a busy transport hub with a large port, but in the mountains behind lies the fascinating ruins of Stari Bar (Old Bar). An old disused railway line runs from Virpazar on the shores of Lake Skadar to Bar, a distance of about 35km, with the last kilometers winding through ancient olive groves and passing these ruins.
2. Bay of Kotor
The beautiful Bay of Kotor is an island filled inlet enveloped by mountains. Development has been prevented here, so the villages that dot the bay retain their gorgeous architecture. There is more than 100km of shoreline to cycle around, and you can swerve up to the top of the Vrmac range for long views, stop at the many cafes and spend time soaking up the atmosphere in Perast and Kotor.
3. Cetinje
Montenegro's historic capital sits in a valley overlooked by the Lovcen Mountains. You can cycle between the two, enjoying great panorama trails in fresh mountain air before descending 35km to this fascinating little city, founded in 1482. Cetinje has handsome architecture, with cottages, mansions, monasteries and museums all in the mix; hop off the bike and enjoy a stroll around.
4. Lake Skadar
Straddling the border with Albania, Skadar is the largest lake in the Balkans at a whopping 400km˛. It's pleasingly untouched by tourism, with Virpazar a bustling little centre of lake activity, but beyond lots of dramatic – and frequently hilly – cycling around its shores. Pass through chestnut groves, pretty villages where stalls sell local rakija and honey, and pause to enjoy long views over the lake and the Albanian Alps beyond.
5. Lovcen National Park
Lying within the Dinaric Alps range, Lovcen is a favourite place for mountain biking and a cool escape from the heat of the coast. The panoramic route down from the village of Njeguši to Kotor, just 30km away, has 25 switchbacks, with fantastic views over the Bay of Tivat, Lake Skadar and the northwestern mountains, but plenty of other less used roads and trails exist.
6. Rijeka Crnojevica
The Rijeka Crnojevica – River Crnojevica – winds its way into the northwestern corner of Lake Skadar, with impressive hills rising from its curves. Inland, where it narrows, lies a little town of the same name. This is where royals came to escape the mountain cold in winter, and it's the perfect place to pause when cycling between Cetinje and Virpazar (50km), with a picturesque bridge and riverside cafes.
MONTENEGRO CYCLING HOLIDAYS ADVICE
Tomislav Coric from our leading holiday supplier Viator Travel:
Fitness tips
"You need to be in good shape for cycling in Montenegro, because it is mostly a hilly country. It offers a great variety of rides but with demanding parts for sure. Most flat areas are around the Bay of Kotor. For sure it's not a boring cycling destination, and if you are real cyclist then you will enjoy the uphills and downhills that it offers."
Angelika Temper from our Montenegro adventure travel specialist 3eTravel:
"You should bring some good general fitness with you. Montenegro offers superb cycling, but not completely free of climbing. Of course if you wish to shorten a section or it does seem too difficult for you, we can tailor the cycling programmes so it matches your fitness level. And if you are once on tour we are always there to support with a transfer... Or you can take advantage of one of our electric bicycles."
Advice on routes & traffic
Tomislav Coric from our leading holiday supplier Viator Travel:
Advice on routes & traffic
"It depends where you cycling; there are not may cycling trails developed, besides the MTB trails in the mountains and inland of the country. The roads are good for cycling, but in some destinations you will be cycling with much of the traffic – for example, around coastal town of Budva and the capital, Podgorica."
Our Montenegro cycling Holidays
If you'd like to chat about Montenegro cycling or need help finding a holiday to suit you we're very happy to help.

Packing tips
Tomislav Coric from our leading holiday supplier Viator Travel:
"Be sure that you always have long sleeves even in the summertime; if you cycle in the north you will need it during morning or afternoon rides. Get a torch light on your bike to be more visible and because of the tunnels, too."
Angelika Temper from our Montenegro adventure travel specialist 3eTravel:
"Bring sun protection. Enough water. Good company… Everything else you find on the way. Be prepared to be invited for coffee or a rakija."
Angelika Temper, from our Montenegro adventure travel specialist 3eTravel, has some foodie recommendations:
Eating advice
"In Cetinje: locally produced ham and cheese, but also honey varieties. In Lake Skadar: fish specialities including trout, carp, eel; seasonal fruits such as figs, pomegranates, AND wine like the red variety of Vranac. There are many wineries in this aera, some still produce in the old traditional way, others already offer many different varieties and qualities. We are happy to advise where to taste wine. In Ulcinj the cuisine offers a taste of Albania, it is less rich in meat. Here you should always ask for locally produce olive oil when seasoning your salad - it is delicious. The restaurants in front of the old town of Stari Bar offer great local dishes which reflect the muslim traditions in this town. Again, wonderful olive oil. There are some shops where you can taste and try before you buy. In Kotor try seafood, fish and for dessert, the famous Kotor cake."
At Responsible Travel, we think the best people to advise our travellers are often... other travellers. They always return from our tours with packing tips, weather reports, ideas about what to do - and opinions about what not to.
We have selected some of the most useful Montenegro cycling holiday tips that our guests have provided over the years to help you make the very most of your holiday – and the space inside your suitcase.

Have some fitness! Some of the hills around the lake on the Montenegran side are pretty brutal but definitely worth it for the view!

"Do it!! It was an amazing activity holiday packed full of lovely views, climbs, freewheeling and some city chilling. Make sure you bring cycling gloves and shorts! Without those it would have been an uncomfortable week. Much of the cycling is on old military roads and asphalt roads but some of it is quite technically challenging according to my downhill-biking partner... Try to have a little bit of experience at this or be prepared to take it a bit easier." – Abby Noyce

"Do some training and bring water." – John O'Sullivan

"The tours are possible for bikers without mountain biking experience as technically not difficult. However good fitness is mandatory. Book an extra day at Lake Skadar for having a break in the middle of the tour. In the morning or evening do a birdwatch boat tour on a small boat (25 euro per hour for the boat if you book on the street). You may see pelikans, but for sure amazing nature." – Gunnar Link

Do it!! It was an amazing activity holiday packed full of lovely views, climbs, freewheeling and some city chilling.

"Ladies might want to request a women's saddle before setting off! July this year was pretty hot for the long uphills." – Nadine Williams

"Biking shorts are recommended, maybe even gloves due to the sweat in the heat for a better grip. Roads are mostly quiet, on those with more traffic, cars are often passing closely which is a little tiring." – Pamela Wittfoth

"Bring clothing appropriate for different types of weather. Otherwise, simply enjoy the biking!" – Eric Wilson
More about Montenegro cycling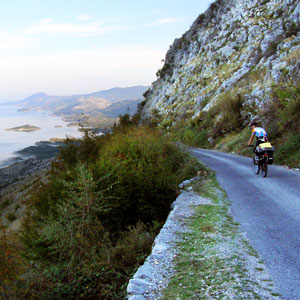 Gaining a reputation as a soft adventure hotspot, Montenegro is a treat to cycle in.