USA national parks travel guide
---
2 minute summary
America's national parks are like a collection of kingdoms, with Nature seated firmly on the throne, yet each one donning unique crown jewels. Yes, they have the US government as overseer, but these parks were created fundamentally to protect, not to be presided over. The United States has 62 national parks, some states with just one and others, like California and Alaska, boasting nine and eight parks respectively. There are the world renowned realms such as Yellowstone, Yosemite and the Grand Canyon, but there are so many extraordinary 'lost kingdoms' too. For example, few international tourists enter the heavenly and glacial gates of Alaska's Kenai Fjords National Park. Or the Great Sand Dunes National Park in Colorado which boasts the biggest sand dunes in North America, despite being as far from the sea as you could possibly get. Most importantly, all the parks have two important heirs: the wildlife inside and the people outside. In that order really. They weren't created to protect us, after all. And you don't mess with Nature.
Read more in our USA national parks guide.

Hello.
If you'd like to chat about USA national parks or need help finding a holiday to suit you we're very happy to help.
Rosy & team.
01273 823 700
What we rate & what we don't
---
Our best & worst of USA NATIONAL PARK holidays
Underrated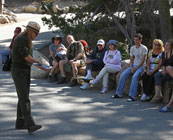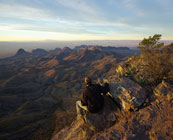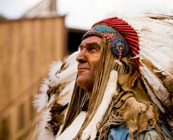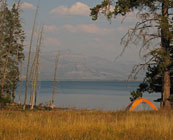 The national park system
As well as operating the parks, a superbly managed trail system and an informative website, the national park system employs thousands of rangers, like all your favourite geography teachers ever, running guided walks and workshops. In addition to the 62 parks, there are national monuments, rivers, seashores and much more, all coming under the national park umbrella.
The unheard of ones
Many of these seem to have wonderful names, such as Organ Pipe, Mesa Verde, Big Bend, Craters of the Moon. There is even a national park in the South Pacific: the National Park of American Samoa. Glacier National Park, Olympic and White Sands are three of our favourite lesser known beauties.
Native American culture
Do read up on this before you go, as many of the national parks have important historical links to indigenous people, not only American Indians, but also the Ancestral Pueblo people, Alaska Natives, and Native Hawaiians. National parks are not just about the place, but about the history of the people who come from these places too.
Camping
Serious hikers do it under canvas. And national parks are full of happy campers too. As you are unlikely to be travelling with a tent, tour operators often offer camping options, which is handy because many of the campsites book up months in advance. There are usually several campsites in each park, and the more remote you go, the better chance you have of gaining a spot.
Rated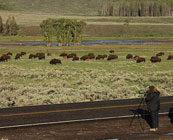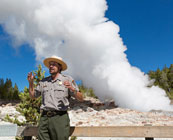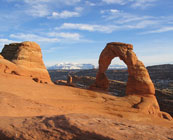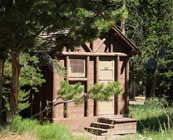 Wildlife watching
The parks are, fundamentally, about protecting wildlife and their habitats. We gain so much from sharing these habitats but remember these are places for animals to roam freely. There are no fences. So bring your binoculars, swot up before you go, and enjoy the elk in the Rocky Mountain, bison in Yellowstone or mountain goats in Glacier. Just for starters.
Ranger programmes
You can't miss the rangers, they look a bit like grown up scouts. But they are the people who bring the parks to life for visitors. They lead guided walks, give lectures, and are dotted around at various viewpoints to give information to visitors. The website gives details on upcoming programmes.
The firm favourites
These are the Grand Canyon, Monument Valley, Yellowstone, Yosemite and Arches National Park, and they are as magnificent as everyone says. Just don't try rushing them. Yellowstone, funnily enough, although it was the first national park in the world, isn't the most visited, as it is harder to get to for foreign visitors.
Cabin fever
There are cabins in most of the national parks, which offer hot deals to tourists. Like budget hotels but with 5 star views. Many tour operators include stays here in your itinerary because it really worth staying the night and feeling the park envelop you when all the daytrippers have gone.
Overrated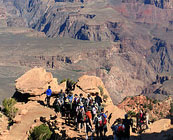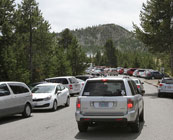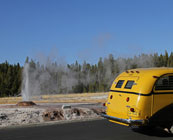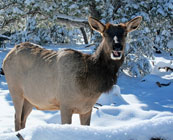 Grand Canyon (G)rim trail
There are so many trails in the Canyon, but most people choose this one, which makes it a bit of a grim trail in the peak season. The best way to get perspective of the Grand Canyon is just to take five or ten steps down into it. You need to get that red rock behind you or above you to fully appreciate its greatness.
Driving
It is hard to avoid driving to access many of the parks, but once you do, there are shuttle buses to transport you to trailheads, and a zillion trails to get you out of the car too. The National Parks website gives lots of details of trails and shuttle buses which serve them, and if you book through a tour operator, they will transport you to the parks when possible.
Whistle stop tours
There are people who do a six hour coach drive to the Grand Canyon from Las Vegas, spend four hours there and a six hour journey back. These parks deserve more than that. Take in one park at a time, immerse yourself in its greatness, watch the sun set, spend the night there if possible and get up for sunrise. You won't regret it.
Feeding the wildlife
There are signs everywhere, but remember, these parks were created first and foremost to conserve the wildlife. By feeding them the stuff we bring in you are not only putting their health at risk, but you are changing their behaviour. This goes for birds as well as the biggies. Some people feed bears inadvertently, which can have drastic consequences.
Food, shopping & people
---
DISCOVER USA NATIONAL PARKS LIKE A LOCAL
The culture of conservation
---
One of the features of national parks in the USA is that there are no people living there. There is no private land, and so anyone you meet there is either employed by the National Parks Service or working for a concessionary such as a restaurant. In addition, you will meet lots of volunteers, working in the visitor centres or doing field conservation work. There is a strong ethos of giving and philanthropy in the United States when it comes to conservation and preservation, and the national park system is like a microcosm of this.
There is a
Women's Rights National Historic Park
in New York State, on the site of Elizabeth Cady Stanton House where the women's' rights movement began
Fast facts
---
• The National Parks Service turned 100 in 2016
• The biggest national park is Wrangell-St. Elias National Park and Preserve in Alaska. It's the same size as Switzerland.
• You can volunteer in a national park and get to stay on site. You might work in a gift shop or clear trails, or help with research
• Important historic places like the Statue of Liberty and Alcatraz are part of the National Parks Service
• There's an official online
national parks shop
, where you can buy the popular National Parks Passport.
Walk an hour
down the trail you are
walking with Americans
,
walk two hours
down the trail you are walking with Europeans, and
walk three hours down
the trail, you are walking alone
How much does it cost?
---
Annual pass to all parks for a carload of people: $80

Overnight in Far View Lodge, Mesa Verde National Park: from $100/room

Camping at Bryce Canyon National Park: $20/pitch

Helicopter rescue from Grand Canyon: $32,000+ – get insured!

A brief history of US national parks
---
America's national parks turned 100 years old in 2016, marking the signing of the Organic by President Woodrow Wilson, which enabled the National Park Service to be created. This was a new federal bureau in the Department of the Interior protecting 35 national parks and historic monuments, making them 'Federal' areas. The purpose of this was, according to the Act, to "conserve the scenery and the natural and historic objects and the wild life therein and to provide for the enjoyment of the same in such manner and by such means as will leave them unimpaired for the enjoyment of future generations."
Read more ▼
Festivals & events
---
OUR NATURAL PICK FROM THE USA NATIONAL PARKS CALENDAR
Did you know about...?
---
Yosemite invites volunteers from all over to help at 'Yosemite Facelift' during the last week of September, to clear up after the peak season. We also love their Apple Picking Day in August, when you can pick apples from the park's historic orchards to prevent the bears eating them, as they are non-native foods and so increasing the risk of human-bear conflicts.