USA national parks map & itineraries
---
MAKE THE MOST OF YOUR TIME
Europeans like to make fun of the fact that the vast majority of Americans don't have a passport. And yet, many are obsessed with having their National Parks Passports stamped. Which is sort of amusing, but actually when you think about the magnificence of the 59 national parks that belong to these people, they are right to seek out their stamps. And, in some ways, when you have the glaciers of Wrangell St-Elias National Park in Alaska, infinitesimal canyons like the Grand Canyon or Bryce Canyon, or the resplendent geysers of Yellowstone, why would you travel anywhere else? So, time for us to stop making fun and just join the national park party. Just wait and see. You won't want to leave. And you'll be asking where the next one is, and ordering your own national park passport before you know it.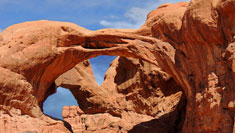 Arches
It's a little like a vast expressionist painting, with over 2000 arches, hundreds of soaring pinnacles and then a giant balancing rock in the middle of nowhere. All painted with vast amounts of red, and great freedom of expression. Which is also what you feel like when you come to this natural playground. Camp here to catch sunrise and sunset and a whole day in the life of one of America's most exhilarating national parks.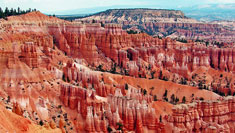 Bryce Canyon
Combine with a visit to Zion and you'll go from its dusty depths to an elevation of 2438 metres on the plateau of Bryce Canyon National Park. Down below lies a fascinating natural amphitheatre of pink, orange and white sandstone spires. You can follow trails in and around these spires for an auditory and auspicious experience, but for a visual one, watch the sunset shadows jump from rock to rock.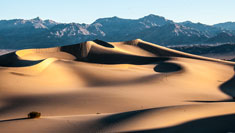 Death Valley
With so many elevated national parks, this one takes you to one of the lowest places on earth. Shared by California and Nevada, head from the hot and dusty depths to the other extremes of soft pinyon-juniper woodlands or onto the high boreal peaks, all brimming with wildlife. Because it's not dead at all here.
Glacier
Most Europeans don't know about Montana, but Glacier National Park is a big reason for just getting yourself there. One of the least visited parks, you have vast swathes of walking wilderness all to yourself. Such as the ancient forests that blanket these dramatic alpine landscapes, with water lovers having their fix of lakes, waterfalls and the dazzling Grinnell Glacier, an aquamarine iceberg lake.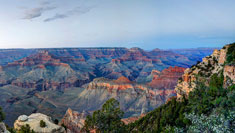 The Grand Canyon
This plunging desert landscape will make you realise how the expression 'take your breath away' came about. You will have to catch it again though when you take on one of its many hiking trails, either around the rim or escape the crowds and descend into the canyon itself. Which is 1.6km deep and 29km wide by the way.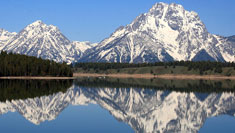 Grand Teton
Home to major peaks of the Teton range, part of the Rocky Mountains, this is just one of Wyoming's wonders. The other being Yellowstone. Hike up and along its greatest valley, Jackson Hole, so called by early trappers who descended into the steep valley in search of beaver and other furry creatures. Which are, thankfully, able to roam freely today. As are we.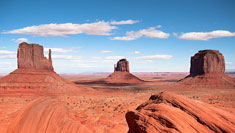 Monument Valley Navajo Tribal Park
Not actually a national park, but a Navajo reservation, on the borders of the nearby national park which is called Navajo National Monument. It is a Navajo Tribal Park and reservation and top spot to visit if you want to learn about the indigenous culture of this area. This is sacred land for the Navajo, and when you look out at the red sandstone monoliths, these natural statues glowing in the omnipresent sun, you can understand why.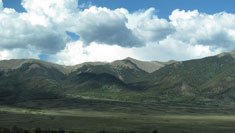 Rocky Mountain
With over 70 high peaks, it's ironic that they only describe it as one. Don't be overwhelmed though, as there are 600km of trails for all levels. Split by the Continental Divide you can see Colorado's differing landscapes in one here, with arid rocky peaks on one side and forests, meadows and mountain moraines on the other.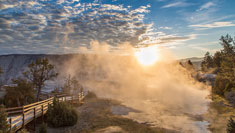 Yellowstone
The mother of them all as this was America's first national park. The thermal geysers are iconic, the most famous being Old Faithful although there are 500 others to boot, making this the largest collection in the world. Although this extraordinary lunar landscape is revered by many, Yellowstone is not actually as packed with visitors as some parks, because it is harder to access.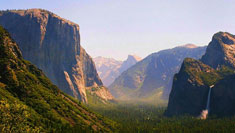 Yosemite
Welcome to the Sierra Nevada Mountains of California. With green forests just made for camping, trekking and some wild swimming, it drives many people up the walls. Literally, with climbing idylls of granite facades that seem to go on forever. The Nevada Falls do too and you can follow its course on the aptly named Mist Trail. Get there early though, or the mist turns to a fog of tourists.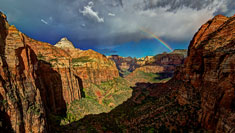 Zion
In Utah, this is park is both culturally and naturally a wonder. Zion Canyon was named by the early Mormon settlers of Utah for whom it was the 'promised land'. It certainly is full of promise for visitors, hiking in desert terrain, seeking out the Upper Emerald pools and waterfalls, as well as riverside rambling along the Virgin River. And canyoneering craziness for those who dare.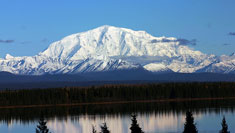 Wrangell-St. Elias
The largest of all, this magnificent Alaskan expanse is the same size as Switzerland. This is glacier gorgeousness, with 150 in all, and a coastal mountain range enveloping them, with some serious highs. Walk along glaciers, try ice climbing or take on one of the snow peaked mammoths that overlook this frozen fantasia. Take some time to learn about the mining history here too. And hope that it stays history.

Hello.
If you'd like to chat about USA national parks or need help finding a holiday to suit you we're very happy to help.
Rosy & team.
01273 823 700
USA national parks itineraries
---
7 day trip around south-west USA's national parks:

Las Vegas ► Zion National Park ► Bryce Canyon National Park ► Monument Valley ► The Grand Canyon ► Route 66 ► Las Vegas

12 day Alaskan national parks:

Anchorage ► Talkeetna ► Denali National Park ► Wrangell St-Elias National Park ► Valdez ► Seward & Kenai Fjords National Park ► Homer & Kachemak Bay Wilderness Camp

14 day wild west national parks:

San Francisco ► Yosemite National Park ► Death Valley National Park ► Zion National Park ► Bryce Canyon National Park ► Lake Powell & Antelope Canyon ► Monument Valley ► Grand Canyon National Park ► Route 66 ► Hoover Dam ► Las Vegas
Travel times by bus/train/car/air
---
The following times give you a rough idea of the travel times between the US national parks.
San Francisco – Yosemite National Park: 3.5 hours by car
Yellowstone National Park – Glacier National Park: 7 hours by car
Seattle – Anchorage, Alaska: 3.5 hours by air
Denver – Rocky Mountain National Park: 1.5 hours by car
Las Vegas to Grand Canyon South Rim: 5 hours by car/coach
Travel the length of Grand Canyon (445 kms): 15 days by non-motorized raft