Autumn in Nepal is a trekkerís paradise: cloudless and dry, neither too hot nor too cold, and the clear mountain views resplendent.

October to December is the best time to visit Nepal, as dry days make trekking easier and offer good visibility. Autumn (September-November) and spring (late February-mid-April) are also great seasons to trek in Nepal. Autumn brings exceptional clarity, the dust washed away by the monsoon, and spring days are warmer and longer. The summer monsoon is between June and September, so these arenít the best months to visit if youíre hiking, especially as June is the hottest month in Nepal. However, it is an incredible time to see the country alive with growth and freshness. Winter Ė especially January and February Ė is very chilly. Wrap up warm and youíll be some of the only visitors in the mountains.
Winter in Nepal brings great visibility, but temperatures can drop to a teeth-chattering 1°C, so if you're trekking then, make sure your endurance is up.
The Annapurna hiking circuit is the most likely to be affected by snowfall and has been known to close during peak winter months, so double check before you book.
From late December through January and into February, Nepal's weather is cold, but not unbearable, although temperatures drop significantly at night, especially in the mountains. January is by far the coldest month, but fewer people means fewer crowds.
March heralds spring in Nepal, when temperatures start to get warmer and rhododendrons are in beautiful bloom. Days are longer during March and April too, making them ideal for trekking, but temperatures are still a bit chilly at night, so pack your layers.
May is one of the warmest months and is lovely, but is also the calm before the storm: clouds begin to loom and showers begin to fall as a precursor to the monsoon season.
During Nepal's monsoon season – June, July and August – it doesn't necessarily rain all day, but it does rain every day, so trails are muddy and rife with leeches, the mountains are often thick with cloud, and landslides are common and disruptive to travel plans. It's not the best time for trekking therefore, but because most rain falls at night, the mornings are spectacular and sightseeing is still possible.
During the monsoon, more rain falls at night than during the day, so the mornings are often crisp and beautiful – if you want to trek then, avoid Nepal's more popular circuits and head to Manang, Mustang or Dolpo, Himalayan areas that sit in rain shadows.
As the monsoon dissipates in September, Nepal is a glorious kingdom of huge clear skies, fresh air and breathtaking views.
Dry days between October and December makes for easier trekking conditions and clear views. The way the replenished landscapes spring to life during autumn is spectacular. Donít forget your camera!
Chitwan National Park Weather Chart
Our top Nepal Holiday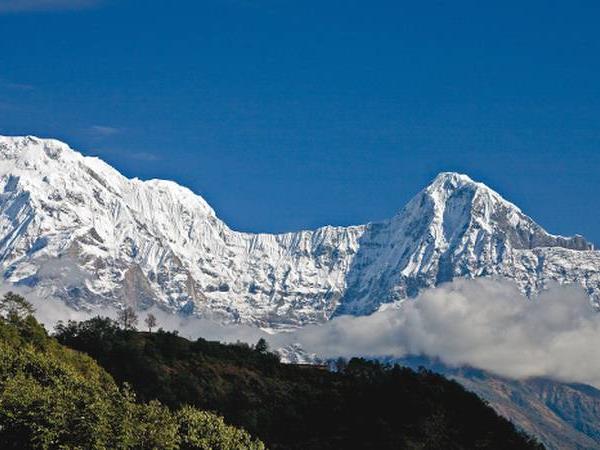 From the Annapurna Range vistas to jungles of Chitwan NP
From £1450 to £1490 11 days ex flights
Small group travel:
2022: 11 Dec, 21 Dec
2023: 8 Jan, 15 Jan, 29 Jan, 5 Feb, 12 Feb, 19 Feb, 25 Feb, 5 Mar, 12 Mar, 19 Mar, 2 Apr, 9 Apr, 16 Apr, 17 Sep, 24 Sep, 1 Oct, 8 Oct, 15 Oct, 22 Oct, 29 Oct, 12 Nov, 19 Nov, 26 Nov, 3 Dec, 10 Dec, 24 Dec
2024: 7 Jan, 14 Jan, 28 Jan
If you'd like to chat about Nepal or need help finding a holiday to suit you we're very happy to help.

Tip on the best time to visit Nepal
Richard Goodey from our supplier, Lost Earth Adventures shares his advice on the best time to visit Nepal: "A lot of people are put off by the idea of winter in Nepal, but if you go in December there are barely any tourists around, so it's lovely and quiet. It is cold, but you get incredibly crisp skies, as the air is so clear. The cold is more likely to affect you at night if you're trekking because the teahouses don't have any heating, so bring a warm sleeping bag, or rent one in Nepal, which is easy to organise if you don't want to carry one out with you. My favourite time in Nepal is October and November; it's warmer, so it's great weather for walking and enjoying sunny days, but it does bring the tourists, so my advice would be to stick to the more off the beaten path destinations like Langtang, Helambu, and also the Manaslu Circuit."
Festivals & events in Nepal
Holi Festival
Holi is a three-day festival held in February or March known as the festival of colours, or the festival of love and involves the Nepalese literally throwing colourful powder all over each other. Although itís a deeply religious celebration, it brings out the kid in everyone and youíll see fully grown Nepalese men wrestling in the street and chasing each other in fits of laughter.