Trekking in Nepal travel guide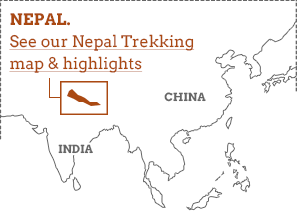 Many places lay claim to the best treks in the world – Peru's Inca Trail, Tanzania's Mount Kilimanjaro to name but two – but none are as spectacular as the Himalayan epics in Nepal. More of a mecca than a mountain, climbing Everest is a pilgrimage and the ultimate bucket list tick. The breathtaking Annapurna range is a horseshoe-shaped route that wanders through traditional Hindu villages and wild forests of oak. And then there's Langtang, an alpine trek that runs parallel with Tibet and offers more amazing views in a short time than any other walk-in trek in Nepal.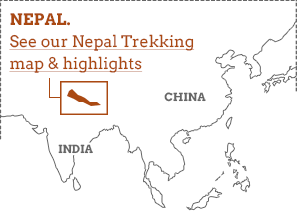 To see your first Himalayan peak, swathed in the sun's first fiery rays, is to discover the truth that our world is far more beautiful than it is flawed. It will take your breath away.

There is no greater feeling than knowing all you have to do when you get up is walk, so go for as long as you can because other than awestruck, the only thing trekking in Nepal will leave you is wanting more. Get the most out of your mountain adventure with our trekking in Nepal travel guide.
Do go on trekking in Nepal if…
You get a kick from following in the footsteps of greatness. Finally reaching a height where no smaller mountains encroach on your vision of some of the world's highest peaks after days of tough trekking is as close as you can get to how Edmund Hillary must have felt as he approached the summit of Everest.
You prefer being active to sitting around. Raining? You'll trek. Snowing? You'll trek. Cold, fatigue, and thinning air? You'll trek. But you won't care: trekking is as much about the sense of achievement you feel as you reach target points along the route as it is about the scenery that surrounds you.
You want to combine trekking with incredible culture. Your porters will be from surrounding communities, and you'll be passing through villages and staying in local teahouses there. Chatting to the locals that run them is a fantastic opportunity to find out what real life is like for the Nepalese, an enchanting people who are happy to share their stories.
Your mind is as fit as your body. Of course some Nepal treks are easier and shorter than others, but most involve a lot of literal ups and downs, which can be tough on your lungs and knees. Mental toughness is as important as physical, if not more: you'll need determination and to be comfortable with the idea of trekking for up to seven hours a day.
Don't go trekking in Nepal if…
You're impatient. The higher you climb, the slower you'll be. Couple this with peak season queues on the most popular routes and it can take upwards of seven hours to complete as many miles. You like creature comforts. Although comfortable, luxury lodging in Nepal isn't comparable with its western equivalent. Some teahouses will have thicker mattresses and a wider variety of food, but your conditions will be basic, so you must be happy to embrace local cuisine and to slumber in a sleeping bag. You favour fashion over practicality. It's no use turning up to base camp in the latest trainers. Trekking involves steep, rocky and sometimes slippy terrain so good quality, well-supported walking boots are essential. And make sure your waterproofs really are waterproof otherwise if you get wet, you'll stay wet. You're more Club Tropicana than spirit of adventure. Trekking in Nepal is not a sunny seaside break with cocktails, it's a sometimes grueling, but ultimately massively rewarding physical experience against a seriously impressive backdrop.

If you'd like to chat about Nepal trekking or need help finding a holiday to suit you we're very happy to help.

What does trekking in Nepal entail?
Every trek in Nepal entails good health and a degree of physical fitness – you don't need to be a gym bunny, but you will need to feel comfortable with walking for between 5 and 8 hours a day, sometimes in adverse weather conditions.

Typically you will be sharing your experiences with between 4 and 20 like-minded travellers and you'll have a group leader with you, porters to carry your kit and a local English-speaking guide. The cost of your accommodation, which will be a combination of hotels – in Kathmandu where you'll begin and end your trek - and local teahouse lodging in the mountain villages you'll pass through, will be included in the overall cost of your trip, as will airport transfers, private transport, entrance fees, trekking permits and most meals unless otherwise specified. It's important to remember that you will need additional money for tipping at the end of your trek; as an approximate rule of thumb, £60 should cover it.
Trekking is a strenuous undertaking, it's hard work on your knees and on your lungs too, especially in areas of higher-altitude: at 5,400m, the air holds half the oxygen it does at sea level, so it's vital that you familiarise yourself with the danger of altitude sickness and how best to combat it.

Do not be put off or afraid though – our tour operators and the local guides and porters they employ have a vast knowledge of the incredible landscape in Nepal and are trained to spot the first signs of anyone that might be struggling. You'll be well looked after.

A Brief History
40 million years ago, a collision between two plates of the earth's crust resulted in the creation of the world's highest mountain range – the Himalayas, an area 10 times the size of France.
For centuries then, it's likely that the Newars, Sherpas, and other original Nepalese settlers have traversed the glacial Himalayan peaks, but the known history of trekking in Nepal began in the 1900s when the country opened its dramatic frontiers to the outside world.
Read more
More Nepal trekking articles