Trekking in Nepal with kids

Trekking in Nepal with kids gives you evenings reserved for screen-free time to talk (just donít tell the teenagers that before you goÖ)

People generally fall into two camps: those that would take their children to a developing country and those that wouldn't. Parents should be aware that the facilities at teahouses, which comprise food, warmth and somewhere to sleep, are not comparable to those in the western world. Changing nappies is probably not much fun half way up a mountain either, so babies might be best left at home. But, if your little ones are active, used to weekend walking and open to trying new foods, Nepal has plenty of shorter treks with lower elevation, which families will love discovering together.
For health and safety information, please see our
Travel advice page
.
Our Nepal trekking family Holidays
Activities for families on a Nepal trek
Poon Hill trek
Trekking isnít all about massive feats of endurance. The Poon Hill Trek, a four-day route in the Annapurnas with a maximum elevation of 3,210m and therefore minimum risk of altitude sickness, is a brilliant introduction to the good old great outdoors for little explorers that canít sit still.
The Royal Trek
The Royal Trek is another brilliant option for kids as it takes four days and climbs no higher that 1700m while still surrounded by incredible views. This isnít lodge trekking, so only local food will be on offer, though there are a few teahouses with sugary treats on sale should you need to bribe their dinner down.
Kathmanduís bazaar
The bazaar at Asan, a market square in Kathmandu renowned for its authenticity, is the convergence of six teeming streets that perpetually bustles attracting shoppers from all over to buy food, spices, textiles and electronics. Itís truly mesmerising and western kids take centre stage with the excitable, friendly vendors.
Our top Nepal trekking family Holiday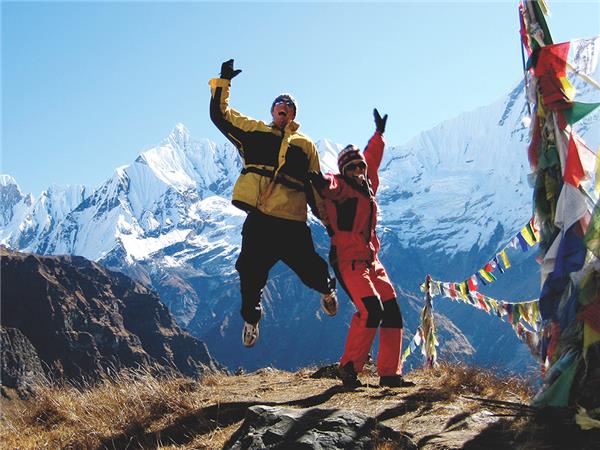 For anyone who has dreamed of seeing Mt Everest
From
£1045

to

£1260
15 days
ex flights
Small group travel:
2019: 21 Aug, 24 Aug, 28 Aug, 31 Aug, 4 Sep, 7 Sep, 11 Sep, 13 Sep, 14 Sep, 18 Sep, 21 Sep, 25 Sep, 27 Sep, 28 Sep, 2 Oct, 4 Oct, 7 Oct, 9 Oct, 11 Oct, 12 Oct, 18 Oct, 23 Oct, 25 Oct, 26 Oct, 27 Oct, 30 Oct, 2 Nov, 6 Nov, 9 Nov, 13 Nov, 16 Nov, 20 Nov, 22 Nov, 23 Nov, 30 Nov, 4 Dec, 7 Dec, 11 Dec, 14 Dec, 18 Dec, 20 Dec, 21 Dec, 25 Dec, 28 Dec
2020: 1 Jan, 8 Jan, 25 Jan, 29 Jan, 8 Feb, 15 Feb, 22 Feb, 26 Feb, 28 Feb ...
If you'd like to chat about Nepal trekking or need help finding a holiday to suit you we're very happy to help.
Keshav Karki from our supplier, Manakamana Treks shares his tips for families travelling in Nepal: ďA visit to the Nepalese countryside to stay with a local family and experience traditional Nepali life is a wonderful and memorable experience for any western child. The Kavresthali village, situated about 10km north of Kathmandu, is a small very rural village surrounded by lush hills. The main occupation of the locals there is agriculture and they have a very simple way of life, which they are happy to share with visiting families. Children are children wherever they are in the world and have little idea of language or cultural barriers.Ē
Raj Gyawali from our supplier, Socialtours Nepal shares his thoughts on Nepal as a family destination: ďThere is no doubt that Nepal is becoming more of a family-friendly destination. Many trekking areas, the Annapurnas being a prime example, were marked early on as hard, very challenging trekking Ė even the simpler treks did not have much access or safety built in. Now, adventurers trek with mobile technology and the internet reaches everywhere, plus there are roads running up into the ranges, which many people consider a problem, but when you take into account the young, the elderly, or the disabled, these factors have become a safety net and a mark of accessibility, certainly for families with young children of five years and upwards. The country is not an endless playground for children Ė you canít camp in the jungle unless you want to wake up with a rhino in your tent Ė but Nepal is an excellent opportunity for families that want to explore their first mountains together on foot.Ē
More about Nepal trekking
Convert currencies