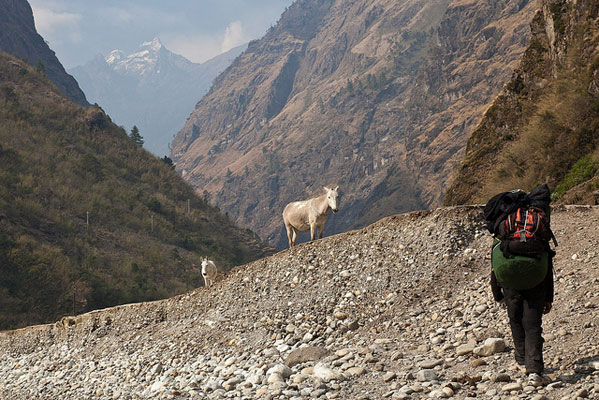 Trekking is an exercise in spiritual wellbeing – simply knowing that all you have to do each day is wander a majestic landscape eases away the worries of everyday life, and there's something about the serenity of the mountains that lends a wonderful sense of perspective and calm. But there's also your kit to consider; carry an extra 15kg around on your back for a bit and you'll soon feel it, only you don't have to because your local porters will be the ones carrying it for you. It's tempting to think of your porters or guides as heroic individuals who can trek Everest Base Camp carrying two packs, while wearing flip flops and an old jumper with no discomfort. Whilst many porters and guides do have indeed have incredible strength and stamina, it is fair or responsible for tourists and tour companies to employ often impoverished local people in this way?
Yes and no. On the one hand, local guides and porters' knowledge of the mountains is invaluable and they are, in the main, kind and courteous travel companions who will be interested to know more about you, and to share their culture and experience with you. Most importantly, income from your trek will provide income for their extended families.
Having said that, Nepalese porters have been found to suffer
four times as many accidents as trekkers
, and reports of porters being forced to carry up to 40kg are not uncommon. Reports of porters being abandoned by tour groups when they fall ill are not unusual and porters have even been abandoned in life-threatening blizzards while trekkers were rescued by helicopter. This is simply not on. It's easy to forget how fortunate we are in the western world with sick pay and incapacity benefit to fall back on – if an overloaded porter in Nepal strains his back or gets frostbite he cannot work and if he cannot work, his family cannot eat.
What you can do
All tourists have a responsibility to make absolutely sure that the porters and guides accompanying them on their trek are not being taken advantage of. Ask your tour company if they have policies on porters' rights and working conditions, ensure that your porters have proper clothing and footwear and consider the amount of weight you porters are carrying - 20kg is a reasonable, but probably maximum load per person – do you really need that extra change of clothes?
Ask about porters insurance and the provisions that are made for them should they fall ill, ensure that porters' sleeping arrangements are comfortable and fair, and always make sure that your porters and guides are paid fairly - enquire about and agree rates BEFORE you set off to avoid uncomfortable conversations at the end of your trek.
If you see or experience something that you feel uncomfortable about then make it clear to your tour company that this is not acceptable, you might also like to report this to
Tourism Concern
on your return. For more information on Porters rights visit
Tourism Concern's porter campaign.