Our walking holidays in Nepal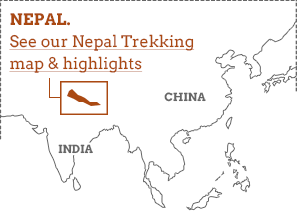 Our Nepal walking holidays are the most satisfying way to discover one of the planetís great trekking destinations. From the majestic Annapurna Range to Everest Base Camp via glacial lakes and safaris in Chitwan National Park, the views on these small group and tailor made trips are unforgettable. Guided trekking is led by the experts: fairly-paid Sherpas who regale you with stories and beliefs of their homeland while ensuring that paths and fragile mountain habitats are protected. Sleeping in homestays, hosted by local families and sharing their meals, your holiday supports remote communities while giving you invaluable insights into traditional Nepalese culture.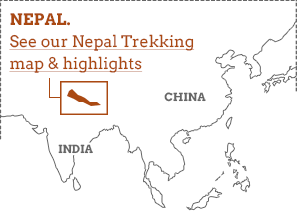 Our top Walking holidays in Nepal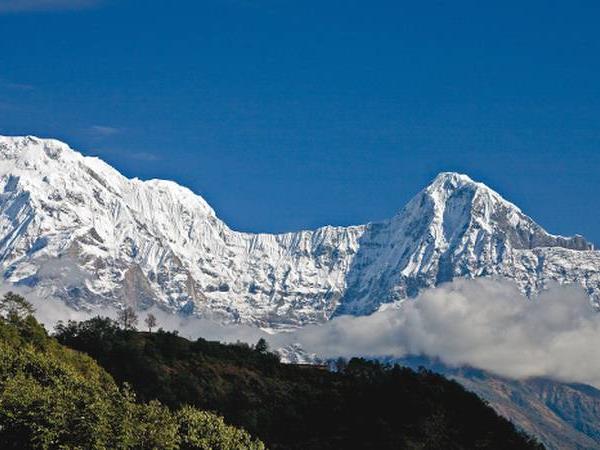 11 days
ex flights
From the Annapurna Range vistas to jungles of Chitwan NP
Small group
2022: 30 Jan, 13 Feb, 26 Feb, 13 Mar, 20 Mar, 3 Apr, 7 Apr, 10 Apr, 17 Apr, 18 Sep, 25 Sep, 9 Oct, 16 Oct, 30 Oct, 6 Nov, 20 Nov, 4 Dec, 11 Dec, 21 Dec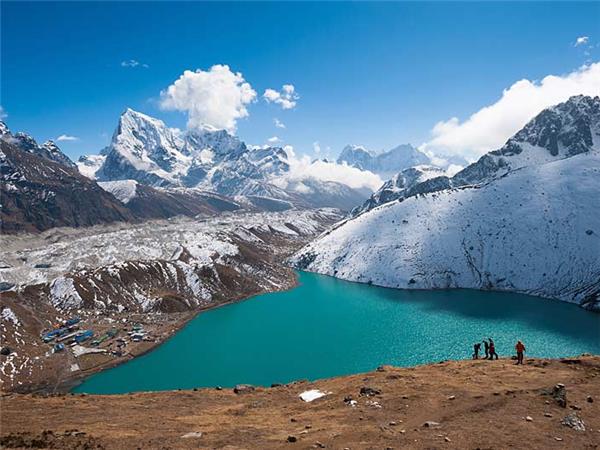 20 days
inc UK flights
This high altitude trek explores the heart of Sherpa homeland
Small group
2022: 9 Mar, 6 Apr, 13 Apr, 28 Sep, 12 Oct, 19 Oct, 2023: 8 Mar, 5 Apr, 12 Apr, 27 Sep, 11 Oct, 18 Oct, 8 Nov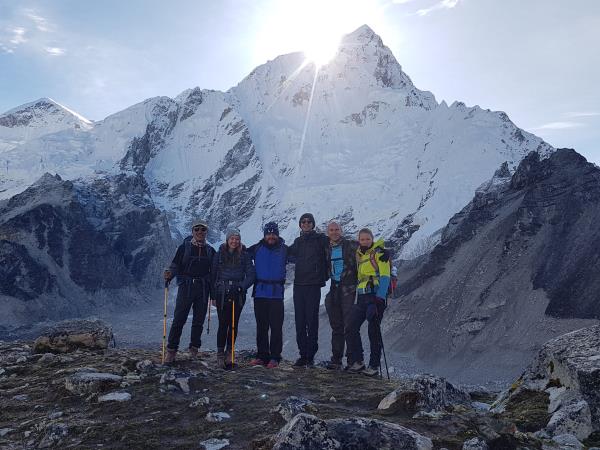 From
US $1560

to

US $2020
15 days
ex flights
The base of the world's tallest peak.
Map & highlights
Over half of people on trekking holidays in Nepal tackle the Annapurna Circuit. The Annapurna Sanctuary Trek arrows straight for its heart Ė the plateau in the middle of the 7,000m-plus Annapurna Mountains. However, Everest Base Camp is the most well-known trek in Nepal, where you can stand, awe-struck, in the shadow of the worldís highest mountain. The Gokyo Lakes tempt your gaze from the clouds to the ground as you walk through Sherpa villages to bright turquoise waters overlooked by Mount Everest. Langtang and Poon Hill are the most accessible treks. The lower-altitude scenery is less bare: think rhododendron valleys and yak farms.
1. Annapurna Circuit
A whopping 55.8 percent of Nepalís 140,000 annual trekkers trek the Annapurna Circuit. Itís known for its diverse landscape, leading from jungle to alpine forest, and entails a 125km circumnavigation of the breathtaking Annapurna range. Despite controversy over road construction, the circuitís popularity is proof of its position as one of Nepalís greats.
2. Annapurna Sanctuary Trek
This incredible trek has peaks that stand at 7,000m, allowing you to visit the worldís roof and then climb all over it. The range forms a natural amphitheatre, reached via a testing combination of steep stone steps and forested hillsides ablaze with colour, and is circled by Himalayan giants like the infamous twin-peaked Macchapucchare.
3. Everest Base Camp
Everest, and the camp at its base that meets intrepid climbers as they begin and end their ultimate mountain adventure, needs little introduction, but deserves a lot of credit. A momentís reflection at base camp, standing breathlessly close to the mountain itself is a vision of awe, possible danger and ultimately, triumph, all rolled into one.
4. Gokyo Lake
The Gokyo Lakes are a body of water so clear and turquoise-blue itís as if thereís a mirror reflecting the sky itself. The route to reach it takes trekkers through Sherpa heartland, stopping at the villages of Namche Bazaar and Dole before the ascent of Gokyo Ri, whose summit gives clear views of Everestís awesome bulk.
5. Langtang
The Langtang Valley offers alpine trekking that runs from east to west, only whiskers from the Tibetan border. A shorter, easily accessible trek, the Langtang Trek itself can be done in a week and what it lacks in super high peaks, it makes up for in amazing scenery - think oaks and rhododendrons; soft moss and larch trees, and yaks plodding their way home.
6. Poon Hill
Poon Hill is one of Nepalís least physically demanding treks and is a shorter, circular route through hot springs and friendly local villages. The highlight? Poon Hill itself, where you can wait and watch the sun come up revealing, like the curtains being drawn back on a stage, unparalleled views across soaring Himalayan peaks.
Everest Base Camp trek in Nepal
Walking to Everest Base Camp
is for trekkers who'd like a peek into the mythology surrounding the world's tallest mountain. From the Nepalese side, you'll trek to Everest Base Camp South – a 12-day hike that'll give you respect for those attempting to reach the summit, especially the Sherpas who guide mountaineers all season long. The 12 days includes time to acclimatise at a steady pace as you trek through Namche Bazaar and Tengboche Monastery. You'll get extraordinary views of Everest for your efforts, plus a walk that you'll need to train for… but probably not as much as you think.
Annapurna region trekking in Nepal
There's life beyond the Annapurna Circuit – and it comes in the shape of easier treks that explore the foothills of the
Annapurna region
. The scenery in this magnificent Himalayan backbone of Nepal ranges from rice paddies and Hindu farming villages to rhododendron woods and high plateaus. These are shorter treks that start at five days long, and you can choose higher or lower altitude walks, depending on your fitness level. Just remember that altitude sickness can affect anyone (it's a great excuse to slow down when walking in the Annapurna region) and avoid the June-August monsoon season, when heavy rain can cause landslides.
Annapurna Circuit trek in Nepal
Annapurna is the Hindu goddess of food and nourishment – a fitting name for the mountain range that the
Annapurna Circuit
explores. This is the most popular trek in Nepal. It's easier than scaling Mount Everest, but you still need enough stamina to walk for 18 days through some of the highest mountains in the world. Your reward is spectacular Himalayan scenery that changes daily as you clamber over suspension bridges and stay in villages fluttering with prayer flags. Porters will carry your heaviest luggage; travel with one of our responsible tour operators to ensure that they're treated with respect and given full workers' rights.
More about Walking holidays in Nepal
Family walking holidays in Nepal
Trekking in Nepal with kids
is completely doable if your children are used to walking lots in their spare time. You probably won't aim for Everest, but Poon Hill (3,210m) is a great introduction to mountain climbing, while the Royal Trek only reaches 1,700m. Kathmandu is an exciting city for families, too – especially if you explore Asan Bazar market square and raid the teahouses for deep-fried
jeri
dunked in saffron syrup. Along the way, you might get the chance to stay with a Himalayan family, where you'll notice that kids disregard what adults perceive as language and culture barriers. You'll return inspired.
Top 10 walks in Nepal
The famous and spectacular Everest Base Camp (5,362m) and Annapurna Circuit are among the best walks in Nepal, but we think some lesser-known treks also deserve your time. Sailung Valley, with its sacred peak, is filled with yak herding villages and coffee terraces. Pikey Peak (4,065m) is a pilgrimage place for sunset and sunrise seekers. You might spy rhinos and tigers in Chitwan National Park. And the Manaslu Circuit explores backcountry surrounded by eight-thousanders, but is largely ignored by those trekking Everest and the Annapurnas. Read our guide to find out our
top 10 walks in Nepal
.
If you'd like to chat about Nepal trekking or need help finding a holiday to suit you we're very happy to help.