Whatís all the fuss about?
Mountains, mountains and more mountains! The Himalayas form the mighty backbone of diminutive Nepal and are very much the country's geographical USP. This hulking range contains eight of the 10 highest peaks in the world, and it's visible from all over the country. Don't keep your distance, though; discover their scale and variety at close range by pulling on your walking boots and trekking under their shadow. Most visitors to Nepal come to trek, and many make a beeline for the Annapurna region. Over half of Nepal's thousands of annual trekkers take on the full Annapurna Circuit, but those with less stamina or time can walk shorter sections and offshoots.
Our Nepal trekking Holidays
Many countries lay claim to the ďbest treks in the worldĒ, but none are as spectacular, varied or transcendent as those in the Annapurnas. Each step reveals new views and different terrain, from lowland rice paddies to rhododendron woods, Alpine forests to arid, high plateaus. Culturally, the region is as varied as its scenery, too. Hindu farming villages give way to Buddhist temples, fluttering prayer flags and Tibetan architecture.
Then thereís the people: hardy men with loads the size of fridge-freezers springing up the trails; women with sleeping babies on their backs, stirring pots of dhal bat. Join your hands in a Ďnamasteí greeting and youíre met with warm smiles and welcomes. Itís all part of the intoxicating appeal of the Annapurnas, but the star attraction remains the mountains. To see their flanks turning pink in the first rays of the morning sun is an unforgettable experience.
Trekking in the Annapurna region
Pulling on walking boots is the way to enjoy and understand the Annapurna region. If youíre tackling the full circuit youíll be walking for 18 days solid, but even shorter routes demand five or so days on the trail. With the right boots and a good guide, this is totally achievable. Porters are on hand to carry luggage and the trails are well-established and used by fellow visitors and locals alike, often leading tinkling mule trains up towards the Mustang Valley. Of course, trekking can be strenuous, especially in areas of higher altitude. At 5,400m, the highest point on the Annapurna Circuit, the air holds half the oxygen it does at sea level.

Roads now stretch up into the higher reaches of the range, and trips that combine a jeep journey with trekking will relieve tired legs and condense itineraries. Donít rush through the Annapurna region, though. This is not somewhere to race through, bagging shots of the peaks before heading back down. Instead, relax into the walking and relish the journey. Nothing beats waking up each morning, knowing you donít have to think about anything at all that day. All you have to do is walk and marvel at the majestic views of the Himalayas.
The full circuit
This is the Daddy of all trekking routes in the Annapurna region. Demanding a three-week visit and over two weeks of trekking, this horseshoe-shaped route gives 360-degree views of the Annapurnas and over to neighbouring peaks such as Tukuche and Dhaulagiri. For anyone with a decent level of fitness and the mental stamina to handle 18 days of walking, this route is unbeatable. Just be aware that altitude sickness does not respect physical fitness and can affect anyone, so itís vital to acclimatise, taking the ascent to the Thorong La pass in steady bites, with pauses built in. An experienced guide will control your ascent and ensure you cope.
Shorter routes
Trekking part of the circuit, rather than the full route, still provides a rich taste of this region. Trekking up to Ghorepani to view the sunrise over the mountains at Poon Hill is an accessible route and family adventures often include two daysí hiking from Pokhara, with a night in a teahouse or tent to experience Himalayan life. Another popular route strikes off the main circuit towards Annapurna Base Camp, surrounded by snow-capped peaks including Machhapuchhare, the famous fish-tail mountain. You can also trek half of the circuit, starting either in Pokhara or Besisahar and finishing in Jomsom, before flying back down.
Our top Nepal trekking Holiday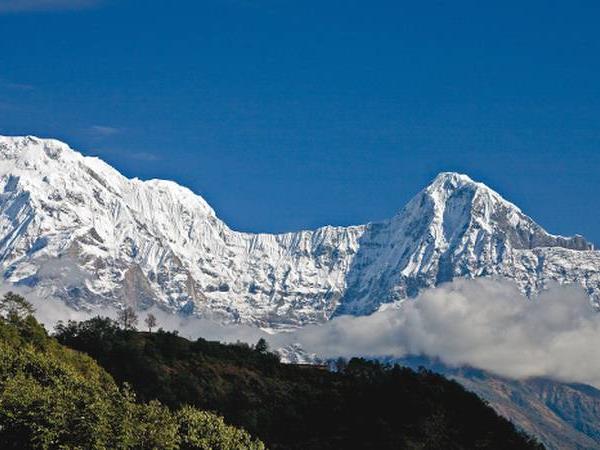 From the Annapurna Range vistas to jungles of Chitwan NP
From
£1290

to

£1340
11 days
ex flights
Small group travel:
2021: 21 Nov
2022: 9 Jan, 16 Jan, 30 Jan, 13 Feb, 26 Feb, 13 Mar, 20 Mar, 3 Apr, 7 Apr, 10 Apr, 17 Apr, 18 Sep, 25 Sep, 9 Oct, 16 Oct, 30 Oct, 6 Nov, 20 Nov, 4 Dec, 11 Dec, 21 Dec
If you'd like to chat about Nepal trekking or need help finding a holiday to suit you we're very happy to help.

The Jun-Aug monsoon season brings the risk of landslides and flooding, so itís best avoided. At almost any other point in the year the region is ready to be discovered. In autumn (Sep-Nov) there are fantastically clear skies and a sense of newly washed freshness, thanks to the recent rains. Spring (Feb-mid April) is warmer, with longer days and incredible colour, as rhododendrons bloom and the lower levels brim with wildflowers. It can be hazy in May, though, as temperatures climb towards the monsoon. You can also visit and trek in winter. Snow often blocks the Thorong La pass, building delay or a detour into a trek, but Nov-Dec are less popular months so the trails are wonderfully quiet. Wrap up, though; temperatures are crisp by day and below freezing at night.

It's often remarked that travellers go to Nepal for the trekking and return for the Nepalese, and staying in the teahouses that line the trekking routes is the perfect introduction to local life and people.

Teahouses
These simple hostels are typically owned by families who have lived in the area for generations. Facilities may be basic, without heating or the guarantee of hot showers, but the hostsí hospitality more than makes up for this. Tuck into hearty dhal bat, Nepalís rice and lentil staple Ė the perfect trekking fuel Ė and learn a little about Himalayan life.
Pokhara
Most trips to the Annapurna region start in Pokhara. This pretty town on the shores of Lake Phewa caters unashamedly for travellers, its streets buzzing with shops, cafes and guesthouses. Thereís a unique atmosphere to the place, too, with both excitement and relief crackling through the air at all times. Visitors are either just about to leave, nervously anticipating weeks on the trails, or gratefully idling here having conquered the Annapurna Circuit, foot-sore but satisfied.

Although a jumping off point for hikers, Pokhara boasts enough highlights to make it a destination in its own right. Wander the streets of Old Pokhara, visit the Mountaineering Museum or Gurkha Museum or take a boat trip on the lake. If you have energy to spare, walk to the Japanese Peace Pagoda with great views of the mountains, or hire bikes to explore the surrounding countryside, cruising through villages with a stream of excited local children running along in your wake.
More about Nepal trekking