Nepal trekking travel advice
Preparation tips
Richard Goodey, from our supplier Lost Earth Adventures shares his advice on how to prepare for a trekking holiday in Nepal: "Fitness goes hand in hand with enhancing your overall trek experience and trekking the Himalayas involves many days walking at a time with distances upwards of 10km/8 hours per day. The key is to build your endurance over time: 3-6 months before you trek in Nepal, head for the hills on your own doorstep and practice walking with a daypack starting with half-day outings. Also – vitally important – the first day of your trek is not the first day to break in your boots. Fit them with hiking socks when you buy them and wear them wherever possible before you go – your feet will thank you later!"
Our Nepal trekking Holidays
Packing tips
Emma Garrick from our supplier Exodus shares her packing tips for trekking in Nepal:
"Layers are the way to go as opposed to big jackets, certainly for lower altitude treks; I would bring a couple of lighter fleeces and long sleeved tops and layer up that way. Some people like to use walking poles and I think they're especially useful on long days of descent as it takes the weight off you knees, though it's generally adults and people in their 40s and upwards who use them. There are outdoor shops in Thamel where you can pick up additional trekking kit and clothing for a fraction of the price – I wouldn't want to guarantee the quality, but there is opportunity to grab something if you forget it. It's always the case that you don't need everything you think you will; as a rule of thumb you'll probably need half of what you originally pack."
Environmental advice
Richard Goodey, from our supplier Lost Earth Adventures shares his Nepal travel advice on reducing rubbish: "The problem with rubbish in Nepal isn't monumental, but it is an issue. What we advice tourists to do is eat as the locals do: eat the rice, the lentils, the fresh fruit and vegetables. Tourists tend to bring with them plastic water bottles, packets of crisps and chocolate bars for energy, so without thinking, they are adding to the rubbish problem and the Nepalese are picking up on this - if they can sell you a Mars Bar for 50p, to them that's massive money. It's fine to eat foods like that, but take your rubbish with you back to Kathmandu and throw in the bin there because up in the Himalaya, they bury it in the ground, or they burn it and that's no good.
Advice on coping with Altitude
Emma Garrick from our supplier Exodus shares her advice on coping with altitude:
"Altitude affects people very differently, so you need to walk at a slower pace than the pace you'd trek at somewhere in the UK, and when trekking in a group the Nepali leaders will always be sure to hold you back anyway. There are acclimatization days and walks that are built into trekking itineraries especially to get trekker's bodies used to the environment, which are very helpful for the next day's higher altitude trekking. There will always be some people that are affected by altitude sickness, but the staff that are leading the trip are so attune to the very first signs that they can identify those that are not coping so well early on. Always let your leader know if you are experiencing headaches or a significant shortening of breath as they are able to take you down very quickly if they see fit."
Health & safety on a Nepal trek
HEALTH
Visit your GP or travel clinic at least 6-8 weeks before departure to ensure you have all the necessary vaccinations and that they are up to date.
Medical treatment is expensive at western travellers' clinics in Nepal and healthcare is poor in most places outside the Kathmandu Valley and Pokhara. Make sure you have adequate travel health insurance and accessible funds to cover the cost of any medical treatment abroad, emergency helicopter evacuation and repatriation.
If you do need to receive medical treatment in Nepal, up-front payment may be required even if it is covered by your insurance.
If you need emergency medical assistance during your trip, dial 102 and ask for an ambulance. You should contact your insurance company promptly if you are referred to a medical facility for treatment.
Don't attempt to take your children trekking in high mountain altitudes; they are demanding and tough on even the most acclimatised adults.
Familiarise yourself with the dangers of altitude sickness, especially if you are trekking in remote areas.
Many travellers experience stomach upsets in Bhutan. These are not usually serious, but do be prepared, and bring medication including rehydration and diarrhoea remedies to ensure this disrupts your trip as little as possible.
There is no malaria risk in Kathmandu, Pokhara or the mountain trekking areas, but malaria does exist in the southern belt of Nepal (the Terai) and risk is highest in the months of June, July and August, so consult your doctor or travel clinic about the best medication to take, especially if travelling to Nepal with kids.
Only drink bottled water and avoid ice cubes. Do not eat fruits or vegetables unless they have been peeled or cooked. Avoid cooked foods that are no longer piping hot - cooked food that has been left at room temperature is a particularly common culprit for tummy upsets, and avoid raw and/or undercooked meat or fish.
Apply insect repellent to skin and clothing to being bitten: wear long sleeves, long trousers, hats and shoes (rather than sandals), and for rural and forested areas, boots are preferable, with trousers tucked in, to prevent tick bites.
Kathmandu's polluted air gives many people respiratory infections within a few days of arrival; asthmatics should take particular care - minimize exposure by staying off the main streets, and think about bringing a filtering face mask if you're spending much time in the Kathmandu Valley.
Personal hygiene is paramount in Nepal. Wash your hands often and use antibacterial hand gel. Keep any cuts clean and disinfected. Hookworm can be picked up through bare feet, so it's best to always wear shoes.
SAFETY
Pickpocketing and bag snatching are common in Nepal, particularly in airports and on buses. Take care in the areas of Thamel, Sanepa and Kupondol in Kathmandu and be mindful that your valuables are not on show. Always use your hotel safe. Air travel is sometimes unavoidable in Nepal. Check the weather conditions before travelling - bad weather conditions in mountainous and hill regions could increase the risk to your safety and cause lengthy delays. The general standard of driving throughout Nepal is poor and badly regulated. Roads are very congested, drivers are not properly licensed, and vehicles are poorly maintained. There are few pavements outside central Kathmandu, but pedestrian right of way doesn't exist, so exercise extreme caution, avoid travelling at night and don't get on a bus if you think it's overcrowded. Trekking in Nepal often involves treks to very remote areas. Always use a reputable trek provider, don't veer off established routes and walk in groups. Never allow your kids to wander off on their own, even if it is 'just for a minute'. Keep an eye on the local press to find out about impending strikes, demonstrations and curfews. Don't ever break curfews, as the green light has been given for those who do to be shot. Be wary of deals offered by gem dealers in the city that involve you buying stones to sell for a 'vast profit' at home. There are no gems and there is no profit – you'd be surprised how many have fallen for this unlikely rouse. Kids attract kids - other scams include young kids asking for milk, which you then buy for a hugely inflated price and the kid then returns pocketing the mark-up. Cheeky.
Our top Nepal trekking Holiday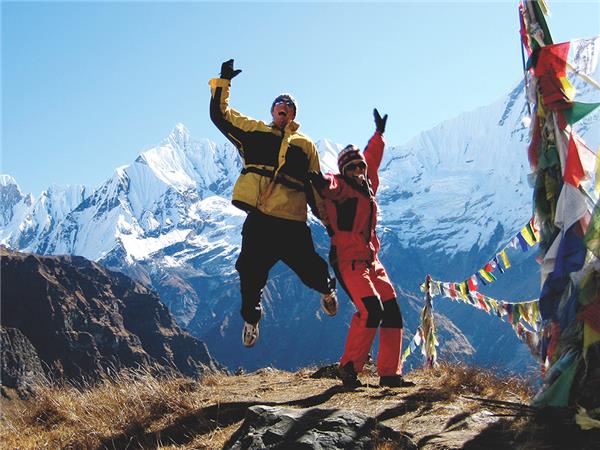 For anyone who has dreamed of seeing Mt Everest
From
£1085

to

£1260
15 days
ex flights
Small group travel:
2019: 26 Jan, 9 Feb, 23 Feb, 27 Feb, 2 Mar, 9 Mar, 13 Mar, 15 Mar, 16 Mar, 20 Mar, 27 Mar, 6 Apr, 8 Apr, 10 Apr, 14 Apr, 17 Apr, 19 Apr, 20 Apr, 24 Apr, 27 Apr, 1 May, 3 May, 4 May, 8 May, 11 May, 15 May, 18 May, 22 May, 21 Aug, 24 Aug, 28 Aug, 31 Aug, 4 Sep, 7 Sep, 11 Sep, 13 Sep, 14 Sep, 18 Sep, 20 Sep, 21 Sep, 25 Sep, 27 Sep, 28 Sep, 2 Oct, 4 Oct, 5 Oct, 9 Oct, 11 Oct, 12 Oct, 16 Oct, 18 Oct, 19 Oct, 23 Oct, 25 Oct, 26 Oct ...
Hello. If you'd like to chat about Nepal trekking or need help finding a holiday to suit you we're very happy to help. Rosy & team.
Nepal trekking tips from
our travellers
At Responsible Travel, we think the best people to advise our travellers are often... other travellers. They always return from our tours with packing tips, weather reports, ideas about what to do - and opinions about what not to.

We have selected some of the most useful Nepal trekking travel tips that our guests have provided over the years to help you make the very most of your holiday - and the space inside your suitcase.

Trekking means different things to different people. When someone thinks they can do a trek, they should understand what they are getting themselves into in Nepal - these are big mountains were talking about!

"Don't expect everything on your itinerary to stay as planned and don't expect there to necessarily be a big group of people on your trip." - Mandy Bryan

"It made me feel very uncomfortable watching a very small man in a pair of cheap trainers struggle up the hill carrying all our gear and it will make you feel worse if you have brought huge amounts of gear, so leave what you don't need at home." - Tessa Lash

"We went to Nepal in the off-peak winter season. Although mountain views are not always clear this time of year, it was compensated by the lack of other tourists - for 3 days on our trek we were the only white people and the places we stayed were never full or crowded." - Lotte Risbridger

Be relaxed and open minded to new people and the different culture in Nepal and you will have the experience of a lifetime.

"Diamox can be useful in treating altitude sickness, but it can also have really unpleasant side effects (not unlike altitude sickness), so don't rely on it being the solution." - Jo Homewood

"The degree of difficulty of your trekking holiday is directly related to your level of fitness. While I think most people can do the Annapurna Circuit, your ability to enjoy the experience increases significantly if you put in the work prior to doing the trek." - Edgar Ampil

"Take a VERY warm sleeping bag, shoes to wear in the evenings, and wetwipes to wash as the showers are very variable and cost extra. Also take water-sterilizing tabs, you can buy boiled water or bottled, but both have more environmental impact." - Nicola Waldman

"Travel early in Sept to miss the crowds, we love it at this time as not many others are around and it feels more special." - Joanna Gosse
More about Nepal trekking
Convert currencies