NORWAY WILDLIFE HOLIDAYS TRAVEL GUIDE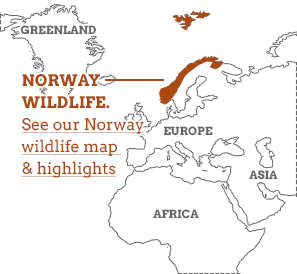 Imagine the outer reaches of Scotland where eagles soar and puffins strut whilst harbour seals make the most of sheltered coves and dolphins dance to delight holidaymakers huddled on the beach. Now ramp that feeling up a few notches by adding polar bears, whales, walrus, sea eagles and the occasional Arctic fox and you're getting closer to wildlife holidays in Norway. The islands of Lofoten, Vesterålen and Senja, offshore from one of the most northerly cities on earth, Tromsø, demand wildlife cruises in small ships while. Further north, the Svalbard archipelago conjures up cliffs covered in birds and pristine pack ice where polar bears prowl as binoculars tremble.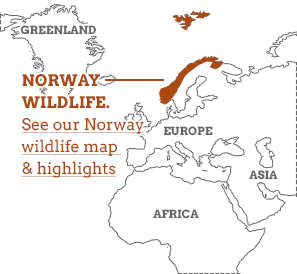 Forget trolls, Bergen and Vikings; this is Norway like you've never known her before: wild and untamed, a little bit feral, so to hell with the expense, let's go see some polar bears!

This is a world where wildlife outnumbers humans; where midnight sun creates 24hr animal encounters; and the darkness of winter provides one of nature's most enthralling spectacles: the Northern Lights. Explore Norway on land or at sea and be prepared to drop everything, at any time, other than your camera.

Read more in our Norway wildlife holidays guide.
Our Norway wildlife Holidays
Spitsbergen
Seeing
polar bears
in their natural habitat is not something to be taken lightly. Ice strengthened expedition ships enable wildlife cruises close to the pack ice that surrounds the fjords and rugged coastline of
Spitsbergen
, halfway between mainland Norway and the North Pole. Zodiac boats take you deeper into the ice filled fringes of the Arctic Ocean. You'll be joined by expert, knowledgeable guides who will offer important insights into the untouched Arctic wilderness which they know like the back of their mitted hand.
Nothing is ever guaranteed on wildlife holidays, although venturing north, at the right time of year, on a well organised tour, certainly increases chances of success. Walrus, blue whales, minke, reindeer, Arctic foxes and bearded seals can all be found in Spitsbergen during the bright Arctic summer.
Mainland Norway
Wildlife watching in mainland Norway can be done as part of a small ship cruise, or staying in guesthouses on dry land. Take hiking expeditions over the mountains, tundra and along the deserted beaches of the
Lofoten
and Vesterålen Islands where bird nesting colonies on remote rocks make for fascinating day trips. A warm Gulf Stream encourages an abundance of skrei (cod) and herring which, in turn, attracts sperm whales from May to Sept as well as
humpbacks, orcas and porpoise
which can often be seen during special nocturnal excursions, making the most of the midnight sun.
Being prepared
Wildlife watching in Norway requires a sense of adventure where taking pleasure from being outdoors in some of Europe's most unspoiled and captivating natural surroundings is reward enough and catching a glimpse of Arctic animals in their natural habitat is an added bonus.
Thermal layers, camera, binoculars, waterproofs and swimmers (for winter saunas or summer dips) are basically all you need although you will be provided with a full list of packing and responsible wildlife watching instructions which are worth following – to the letter.
Our top Norway wildlife Holiday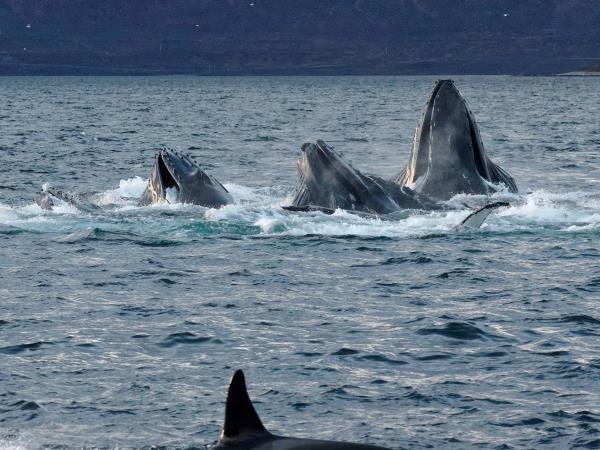 Far North. Far East. Whales and Northern lights.
From
NKr13900
5 days
ex flights
Small group travel:
2023: 24 Nov, 29 Nov
2024: 12 Jan, 17 Jan
If you'd like to chat about Norway wildlife or need help finding a holiday to suit you we're very happy to help.

THINGS TO DO ON NORWAY WILDLIFE HOLIDAYS
Things to do on Norway wildlife holidays...
Norwegians do winter rather well with saunas, fish soup and chunky jumpers keeping out the cold. Another warming factor that handily coincides with the Nov-Jan whale watching season is the aurora borealis. Experiencing the Northern Lights at any point is a lucky and magical moment but from a safe anchorage in a Norwegian fjord or on a dog sledding tour on the Finnmark Plateau, is incredibly tough to top.
The Lofoten Islands are an absolutely stunning setting for wildlife watchers interested in photography with winter and summer tours offering contrasting colour configurations against a backdrop of isolated fishing villages, smooth rock formations and wildlife-filled bays. Summer boat trips let you access steep sided fjords such as Trollfjorden in order to capture images of white-tailed eagles at extremely close quarters whilst snow-capped mountains, deserted beaches and the aurora borealis ensure the low winter light is anything but dull.
Norway may not boast the Big Five but it does hold wonderful stomping grounds for walking safaris with Fulufjellet National Park an incredible protected area to search for signs of lynx, wolf and wolverine whilst golden eagles soar overhead. Camping out in Fulufjellet, in several locations, is the best way to really envelope yourself within the natural world and woe betide the careless camper when bears, moose and wood ants abound.
Things not to do on Norway wildlife holidays...
Stick to dry land. It's all very well wildlife watching on the mainland but set sail amongst the fjords and nature reserves surrounding the islands of Lofoten, Vesterålen and Senja, and you'll be able to place puffins, seals and sea eagles in much sharper contrast. Sea kayaking and are more alternatives to sticking to dry land and if you're hoping to get all at sea and witness wildlife in some phenomenal untouched environments then small ship wildlife cruises are the way forward.
Stay south. The best advice is to get as far north as possible because although the fjords and towns of the south are all rather nice, nothing matches life above the Arctic Circle. Svalbard, especially, is just astonishing with opportunities to watch walrus, Arctic foxes and polar bears from a safe distance. Alternatively discover the Northern Lights and Sami culture within the northernmost region of Finnmark.
If you're going to watch wildlife in Norway, please don't be tempted to cheat and visit a zoo. Bergen has one such venue but in our opinion, animals should not be kept in captivity purely to entertain tourists. And travelling to such a wonderful wildlife destination just to see animals behind bars just doesn't make sense to us! Get out into the wild with a guide; camp under the stars; cruise past whales, porpoise and dolphins; just don't be tempted to duck out of the unpredictability of nature in favour of something a lot more contrived.
More about Norway wildlife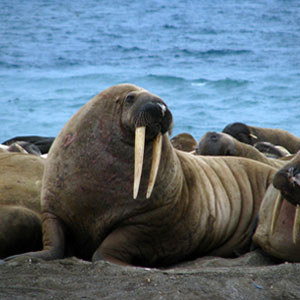 Find out the best time to go on a wildlife holiday in Norway by following advice from our friends in Norway as well as some top tips from our responsible travellers who have been there, done that, and got the chunky jumper to prove it. Check out our recommended locations for watching wildlife in Norway including the islands of Svalbard, Lofoten and Vesterålen, just south of the Arctic Ocean.