The island of Spitsbergen is the Svalbard archipelago's largest – and is home to its only town. The frontier-like Longyearbyen is doubly cut off: firstly in its remoteness, and secondly because it is surrounded by polar bears, meaning anyone venturing beyond its boundaries must bring with them a rifle – or an armed guide. Most explore by sea, but there are a few land based trips now too, ideal for those who want a truly wild experience of seeing the Northern Lights or, during the slightly longer days around March, to enjoy wilderness experiences such as husky mushing.

The jagged outline of the Svalbard Archipelago is the final scrap of land between mainland Norway and the North Pole. Its hardy residents are easily outnumbered by polar bears.

Explore inlets, fjords and islets onboard a sailboat or ice-strengthened survey vessel, with schedules dictated not by written itineraries but by the wind and waves, dispersing ice floes and snowmelt. A breaching whale merits a detour, as do Arctic foxes, bounding along the tundra. A Spitsbergen holiday will transport you entirely from the trappings of the modern world.
Spitsbergen is...
home to the most northerly statue of Lenin, in the former Soviet mining town of Pyramiden.
Spitsbergen isn't...
the place to go if you like to wander off for a stroll by yourself. Here be polar bears…
What does a Spitsbergen trip entail?
Journey to Longyearbyen
It's a long way to Longyearbyen, the main town of Spitsbergen Island which is, in itself, the largest island of the Svalbard archipelago. Once you get to Oslo, it is another three hour flight up to the northernmost town on the planet. Although Svalbard is under Norwegian sovereignty, it is also regulated by the Svalbard Treaty of 1920, which gives 46 signatory nations commercial rights here. So even if you fly in from Norway, you have to go through international arrivals and customs, reminding you that this part of the world is a whole other ball game. There is then a 10 minute shuttle bus from the airport terminal into the town centre. Whether you are going on a land based or small ship cruise holiday in Spitsbergen, Longyearbyen will be your starting point.
What is Longyearbyen like?
It is good to have at least a day here before going off on adventures, to switch your brain from the unremarkable events of the everyday to the unbelievable world of the Arctic extremes. If you are on a small ship cruise you will probably board straight away and leave that night; if you are on a land based holiday you will start off at a hotel in Longyearbyen. This is a one main street town, with a harbour and a handful of traditional Norwegian houses. It has a population of just over 2,000, and its name comes not from the fact that it could feel like a long year if you were up here for all of it, but from John Munro Longyear who founded the mining industry here in 1906.
Longyearbyen is tucked into a valley of the Longyearelva River, on the shores of Adventfjorden, and it has stunning views of snow covered mountains, glaciers and icy seas depending on the time of year, of course. It is also the land of polar bears, and is zoned off into safe and unsafe areas. The sign with a polar bear shows that you have left the safe zone. If you do, it is the law to carry a firearm (you must possess a licence in your own home country) or be accompanied by someone who is armed. Polar bears can wander into town any time of year, and for this reason, no one locks their car or building doors so that people can quickly find safety if necessary. The town can be busy during giant cruise ship season, May until August, when the seas melt and allow access.
Organised tours to Spitsbergen and Longyearbyen usually opt for the pretty high end option of accommodation, such as Base Camp Spitsbergen which has been designed to have an old fashioned trapper or explorer feel about it.
Our top Spitsbergen Holiday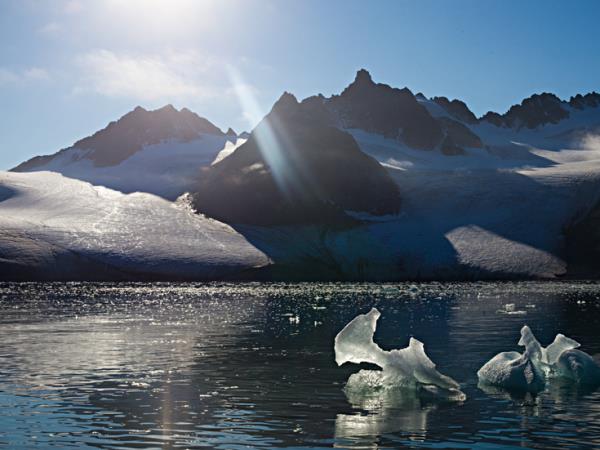 Wildlife-focused, expert-led small ship Arctic cruises
From
£2880

to

£20195
8 days
ex flights
Small group travel:
2023: 4 Jun, 6 Jun, 7 Jun, 8 Jun, 10 Jun, 13 Jun, 14 Jun, 15 Jun, 17 Jun, 21 Jun, 22 Jun, 28 Jun, 29 Jun, 30 Jun, 1 Jul, 2 Jul, 4 Jul, 6 Jul, 7 Jul, 10 Jul, 13 Jul, 15 Jul, 20 Jul, 22 Jul, 23 Jul, 24 Jul, 25 Jul, 29 Jul, 31 Jul, 2 Aug, 4 Aug, 8 Aug, 11 Aug, 12 Aug, 14 Aug, 18 Aug, 22 Aug, 24 Aug, 28 Aug
2024: 10 May, 15 May, 20 May, 22 May, 28 May, 1 Jun, 6 Jun, 7 Jun, 9 Jun, 10 Jun, 13 Jun, 14 Jun, 15 Jun, 16 Jun, 17 Jun ...
If you'd like to chat about Spitsbergen or need help finding a holiday to suit you we're very happy to help.

Exploring by water
Small ship cruises around Spitsbergen usually board in Longyearbyen, with various vessels on offer as a means to explore these great Arctic waters. These include a traditional schooner sailing boat, an expedition boat or a modern small cruise ship with lecture facilities, Zodiac outings and plenty of wildlife viewing facilities. You can also combine land and sea by heading to the most northerly accessible point of Nordenskiöld glacier on land, but then exploring beyond that by sea kayak. Or, weather permitting, and certainly not until the ice has melted, you can access this famous glacier by open RIB boat from Longyearbyen. Small ship cruises around Spitsbergen take place between May and August.
Exploring on land
From Longyearbyen, you head out on land based expeditions usually on husky sleds or snowmobiles, or hiking in the summer season, and stay in a variety of accommodation. From traditional wooden teepee style huts which were once hunting cabins, to a converted radio station with an expert chef preparing the finest of cuisine. The northernmost lodge can be found at Nordenskiöld, which is perfect for visiting the eponymous glacier. These are active expeditions, whether you are being full on husky mushers, cross country skiing to see fjords or snowshoeing over white valleys.