Best time to visit Spitsbergen

From late October to early March, Spitsbergen is plunged into perpetual twilight as the sun abandons the Arctic for the long, winter night.

The best time to visit Spitsbergen is midsummer, when the sun never dips below the horizon – though it never quite warms the chilly landscape, either. The ice floes disperse, allowing ships to cruise right around the island, and July-Aug is prime polar bear viewing season. The endless days allow for plenty of wildlife watching amid the wildflowers, plus activities such as kayaking or diving – though there is little snow. For winter sports, choose April or May, when the island is still ice-clad, days are longer and there are few other visitors; the Northern Lights make their appearance from late Sep.
Think of winter in two parts. You have the dark 'polar night' from around mid November to late January, which is pitch dark around the clock – broken up only by the Northern Lights. Not surprisingly, you don't get many holidays during this time. The other part of winter is sometimes called 'sunny winter' which is when the sun comes up over the horizon again around the beginning of March. It is still totally snow covered, however. There is a stunning period before and after polar night, which is generally in February and early October. This is, for many photographers, the best time to visit Spitsbergen, as there is a sort of blue light everywhere, pre-empting total darkness. You can still see the Northern Lights during this time as well. March, April and May in Spitsbergen bring blue skies, longer days and freezing temperatures. This is a great time for outdoor activities such as snowmobiling and husky mushing as the sea is still frozen. But you need high quality winter gear to be out there in the cold; tour operators provide this. During these months, the daytime sky is often a pastel pink, which is superb for photography. The midnight sun season starts around 20 April and continues right through until late August. Polar summer kicks in 17 May until end of September. This is the best time for small ship cruises or sea kayaking, and also for sighting wildlife, including polar bears, polar foxes and reindeer. Just to put things into perspective, the 'normal' summer months of July and August mean that temperatures may deign to go over the zero mark. However, the Arctic winds do calm a lot during this time, as does rainfall. If you are considering a December trip to Spitsbergen, and it is possible, be prepared to do activities with head torches but also for the strong possibility of Northern Lights. It is also a good idea to check the lunar calendar, as a full moon will bleach out the lights.
Spitsbergen Weather Chart
Our top trip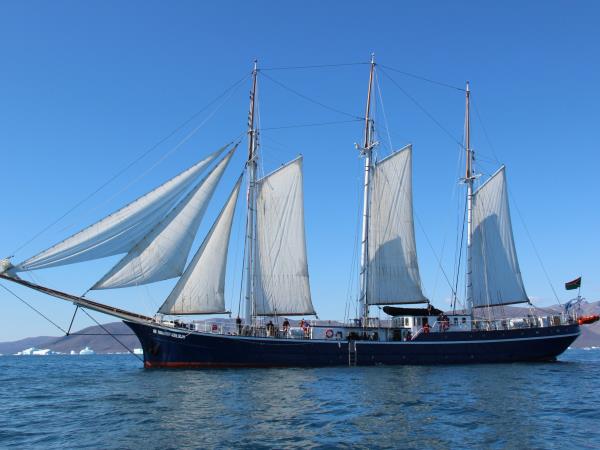 Spitsbergen tall-ship wildlife and natural history sailing
From
€3045
8 days
ex flights
Small group travel:
2024: 15 May, 22 May, 26 May, 2 Jun, 8 Jun, 9 Jun, 18 Jun, 28 Jun, 8 Jul
If you'd like to chat about Spitsbergen or need help finding a holiday to suit you we're very happy to help.

Tips on when to visit Spitsbergen
Linn Tove from our supplier, Basecamp Spitsbergen:
"My personal favourite aspect of Spitsbergen is June and July when there are plenty of birds and wildlife in the area. For example, Isfjord Radio has a bird sanctuary right outside the door, which also means the foxes coming by every morning and evening to hunt for eggs. During summer we also have the midnight sun."
Charlotte Caffrey, marine scientist and co-founder of our supplier Aqua-Firma, advises on when to go on a cruise to Svalbard:
"The seasons are very different. In June, there's a lot of snow and ice, so you're able only to visit parts of Spitsbergen. As the season goes on, you get a melting of the ice so you can do a circumnavigation. It's a longer trip and you're getting very different aspects of the Arctic. By September, there's no longer 24-hour daylight; you'll get more evening time. The birdlife stays from around June into early September – there's a lot of food around and the breeding activity is really high. So you have to think: what do I want to see? How long do I want to be there? Which parts do I want to explore?"
Andrew Appleyard from our supplier Exodus, on the advantages of the midnight sun:
"Our summer voyages to the Arctic are in 24 hours of daylight! This makes for stunning wildlife viewing – but expect to get woken up at 3am if we see polar bears on the horizon or a pod of whales emerging from the bows of the ship."
More Spitsbergen articles