Spitsbergen travel advice
Tips on choosing a cruise
Paul Goldstein, a wildlife photography and Spitsbergen expert at our supplier, Exodus Travels:
"Do lots of research before you book. You will always find a cheaper trip, but then you will probably find the ship has 250 berths instead of 100. Look at the ice and stabilisation capability of the ship, and also the flexibility of the itinerary. How many times are you going to be allowed off the ship once you get to a landing? It's likely that you are not going to do this more than once so research is critical."
Wildlife advice
Andrew Appleyard, from our supplier Exodus, had a magical experience watching foxes hunting on Spitsbergen:
"Just outside of Longyearbyen is probably the best place to see Arctic foxes. They're at the bottom of one of the bird colonies there. The hatchlings fly from the cliff face straight into the ocean, but quite a lot of them don't make it. They bounce on the tundra, and the Arctic foxes pick them off. They then bury them in the ground for future use if they get enough. There are a number of Arctic foxes, so a lot of that birds from that colony don't make it to the water's edge. The foxes also take eggs from the rookery edge – it's a great place to see them in action."
Beyond the bear
Andrew Appleyard, from our supplier Exodus:
"In the Arctic, the quest for the polar bear is the one that everyone's there for. That makes it, to be honest, a bit of a one trick pony. But for me, the birdlife up there is absolutely astounding. Beautiful eider ducks, the skuas, the phalaropes... for me, the birding was the highlight of the entire trip."
Why go overland?
Linn Tove from our supplier, Basecamp Spitsbergen:
"The wilderness that surrounds you when travelling just a bit outside Longyearbyen is hard to describe. In combination with the unique destination, high level of comfort and great views, this is a great way to feel like a polar explorer."
Photography tips
Paul Goldstein, a wildlife photography and Spitsbergen expert at our supplier, Exodus Travels:
"Don't come with an instruction manual for your camera. You need to know that camera competently before you come, or preferably two cameras as there isn't a clinic on board to mend them. You will get all levels of advice on board, but the more you know before you embark, the more you can hit the ground running. Equally, you mustn't look at these places just through a view finder. Two reasons: first, it will be far more indelibly etched on your own memory mainframe if you just watch. Second, the more spiritual and patient you are the better your photographs will be. Patience isn't a virtue; it's a must with wildlife. The sorts of people who will value this trip are those who want to take stunning photographs, not just record shots."
Abandoning the itinerary
Charlotte Caffrey, from our supplier Aqua-Firma:
"You have to understand that this is an expedition; it's not like a normal holiday with a fixed itinerary. Out there, what will be, will be. What nature will reveal, she will reveal. You have to go with the flow and take the opportunities as you see them. Itineraries are there as a snapshot of what may be and we change them all the time to make the most of opportunities. If there's a whale carcass that has been located then we might bypass what we were going to see to visit the carcass, as there may be polar bears feeding on it. There is ice and weather and everything else to consider too; you really do have to have an open mind."
Packing tips
Responsible Travel's Lyn Hill was on a land based trip to Spitsbergen in March:
"Silk liners were the best thing I packed, without a doubt. Silk gloves and socks, because they are warm and not bulky at all. I had normal long johns as the silk ones are really expensive, but the socks and gloves were great value."
Linn Tove from our supplier, Basecamp Spitsbergen:
"My top tip for packing for an overland trip in Spitsbergen will always be wool, both for summer and winter trips."
Health & safety in Spitsbergen
HEALTH
No vaccinations are required for visits to Spitsbergen. Ensure your travel insurance covers all activities you may be participating in, such as snowmobiling or ice climbing as well as emergency evacuation. If you are travelling on a small ship cruise, there will be a doctor or nurse for basic treatments.
Sea sickness can be an issue on small ship cruises, so come equipped. We are big fans of ginger at Responsible Travel and you can buy it in tincture form.
Bring good quality, protective sunglasses and sunscreen to cope with the glare off the snow, ice and water, no matter what the season.
Tour operators will provide detailed trip notes and packing lists. They will provide any extra winter gear to protect you from the cold, but this is usually to put on top of your 'normal' winter gear. It gets seriously cold in the frozen months if you are going on a land based trip, so do read up on everything you need to bring.
Land based trips require a reasonable level of fitness to cope with the cold, wearing several kilos of gear and so on, so you will need to be fitter than you think. Small ship cruises require fitness and stamina too, if you want to partake of the land based activities. People with mobility issues need to check details with the tour operator, as each ship varies in terms of access.
Never touch dead animals, as they can carry disease. In fact, don't touch any animals in and around Spitsbergen, for their safety and yours.
SAFETY
Polar bears are one of the most dangerous animals on earth, and they stray increasingly close to populated areas. Obey your guide and never wander off alone. In some areas, such as outside Longyearbyen, you may not walk without a firearm – the threat of an encounter is very real. That is why local people don't lock their car and house doors, so there is always somewhere to escape to. If you are travelling outside Longyearbyen and Barentsburg you must be accompanied by an armed guide. You can rent suitable firearms in Longyearbyen as long as you hold the correct licence in your home country. Although our holidays are all guided so you won't need to worry about that. Stick to all the safety rules when it comes to land based activities. Ride your snowmobile with care; they are powerful machines. As with polar bears, wildlife rules the roost in Spitsbergen and Svalbard. Arctic terns, for example, will attack if you are too close to their nests. They will go for your head, so just hold up a walking stick, boot or wave over your head to make them go away. But don't hit them! If you want to walk on glaciers or cross rivers, you need experience, equipment and expert guides. Always. If you are going on a small ship cruise, there will be safety drills at the start of the trip. It is important that you attend these and pay attention. Chat with your optician if you have prescription sunglasses, or photochromic lenses to ensure that they can cope with the freezing temperatures. You don't want to be out on a snowmobile and suddenly be unable to see where you are going. Fog and storms can descend out of nowhere, and kayaking presents its own hazards. But don't panic; your tour company will be more than prepared for any eventuality. Follow their advice, and you'll be just fine.
Our top Spitsbergen Holiday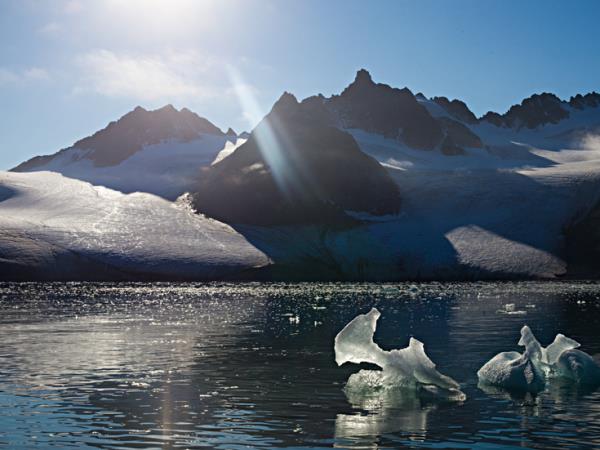 Wildlife-focused, expert-led small ship Arctic cruises
From
£3160

to

£20195
8 days
ex flights
Small group travel:
2024: 10 May, 15 May, 20 May, 22 May, 28 May, 1 Jun, 6 Jun, 7 Jun, 9 Jun, 10 Jun, 13 Jun, 14 Jun, 15 Jun, 16 Jun, 17 Jun, 19 Jun, 21 Jun, 22 Jun, 24 Jun, 25 Jun, 26 Jun, 29 Jun, 30 Jun, 3 Jul, 4 Jul, 5 Jul, 7 Jul, 8 Jul, 10 Jul, 12 Jul, 13 Jul, 15 Jul, 19 Jul, 20 Jul, 21 Jul, 22 Jul, 23 Jul, 27 Jul, 28 Jul, 30 Jul, 31 Jul, 2 Aug, 6 Aug, 8 Aug, 9 Aug, 11 Aug, 12 Aug, 22 Aug, 1 Sep
If you'd like to chat about Spitsbergen or need help finding a holiday to suit you we're very happy to help.

At Responsible Travel, we think the best people to advise our travellers are often... other travellers. They always return from our tours with packing tips, weather reports, ideas about what to do - and opinions about what not to.

We have selected some of the most useful Spitsbergen travel advice that our guests have provided over the years to help you make the very most of your holiday – and the space inside your suitcase.
"Don't set your heart on seeing anything specific. Be prepared for the changes in weather. It's not as challenging as I expected - to take account of the huge spectrum of ages and abilities. But most of all HAVE FUN!" – Lisa Thomas

"Don't expect to buy much in Longyearbyen..." – Jonathan Turner

"Make sure you have excellent binoculars, a really powerful zoom on the camera, and are prepared to take literally thousands of photographs. Try to find wellies which you can wear comfortably for long walks." – Justin Watts

"The most memorable bit? Finding a land without paths; experiencing the silence and utter beauty of Svalbard; seeing wildlife I had never dreamt of; meeting some very special people. Read all the literature carefully – it was comprehensive and covered practically everything one would wish to know. Do some long walks beforehand, especially uphill, if possible." – Jane Mackay

"Don't expect a close up of a polar bear, that would be very rare, they are usually spotted in the distance on a mountainside or beach. If you want a close up of them go to Churchill with the other tourists."
– Keith Brignell

Wellingtons essential as are good sturdy hiking boots. Enjoying the luxury of the excellent Spitsbergen Hotel was also a plus. Recommend visits to Art Gallery and Museum in Longyearbyen.

"Don't expect a close up of a polar bear, that would be very rare, they are usually spotted in the distance on a mountainside or beach. If you want a close up of them go to Churchill with the other tourists."
– Keith Brignell

"Be prepared for long, action-packed days. Ensure your wellies are comfortable or bring walking boots to change into once you have left the Zodiac. Listen to your guide - he knows what he is talking about and is responsible for the safety of you and the rest of the group - don't wander off. Try to read a little about Spitsbergen/the Arctic before you go - there is far too much to learn in the two weeks!" – Julie Davis

"Only go if you are truly interested in all sorts of wildlife and nature. Don't expect a great variety of plants and animals - but what there is, is spectacular. Take a very good SLR camera with high magnification."
– David Rumsey

"Be warm but also have some smart casual clothes to wear in the evening. When inside of the boat you can be relatively warm – have those layers for going out on deck where it can be cooler but you can watch the midnight sun or enjoy the on deck BBQ. If you want good photographs make sure you have a camera with long range focus as you are often at a distance from the wildlife so as not to disturb them. Take your swimming gear as you do get the opportunity to swim in arctic waters – everyone that did did survive"!
- Susie Barrett, on our Spitsbergen wildlife cruise

Be flexible and do not expect much of what written in the 'final itinerary' to happen. Decisions are made everyday depending on the weather.