Best time to go on a Norway winter holiday

Wait for the Northern Lights in the eerie arctic dark, or go in late winter, when the snow is sunlit, and the sky is husky-eye blue.

Not to be confusing, but there's winter in Norway, and then there's winter winter – the latter involves the Polar Night, when the sun doesn't even come above the horizon when you're in the Arctic Circle. In Svalbard, the Polar Night lasts for nearly four months. In the Lofoten Islands, it lasts four weeks. Not many people will go to Norway during Polar Night. But October and February have enough light to be very pleasant. October is a good time to see the northern lights and go whale watching. February, March and April will come ready-iced with a helping of perfect snow, ready to be carved by cross country skis and dog sleds.
Our Norway winter Holidays
Winter holidays in Norway, month by month
Late September onwards is aurora borealis season in Norway. The likelihood of spotting the solar phenomenon with the naked eye increases through the season, peaking from December to February. On 26 October the sun sets for the last time in the year in Longyearbyen on the Svalbard Archipelago. It will next rise above the horizon on 16 February. Not much happens on the tourist scene in Norway in November; the weather is bad, there isn't much snow, and the sky is, for the most part, dark. Norwegians are preparing for winter and Christmas. Norway makes a cosy, if crepuscular Christmas and New Year's Eve destination. In December the country is subsumed in the Polar Night; the sun won't rise in many parts of Norway until January. In Alta, Finnmark, the Polar Night starts at the end of November and lasts until mid-January, but down in Lofoten, it lasts around four weeks (December to January). Between December and January you can go whale watching from Tromso – orcas and humpbacks can be seen off the coast. Norwegian children have a school holiday towards the end of February, so popular spots might get busier. Look out for Sami Week in Tromso, where you can watch reindeer racing. In February the light in the Lofoten Islands is great for photographers: in Reine, you'll get strange glimpses of the sun as it rises from the south (yes, south). Photographers can't complain about the rain when the light conditions are so right. From February to March cross country skiing season starts. You can enjoy winter sports up until May – and the end of the season is less busy, lighter and warmer – though the snow is probably at its very best at the start of the season. In spring, orca hunt herring around the Lofoten Islands, and humpbacks, fin whales and orcas feed on the continental shelf off the Vesteralen Islands. March is the best time to experience 'winter' in Svalbard. It's light enough to dog sled, see the landscape, and enjoy the ice caves, but you've also got a chance to see the northern lights.

March is a great time to go, still lots of snow but warmer and longer days.

– Tom Wilkinson, from our supplier Exodus
Our top Norway winter Holiday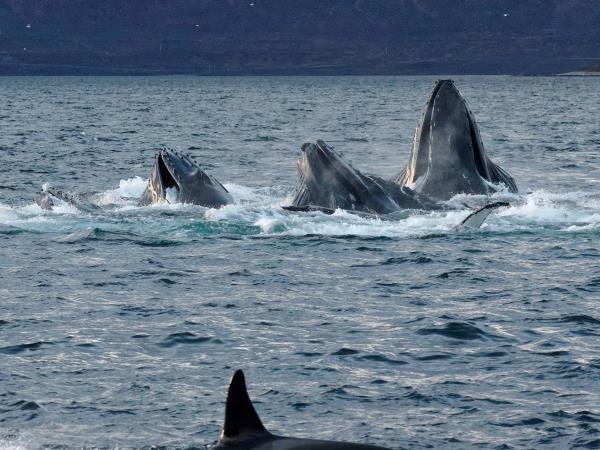 Far North. Far East. Whales and Northern lights.
From NKr13900 5 days ex flights
Small group travel:
2023: 29 Nov
2024: 12 Jan, 17 Jan
If you'd like to chat about Norway winter or need help finding a holiday to suit you we're very happy to help.

Things to do in winter in Norway...
Meet Sami people. There are 40,000 Sami people in Norway, and they're known for their reindeer herding, their joik (traditional song) and for colourful felt clothes with tin and pearl embroidery.
Stay warm. Often snow suits are provided for outdoor activities, but you'll need your own footwear – sturdy, non-slip boots are essential – with the addition of cleats or spikes, and gaiters are great for walking through snow. As a rule of thumb, kids should normally wear one layer more than adults – having a larger surface area to weight ratio, they lose heat faster. Keep babies especially snug.
Eat well. Try lingonberry-heavy reindeer stews, creamy Norwegian cakes, abundant freshly-caught salmon and trout – all best enjoyed after a hard day of adventuring in the above activities. Avoid buying alcohol, as it's very, very expensive.
Things not  to do in winter in Norway
Just ride snowmobiles. There are cases for and against snowmobiling. These rev-heavy vehicles are a source of noise and air pollution (electric snowmobiles aren't common… yet). However, on the Svalbard Archipelago, where there are only 40km of roads, snowmobiles (or boats) are the only ways to get around. Expect a blackout. Just because the sun won't rise today, doesn't mean it will always be dark. Some Norwegians don't call the Polar Night the dark time, they call it the 'blue time' instead. Wait for the magical time of day when indirect light makes the snow look luminous and the sky becomes a pastel facsimile of its summer self. In a word: wonderful. Stay inside. Embrace Friluftsliv. Pronounced free-loofts-liv, this means living in the open air, and it's the Norwegian way to do winter properly. Come rain or shine or snow, Norwegians love being out in the fresh air. They get outside as much as possible, and you should too: by sled, snow shoe, or cross country skis.