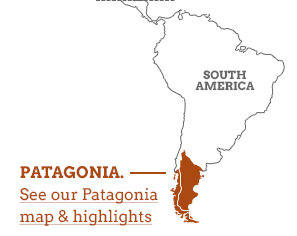 With landscapes composed of volcanoes, glaciers and ice fields, Patagonia is to be savoured, not rushed. Trek through this epic wilderness shared by Argentina and Chile as part of a small group or on a tailor made and self guided holiday. Local guides enlighten walkers with their knowledge not only of the region's flora and fauna, but also the impact of climate change on these fragile ecosystems and how park entrance fees aid their conservation. You'll get a feel for Patagonian culture and traditional hospitality too, with warm welcomes at family-owned lodges and gaucho ranches.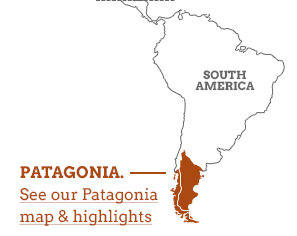 Our top Patagonia holidays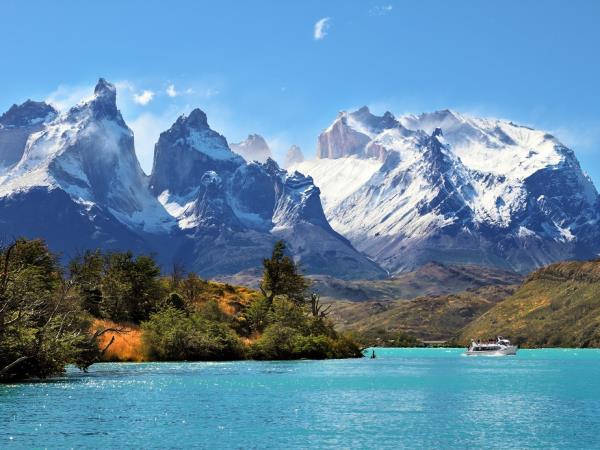 14 days
ex flights
Santiago, Lake District, Patagonia, Glaciers & Buenos Aires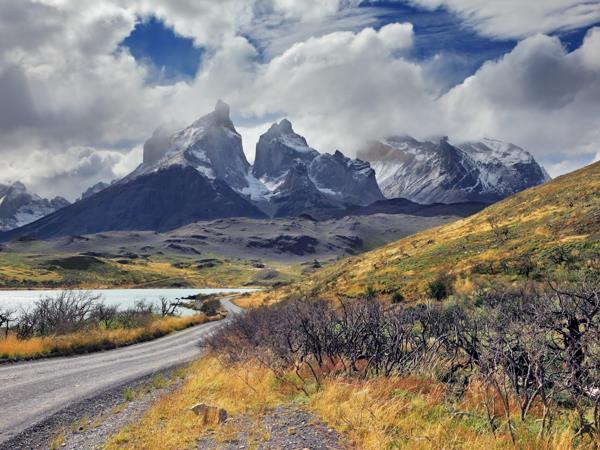 20 days
ex flights
Explore the spectacular wilderness and mountains of Patagonia
Small group
2022: 30 Oct, 20 Nov, 11 Dec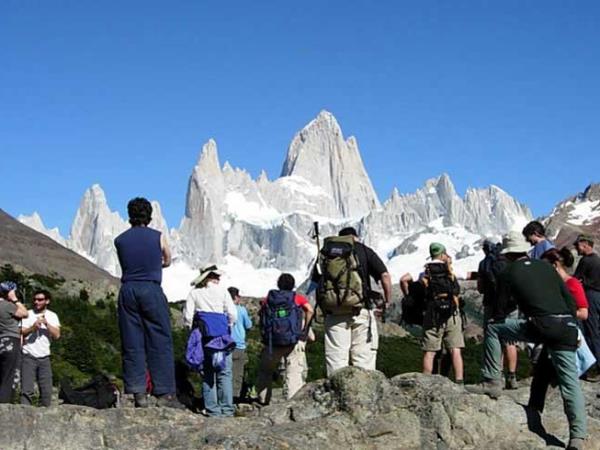 15 days
ex flights
The best of Patagonia and Torres del Paine National Park
Small group
2022: 22 Jan, 5 Feb, 12 Feb, 26 Feb, 5 Mar, 1 Oct, 8 Oct, 15 Oct, 22 Oct, 29 Oct, 5 Nov, 12 Nov, 19 Nov, 26 Nov, 3 Dec, 10 Dec, 17 Dec, 24 Dec, 31 Dec, 2023: 7 Jan, 14 Jan, 21 Jan, 28 Jan, 4 Feb, 11 Feb, 18 Feb, 25 Feb, 4 Mar, 11 Mar, 18 Mar, 25 Mar, 1 Apr
Best time to go on holiday to Patagonia
Patagonia's weather is characterised by unpredictability but it's also known for its relentless wind, which races across the steppe and makes you feel very glad to be cosied in your estancia. December to February, the southern summer, is peak tourist season, and you can make the most of the long days. Mid-November populates Patagonia with spring flowers rather than tourists and mid-March to May are also less busy, the beech forests putting on beautiful autumnal displays. Ice blocks the trails in the cold winter months, rendering them inaccessible to visitors in June, July and August.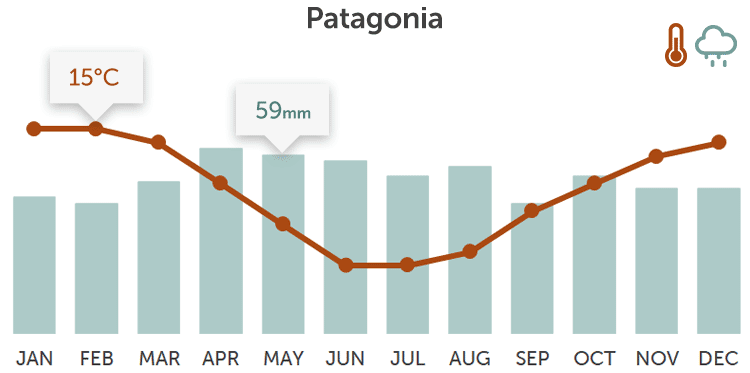 Map & highlights
Patagonia is not a country, but a large region straddling Chile and Argentina. In the north, Bariloche town is the gateway to the pleasant vistas of the Lake District. Pass down through the windy steppe and you'll finally get to a spine of sights in the south. El Chalten is a tiny hiking town, whilst El Calafate is a great base for seeing Glacier Perito Moreno, and both sit next to Los Glaciares National Park. Over in Chile, Torres del Paine has the famous multi-day W trek. Furthest south is the Tierra del Fuego archipelago, and Ushuaia, the world's southernmost city.
1. Bariloche
You'll wonder if you're still in South America when you arrive in this postcard-pretty alpine town, built by the original German and Swiss inhabitants. Chocolate shops line the streets, so you can get your sugar fix before heading into the mountains for biking, hiking, or horseback rides. Keep an eye out for the mythical Nahuelito – a strange creature which the Mapuches believe inhabits the lake.
2. El Calafate
This is the gateway to Los Glaciares National Park, which can be visited on a daytrip by bus or boat. Visit the nearby Glaciarum Museum to better understand these icy giants, or go hiking or cycling around the ice blue Lago Argentino. Alternatively, stay at a nearby ranch – where you can hang with the cowboys and ride horses. Over 40 species of migratory birds can be spotted in the region.
3. Lake District
Chile's answer to the Swiss Alps is chocolate-box beautiful, with slivers of lake between snow-tipped volcanoes and verdant valleys. The German settlers brought their beer and bakeries, but this is also the centre of native Mapuche culture, adding a whiff of magic and mystery to this idyllic region. Head out of the cities for outstanding outdoor pursuits, including kayaking, whitewater rafting, volcano hikes and hot springs.
Los Glaciares National Park
4. Los Glaciares National Park
Over a third of this immense park is covered in ice, which slides down into more than 40 glaciers. The most famous is, of course, Perito Moreno, which towers up to 60m in a sheer wall of blue ice, 5km long. It is one of the world's few advancing glaciers, and the loud creaking is constant. Full glacier cruises on Lake Argentino take in four glaciers – giving a true sense of the scale and importance of the park.
5. Tierra del Fuego
The island at the end of the world, reaching Tierra del Fuego is a highlight for any traveller, though it's not as harsh and uninviting as its reputation as the "Land of Fire" may suggest. Its marine climate tempers the cold, and the walking trails through the forests of its national park are easy-going and scenic. You can paddle inflatable canes on its lagoons and rivers, and look out for seabirds.
Torres del Paine National Park
6. Torres del Paine National Park
Hiking here is a highlight of any Patagonia itinerary, with its backdrop of glaciers, snow-capped mountains and lakes, along with foxes, skunks, flamingos, condors and guanacos. A demanding trek/scramble takes you to the base of the immense granite towers that give park its name. You can also take boat rides past Grey Glacier, and camping expeditions give you chance to get deeper into the pristine terrain.
Wilderness experiences
For all its dramatic highlights – and the scenery here really is extraordinary – at its heart, Patagonia is actually very empty. Mountain ranges cast vast rain shadows, and wildlife is shy and hard to spot among the echoing valleys and wind-blighted pampas. On the Argentine side, there are swathes of estancia-dotted ranching territory, whilst in Chile, thousands of islands exist untroubled by visitors. It's the perfect place for those who want a wilderness experience, whether that's hut to hut hikes between simple refugios, horse riding along glaciated valleys, or really epic drives, spotting high-soaring condors through the sun roof.
Torres del Paine
The sight of rose-hued sunlight striking the three granite towers that give
Torres del Paine National Park
its name is reserved for those who get up early and hike to Mirador Base las Torres. This is just one of the scenic marvels in this Chilean national park, which also hosts Lago Grey, Grey Glacier and the tri-spiked crown of Cuernos del Paine. The park is home of the famous W trek, a five-day hike, and is accessed from Puerto Natales, a small town where tourists pick up provisions before setting out into the beautiful wilderness.
Los Glaciares National Park
Los Glaciares National Park
is aptly named, home to 40 glaciers that cling to the side of its mountains like diamonds sticking out of bedrock. The most famous is Glacier Perito Moreno, a wall of ice that calves into the water beneath to the stunned murmurs of the assembled crowd. El Calafate, a pleasant settlement just outside the park, makes the best base for your glacier visit. A little further north is the town of El Chalten. You can hike straight from town into the Fitz Roy Range, a series of granite fingers with frozen lakes in the palms of their hands.
Family holidays in Patagonia
Young children won't get much out of Patagonia's long hikes, but adventurous teenagers will be able to appreciate the moody weather and brooding peaks. Patagonia is a safe and friendly destination for
family holidays
, but the big distances present a challenge. To minimise the amount of walking, you can tour the Patagonia steppe in a 4WD vehicle, and little ones will love looking out for cuddly alpaca-like guanaco on the drive to Torres del Paine. Jaws will drop at the sight of glaciers. Children can even walk on Glacier Perito Moreno once fitted with a set of kiddie-sized crampons.
Types of holidays & vacations in Patagonia
Patagonia is synonymous with
adventure holidays
. Skirt glaciers on boat trips, scramble up scree-littered slopes to reach windswept viewpoints, and just relish the sheer remoteness of it all. A hiking fanatic could live in Patagonia for years and still never complete more than a small portion of its walks – there are just too many – but a
walking holiday
is a good start. Torres del Paine is a great place for long distance trails, but there are also plenty of day walks.
Small group tours
make holidays where you're planning lots of hiking a breeze, as there's always a new person to chat to on the trail.
If you'd like to chat about Patagonia or need help finding a holiday to suit you we're very happy to help.