Today's travellers to South America will know the Inca Trail as the famous route that leads to Machu Picchu, the magnificent mountaintop citadel that is a must-see for anyone who visits Peru. But the trail is in fact just one short stage of a vast network of paths, built in the 15th century, that crisscrossed the whole Inca Empire, and these paths didn't lead to Machu Picchu, but to the ancient city of Cuzco, capital of the Inca world. Of these 40,000km of stone trails, what we now know as the Inca Trail covers just 43km, but it traverses some of the most stunning scenery in the Vilcabamba range, offering breathtaking views and passing impressive archaeological sites along the way.
The Inca Trail begins in Piscacucho, at the point known as Kilometre 82 – marking its distance from Cuzco. The US explorer Hiram Bingham walked along this same path when he 'rediscovered' Machu Picchu in 1911, led there by Quechua villagers who had always known of the site's existence. The trail as we now know it was first opened to tourists in 1970 by the Peruvian government, though just a handful of tourists completed this route each year. Permits weren't introduced until three decades later, as the route began to grow in popularity. The Inca Trail now provides a significant source of income for many rural communities along its route, as some 300 cooks, porters and guides are required to lead tourists each day.
Inca Trail practicalities
Our Inca Trail holidays include five day trips, which you can incorporate into longer South America tours, as well as complete holidays which will take you around Peru and beyond. There are trips to suit all budgets – from the most basic backpacker options, to higher end trips with larger tents, private toilet tents, larger personal weight allowance (as they will employ more porters) and more varied meals. Some may even provide Thermarest mattresses and showers, although more commonly you'll be given a foam sleeping mat and a bowl of hot water. You can bring a sleeping bag or hire one from your hiking company; if you do this, it's a good idea to bring a sleeping bag liner. Tents will generally be provided, and the porters and cook will usually forge ahead so that everything is set up at the campsite for your arrival each afternoon.
Either way, you'll be travelling with a guide, cook and porters. Mules are not permitted for carrying luggage as their hooves would damage the stone paths; the same goes for metal tipped walking poles – bring rubber tipped poles instead.
You can choose a private, tailor made tour or join a small group – although with 500 trekkers, porters and guides per day on the trail in peak season, the likelihood is that you will end up meeting plenty of people along the way, whichever option you choose.
You'll need to bring your passport for the checkpoints. Pack lots of warm layers; it can get cold on the trail, especially at night, given the high altitude. The winter months of June to August are the chilliest. January to March are the wettest – and the trail usually closes for the whole of February for maintenance.
Inca Trail permits go on sale in the October of the previous year, so permits for the 2020 trekking season, which begins in March, will go on sale in October 2019. Tickets for the busiest months (May to September) have been known to sell out in just a few days, but even the quieter months will sell out a couple of months in advance, so do plan well ahead to ensure you obtain a permit. Tour operators will book permits on the day they are released to ensure they have permits for all of the tours they run. This does buy you a little extra time, but as there are still only 200 trekking permits (for tourists) on any given day, even the operators will have very limited numbers, and when they're gone, they're gone!
If you don't manage to secure a permit, there are a number of other options. There are several
alternative treks
that take you to Machu Picchu in four or five days, the best known being the Lares and Salkantay treks. Otherwise, you can take a train to Machu Picchu; there are 2,500 tickets per day for the site itself, which remains open throughout February, so there is not quite the same scramble for passes.
Our top Peru Holiday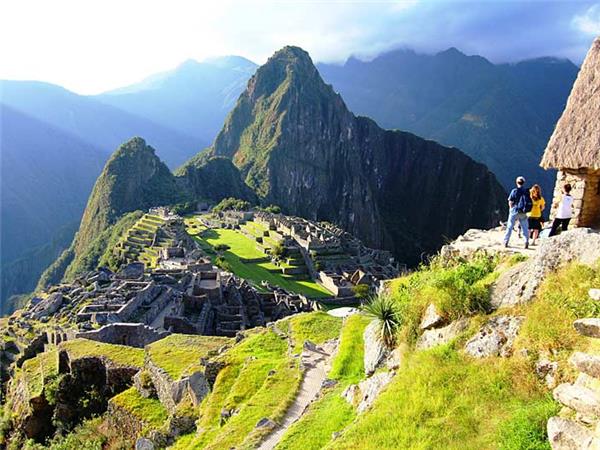 An unrivalled combination of history and spectacular scenery
From
£3199

to

£4149
10 days
inc UK flights
Small group travel:
2023: 3 Nov
2024: 5 Apr, 12 Apr, 26 Apr, 3 May, 17 May, 31 May, 7 Jun, 19 Jul, 16 Aug, 23 Aug, 13 Sep, 4 Oct, 18 Oct, 1 Nov, 8 Nov, 29 Nov, 19 Dec
If you'd like to chat about Peru or need help finding a holiday to suit you we're very happy to help.

Organised Inca Trail holidays will always incorporate a day or two to acclimatise to the altitude in Cuzco, which sits at 3,400m, and this may include an excursion to the nearby Sacred Valley, or the Sacsayhuaman fortress. After this, your trek begins.
Day 1:
Set off from Cuzco for the three-hour drive to Piscacucho, to meet your guides and porters, and pass the first checkpoint. The first few hours of your journey follow the Vilcanota River, passing farms, cacti gardens and the snowcapped backdrop of Nevado Veronica. Inca ruins line the route and today you'll explore the ridgetop site of Llactapata, before reaching your camp for the night. 11km, 6-7 hours.
Day 2:
The second day of the Inca Trail is notorious for being the toughest, as you ascend though cloud forest to Warmihuañusca – known ominously as Dead Woman's Pass. At 4,215m this is the highest point on the trail, and once you've crossed if there is a steep descent down to the Pacamayo River valley, for your next camp, at 3,600m. 10km, 6-7 hours.
Day 3:
Today you'll ascend again, but it's a much gentler hike, up to the ruins of Runquracay and the Runquracay Pass at 3,930m. Here, the Inca Trail becomes more clearly defined, and as you walk along the flat boulders, you can muse over whose feet may have followed this same route five centuries ago. You might pause to explore the Sayajmarca ruins before entering the rainforest. 12km, 5-6 hours.
Day 4:
Your final day of trekking sees you descend down the Inca steps – a 2km stone staircase set into the mountains. You'll see the landscapes shift as you drop in altitude, and trek through moss and lichen clad cloud forest en route to the Inca ruins of Wiñay Wayna, which spill down a steep slope less than 5km from Machu Picchu. Most tour operators choose to camp here, tantalisingly close to your end goal, so that you can get up at dawn to reach Machu Picchu first thing in the morning. However, others will push on today, to reach the Sun Gate in the afternoon and avoid the sunrise crowds.


You won't enter the site today, but will enjoy the views over it from the Sun Gate at this much quieter time of day. If not camping at Wiñay Wayna, you may spend the night in a hotel or hostel in Aguas Calientes. With your first proper shower and bed since you started trekking, you'll no doubt enjoy an early night in preparation for a full exploration of the site in the morning. 9km, 6-7hrs, depending on where you sleep.
Day 5:
If you've camped at Wiñay Wayna, you'll wake up early today to hike the final 5km of the Inca Trail. You'll see the jagged outline of the Vilcabamba Range in the distance, and finally the iconic outline of Huayna Picchu, the peak which stands guard over Machu Picchu itself.

Those arriving from Aguas Calientes will also have an early start to take a government registered bus up the mountain to Machu Picchu. It's only a 30 minute drive, but with hundreds of people hoping to do the same thing, you'll need to beat the crowds, and queues, especially in the busy May to October season.
In either case, you'll begin your visit with a guided tour of the site followed by free time to explore, permits usually allow for around four hours on site. Some tours will end with a night in Aguas Calientes, others will head straight back to Cuzco using public buses and trains.
When to hike the Inca Trail
You can hike the Inca Trail all year round with the exception of February, when the trail is closed for maintenance. The wettest months are December to March, which means these are also the quietest months on the trail – permits will sell out less rapidly. For the peak months of May to September, permits can sell out on the day they are released (they usually go on sale the previous September or October, but check with your tour operator for details). In recent years, March and April permits have sold out almost immediately as well.
As Peru is in the southern hemisphere, the coldest months on the trail are from June to August. Combined with the high altitude, this can make for freezing temperatures, especially at night – bring plenty of warm layers. Daytimes should be clear and bright though, and remember that the sun is brutal at this altitude even when it is chilly – a wide brimmed hat and high factor sun screen are essential.