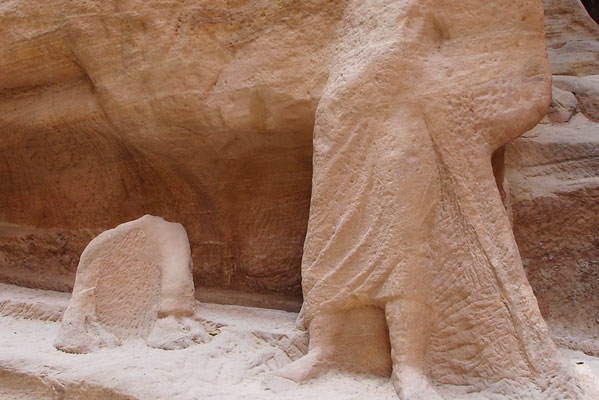 Aside from the impact of people walking around Petra the temptation to touch ancient walls and lean on surfaces further diminishes what has stood for over 2,000 years. Dr Tom Paradise from the University of Arkansas has worked at Petra for a quarter of a century and monitored tourist impact levels on two areas in particular: the Khazneh and Theatre. He found that over the course of a ten year period
the Khazneh had been reduced by 40mm
due to touching and rubbing by visiting tourists. He also discovered that the Theatre's stone masonry markings that were 15-20 percent visible in 1990 had been worn away to less than 5-10 percent visible in 2005.
What you can do
It's these sorts of findings that need to be taken into consideration when visiting Petra and although it's nigh on impossible not to touch something of the sandstone site, taking care not to go out of your way to do so is definitely best practice – and there is never any justification for climbing on the monuments.
Another area where tourists really should think before they act is when clambering aboard a donkey to climb up the sandstone steps to the Monastery.
Think
: If your regular walking boots are going to cause some damage then imagine the impact of a donkey's hooves! The
Petra National Trust
are trying to find a way to regulate donkey use on sandstone; however, as this is a major source of income for locals, finding alternative uses for donkeys is an ongoing agenda item. Protecting the welfare of animals in Petra is just as important as looking after the structure itself with other core issues, such as: child welfare and human rights, fundamental to the work being undertaken by
the Care for Petra
campaign. The Care for Petra website is a great resource for responsible travellers visiting Petra with lots more information on how the initiative is working with the local community to implement strategies for tackling child labour as well as improving animal welfare.
P.S.
Walking sticks are also known to damage Petra's sandstone paths and carving graffiti into the walls is just wrong on so many levels.