Top ten things to do in Petra & Wadi Rum
---
Make the most of your time
Petra's sites are well worth revisiting throughout the day to watch how the sandstone reacts to the position of the sun. Petra can be found in southwest Jordan, a couple of hours' drive north of Wadi Rum. The proximity to Israel and Egypt (Cairo's about 400km to the west) as well as Saudi Arabia to the south and Iran to the northeast made Petra an opportune point for traders as well as an archaeologist's dream when first rediscovered in 1812. These days Petra receives around 600,000 visitors per year with the suburb of Siq al-Barid aka 'Little Petra', 9km to the north, receiving a lot fewer. Most tourists tend to stay in Wadi Musa which has several international hotels as well as numerous traditional restaurants and souvenir stores in addition to the pop-up Bedouin cafés that align the 5km route to the start of Al-Siq.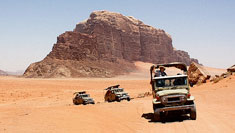 4WD to Wadi Rum
Travel in the desert can be as butt massaging as a horse ride or as bone shaking as a public bus however, if you're looking for exhilaration nothing beats an off-road Jeep journey to put some distance between travellers and tourists. Although some bits can seem endless, the beginning and end of each day is where the desert begins to show its true colours, so no napping allowed!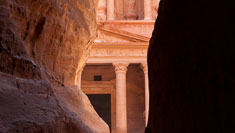 Al-Siq
Any exploration of Petra should start with the 1.2km corridor through the sandstone, known as Al-Siq, or 'the Shaft'. Al-Siq is adorned with eroded statues, clay pipes and water channels all of which provide a tantalising precursor to the ornate Al Khazneh (the Treasury). Keep an eye out for the ruts and grooves in the stone cobbles that were caused some 2,000 years ago by chariots and wagon wheels.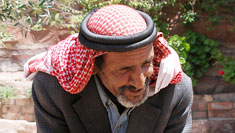 Bedouin hospitality
From camping in Wadi Rum to the trinket sellers en route to Al-Siq, meeting a few of the locals whilst visiting Petra is always in the top ten of things to do. Many of the traders are Bedouins (semi-nomadic desert dwellers) and stopping for a fresh lemon and mint or a black tea and sage is a great way to sample traditional hospitality as well as learning more about lifestyles and practising your Arabic.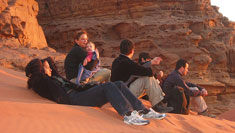 Best place for sunset
Due to Petra's valley setting catching the sunset over the site is best achieved at a distance with the road out of Wadi Musa heading to Taybeh offering an ideal spot from a local park some 10 minutes out of town. A couple of other venues include the Mövenpick and the Marriot hotels both of which can be reached by taxi and offer superb views of Petra accompanied by racks of lamb and cocktails.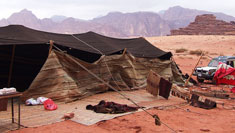 Camp out in Wadi Rum
Staying overnight at a remote desert campsite lets travellers enjoy an exciting and authentic Arabian experience within a choice of rustic or 'glamping' conditions. The chance to listen to hosts playing an oud (type of lute) or chat with guides around an open fire unlocks traditional Bedouin lifestyles and sleeping outside of the tent provides adventurous types with a blanket of stars.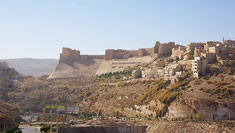 Kerak Crusador Castle
Located on the King's Highway about 180km north of Petra, Kerak is the largest Crusader castle in Jordan and well worth a visit if you have the time. Surrounding valley and Dead Sea views combine with ruined battlements, arched halls and one time living quarters with an archaeological museum on the lower court providing the history lesson for those visiting without crusading children.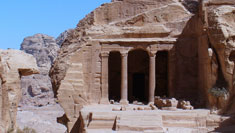 Overlooked hiking trails
There's a great trail leading down from the High Place to the city centre which takes you through the Wadi al-Farasa canyon in order to explore lesser-visited sites such as the Roman Soldier's Tomb, the Lion Fountain and the Garden Temple. Another overlooked hike (guide recommended) follows oleander flowers to the left of Al-Siq's entrance en-route to a vantage point overlooking The Treasury.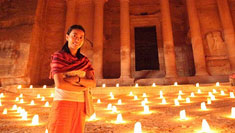 Petra by night
Take a torch as not only will it come in handy when spending a night or two in the desert but it's also ideal for lighting your way through Al-Siq in order to see Petra by candlelight. More than 2000 candles are used to illuminate the Treasury and upon arrival you'll be treated to a telling of Petra's history as well as a short performance by local musicians. Just don't expect Clannad.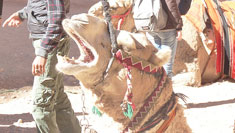 Petra sounds
It may be tempting to use ear plugs when staying close to Petra although, listening to the early morning call to prayer (fajr) can be an enchanting way to start the day. After the pouring of a cardamom coffee, keep your ears peeled for the clip-clop of horses and the groans of camels as well as the friendly calls of Bedouin traders, all of which form a surreal soundtrack to listen to at leisure.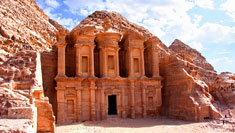 Steps to the Monastery
As it takes more than 800 sandstone steps to reach Ad Deir (the Monastery), now may be a good time to start on a conscientious calf strengthening campaign. The Monastery's magnificent 50sqm façade and the shaded views from the cave cafe are definitely worth it and although donkeys are a tempting mode of transport walking is definitely preferable in terms of preservation.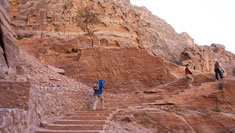 The High Place
The High Place of Sacrifice is pretty much as it sounds and takes around 750 well-worn steps to reach the top of the mountain whereupon you'll come face to face with a couple of obelisks and some cracking views of the Royal Tombs. The ceremonial history behind the High Place can be grim reading although it will further the experience especially when contemplating ancient forms of worship.
Hello.
If you'd like to chat about Petra & Wadi Rum or need help finding a holiday to suit you we're very happy to help.
Rosy & team

01273 823 700