From the chilled-out surfing vibes of the Gold Coast to the steamy outposts of the tropical north, fringed with reef and white sand, nowhere in Australia does an approximation of paradise quite so well as Queensland.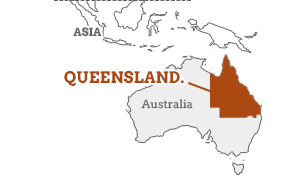 This is a state of superlatives, home to the oldest rainforest, the largest living structure on earth, the most dangerous bird – and if you're into your waves - arguably the best surfing break in the world.

This is also the only place in the world where two UNESCO heritage sites – the Daintree Rainforest and the Great Barrier Reef – meet, in a glorious union of natural beauty. But Queensland goes beyond coral reefs and surfing sand banks. This land is imbued with a deep Aboriginal significance, where custodians of the world's oldest surviving culture believe their ancestors have lived since the beginning of time. And through its corals, islands, forests and mountain plateaus are weaved tales of the Dreamtime – the creation stories of the ancestor spirits which shaped the land as we see it now.
Queensland map & highlights
At over seven times the size of the UK, and two and half of Texas, you can be forgiven for being at a bit of a loss as to where to start in Queensland. Our advice? If you're going to fly all that way, then stay as long as you can. Be warned, you'll still not see it all. Barely any of it in fact – as most holidays will take you along a ribbon of rainforest and reef-lined coast, while the vast sun-dried interior remains the domain of enormous cattle stations and barely-there dusty mining towns. The Great Barrier Reef warrants a week, and you'll want to include Aboriginal-led tours inland into the 'outback' – the Daintree Rainforest, Atherton Tablelands or Lamington National Park - where a generations-old connection with nature will lead you to platypus playing in secluded creeks and tree kangaroos hiding in the canopy.
1. Brisbane
Queensland's state capital – and Australia's third-largest city - basks in the warm glow of its subtropical climate and glorious gold-sand beaches. But look past the skyscrapers and you'll find a thriving live-music scene and the largest modern art gallery in Australia. Park up in one of the city's tropical gardens or chill out on the riverside South Bank parklands, where art installations reverberate to the sound of local bands.
2. Cairns
A once boggy swamp turned modern, tourist-centric, city, Cairns swelters in the stifling tropical heat. Functional and busy, rather than beautiful, you'll end up here on most
Queensland holidays
thanks to its proximity to reef and rainforest – and its airport and transport network. If you're taking a small ship cruise plying the northern sections of the Great Barrier Reef, you'll likely start and end in Cairns.
3. Cooktown
Technically Australia's first non-indigenous settlement (Captain Cook's crew spent 48 days here making repairs to the Endeavour after it hit a reef off Cape Tribulation), what tiny, colonial Cooktown lacks in size it makes up for in history. Stroll through its lush botanical gardens – home to wild wallabies and kangaroos – and learn more about its significant role in Australian colonial history in the fascinating James Cook Museum.
4. Daintree Rainforest
The world's oldest continually-surviving rainforest – so old that dinosaurs would have enjoyed the same scenery - the Daintree is a tangled steamy prehistoric jungle that, uniquely, abuts the Great Barrier Reef. This biodiversity hotspot is not only home to some of Australia's most endangered wildlife – including the fearsome cassowary – but a deep spirituality. Tours with local guides reveal the forest's stories through Aboriginal eyes.
5. Fraser Island
The most famous residents of the world's largest sand island is a population of around 200 dingoes. They are protected - an important part of the local ecosystem and, isolated from cross-breeding with feral and domesticated dogs, of significant conservation value. Paddle in Eli Creek, banked by dunes, or take a dip in impossibly-clear Lake McKenzie – ringed by bright white sand beaches.
6. Great Barrier Reef
The world's longest barrier reef needs little introduction. This epic marine masterpiece covers 344,400km2, incorporating over 3,000 coral reefs, 600 continental islands, 300 coral cays and 150 inshore mangrove islands. In terms of biodiversity it outshines all other UNESCO World Heritage sites around the world and its importance to the global ecosystem is nigh-on incalculable. It goes without saying that swimming, diving and snorkelling here, when done responsibly, is glorious.
7. Lamington National Park
Just an hour inland from the surf breaks and high-rises of the Gold Coast lies steamy Lamington National Park. A staggeringly biodiverse patch of rugged mountainous rainforest, Lamington is home to a vast array of colourful birds, panoramic rocky lookouts, caves, waterfalls and an excellent network of hiking trails – including a tree-top canopy walk – to help you explore it all on foot.
8. Whitsunday Islands
This small archipelago of coral islands lies towards the southern – and currently more pristine – end of the Great Barrier Reef, accessed from buzzing Airlie Beach. Your best bet is to explore by boat, by which you can access private moorings on the reefs for sublime snorkelling, or simply soak up the white sand beauty from the water as you enjoy a buffet lunch on board.
Queensland is...
steamy, tropical Australia, packed with corals, cassowaries, crocs and tree kangaroos.
Queensland isn't...
just rainforest and reef; this is the only place Australia's two indigenous cultures – Torres Strait Islanders and Aboriginals – converge, with its land holding deep spiritual significance for both.
If you'd like to chat about Queensland or need help finding a holiday to suit you we're very happy to help.

More Queensland articles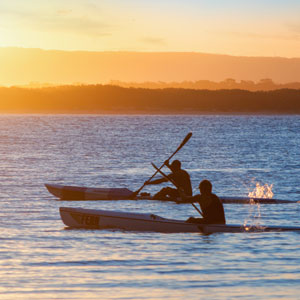 Learn the best time to visit Queensland for what you want to do.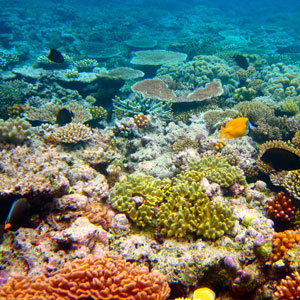 The world's largest living organism, the Great Barrier Reef is a maritime marvel.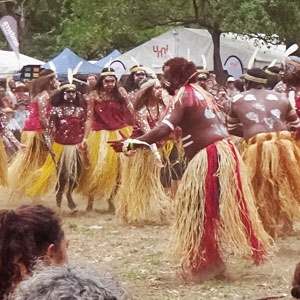 Learn the issues, and how to travel responsibly, in Queensland.