It's easy to think of the
Great Barrier Reef
as a purely underwater affair, but that would be doing its 300 coral cays and 600 continental islands an injustice. Covering a vast 344,400km
2
, the Great Barrier Reef is divided into the Outer Reef (the more remote coral gardens furthest offshore), the Inner Fringing Reef (the reefs surrounding islands such as the Whitsundays for example) and the Ribbon Reefs (in the far north, so called for their shape where they form along the continental shelf) all brought together under the umbrella of the
Great Barrier Reef Marine Park
. Home to 10% of the world's fish species – a mighty 1625 species in fact - as well as dugongs, whales, sea turtles, birds, sharks, rays, whales and dolphins, the diving, snorkelling and sailing here are out of this world. Fitting, then, that it's the only living organism on the planet that can be seen from outer space. And its ecological importance to the wider, global marine ecosystem is nigh-on incalculable.
So we should be very concerned that this stretch of glorious coral garden is about as stressed as it has ever been. The world's largest living structure is clinging onto life by its fingertips as climate change, over-fishing, off-shore pollution and coastal development eat away at its ability to weather variations in water temperature, depth and quality. Add into the mix a plague of coral-eating crown-of-thorns starfish and the future of the reef looks bleak. So if you've always dreamed of seeing it, go now, but read our
low carbon holidays guide
first, and go with a responsible holiday specialist that will ensure your holiday has a positive contribution.
Great Barrier Reef highlights
Dunk Island
Just offshore from Mission Beach and once attached to the mainland, Dunk Island's wildlife-filled rainforests are just as spectacular as its fringing reefs – so rich in fact, is the flora and fauna here that its Aboriginal name is 'Coonanglegah', meaning 'Island of Peace and Plenty'. Spot yellow-bellied sunbirds and cobalt-blue Ulysses butterflies with a naturalist guide, hike the four-hour rainforest circuit or snorkel in the shallow waters offshore.
Hinchinbrook Channel & Island
Separating the eponymous island from the mainland, the 50km Hinchinbrook Channel is a mangrove-lined wildlife delight – home to crocodiles, turtles, dolphins and dugongs. Rainforest covered cliffs tower on Hinchinbrook Island itself, and for a real out-of-the-way experience consider some time on private Perolus Island to the north of the channel, with rainforest walks and shallow reefs perfect for snorkelling.
Lizard Island National Park
Lizard Island is famed for its panoramic peak, atop which Captain Cook stood to chart a safe passage through the reef after repairing an earlier ding to the Endeavour in what is now Cooktown. Hikes up to the lookout are still as spectacular, but don't dismiss guided walks or glass-bottom boat trips with expert naturalists. Or perhaps snorkel or dive in the pristine, shallow fringing reefs to spot turtles and giant clams.
Ribbon Reefs
These ten thin coral fingers are the picture perfect bow on top of the Great Barrier Reef package – offering particularly vibrant and diverse corals. Diving among the barracuda, white-tip reef sharks and giant cod which call them home is out-of-this-world but so is the snorkelling – with these remote reefs on the outer edge of the Great Barrier Reef reaching up to just 5m below the surface.
Thetford Reef
A 2km popular stretch of exquisite coral bommies – columns of coral that are often exposed at low tide - intricate reef walls and colourful gardens that house over 1,500 species of fish. You'll come across some biggies here – hump-headed Maori wrasse and giant trevally – as well as thousands of tiny tropical swimmers. Dry off castaway-style on nearby Sudbury Cay's isolated swathe of sand.
Whitsunday Islands
Learn the ropes (literally) in one of the best places to sail in the world. This archipelago of lush islands ringed by smooth white beaches and sheltered, turquoise coral seas is best explored from the water. If you prefer something more hands-off then join a sailing cruise where you're merely a passenger enjoying glorious snorkelling and on-board picnics to the backdrop of idyllic island vistas.
Small ship cruises on the Great Barrier Reef
When it comes to cruising the Great Barrier Reef bigger is definitely not better. Small ships get you into the nooks and crannies of the reef safely – and with the greatest respect for the delicate corals you'll be enjoying. Many also enjoy private moorings that take you away from other tourists and let you have a section of the reef to yourself. Not only that, most small ship cruises will have expert marine biologists on board, who will accompany you on glass-bottom boat and snorkelling tours, opening your eyes to the underwater world and the myriad marine life that calls it home.
Practicalities
Stay a week if you can – three to four days or more aboard a small ship will unveil a good cross section of some of the Outer and Inner reefs' most beautiful areas, with plenty of opportunity for snorkelling and diving directly from your boat (you'll find all the equipment you need onboard). Don't worry if you're not that keen to swim – you can also enjoy wildlife-filled hikes on rainforest-covered islands as well as glass-bottom boat trips. Small ship cruises on the reef are easily combined with longer tours of Queensland and other areas of Australia.

Accommodation on board is generally very comfortable, with around 40 passengers sharing a selection of spacious, air-conditioned twin and double rooms. These range from more budget-conscious cabins to luxurious upper-deck staterooms – some with extra pull-out beds for families travelling together. Despite their intimate size, these ships are still packed with luxury touches – sun decks, spa pools and fully-stocked bars offer relaxation, while fresh fish, fruit and veg is all locally sourced from the Queensland mainland.

Be prepared for cruise itineraries to change at late notice, as weather and sea conditions, as well as mechanical issues on board can all potentially alter your intended destination. But with so much coral magnificence around you you're unlikely to miss out.
Powell Ettinger at our cruise specialists, The Small Cruise Ship Collection, explains how they work to protect the Great Barrier Reef on their cruises: "We have an on-board naturalist who helps to educate our clients about the reef and its sensitive ecosystem. The ship carries a permit to remove the Crown of Thorns Starfish. One of the most major threats to the reef, the starfish population has boomed to plague proportions and is a significant danger to coral. The present outbreak began in 2010. So far, over 300 000 of the deadly creatures have been culled, with more than 80 reefs patrolled. The ships managers are members of Ecotourism Australia, and an accredited ecotourism operator. They prioritise the long-term conservation of the Reef and its ecosystem."
Our top Queensland Holiday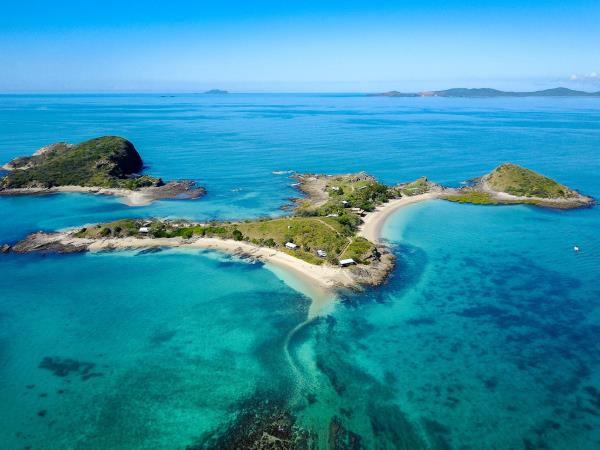 Tailor-made Tour to Australia's Coast, Outback & Reef.
From
£6895
25 days
inc UK flights
Tailor made:
This trip can be tailor made throughout the year to suit your requirements
If you'd like to chat about Queensland or need help finding a holiday to suit you we're very happy to help.

When to visit the Great Barrier Reef?
Hot year round, the best times to visit the Great Barrier Reef are governed less by temperature and more by rainfall and humidity. From December to May you can expect some downpours – particularly from January to March – and cloudier waters due to river run off, especially close to shore. At this time the waters of the Outer Reef tend to remain clearer – so cruises out to the Ribbon Reefs, for example, tend to be a better option.
June is considered one of the best times to visit the reef, bringing calm seas, pleasantly dry skies and warm sunshine. Travel between May and September and you might also catch whales swimming past as they arrive to give birth.
Powell Ettinger, from our small ship cruise specialists, The Small Cruise Ship Collection, shares his favourite times to visit the reef: "You can visit all year round, though the rainy season (January-March) tends to be hotter and with lower visibility due to run off from the rivers. The calmest seas tend to be June to November. Humpback whales migrate from Antarctica spend winter around the Great Barrier Reef from May to September where they give birth."
Responsible tourism on the Great Barrier Reef
The world's biggest living structure is in crisis, slowly suffocating under the weight of climate change, marine pollution, coastal development, illegal fishing and an unprecedented plague of coral-eating Crown of Thorns starfish. And yet, despite global aviation being the fastest-growing contributor to greenhouse gas emissions, tourism can play a vital role in demonstrating the economic value in keeping the reef alive to local communities and law-makers.
If you're going to fly to the Great Barrier Reef, choose an economy seat, stay longer and pick an airline which uses newer, more fuel efficient, aircraft. Watch our video and read our tips for curbing your carbon emissions to keep your holiday as low-carbon as possible.
Choose a responsible tour operator which clear policies in place for protecting the reef and ask questions before you book.
Don't touch the corals, and be careful when snorkelling or diving that you don't accidentally hit the fragile corals with your fins or other equipment. Don't buy any coral souvenirs either.
Use coral-friendly sun-creams, readily available online or in pharmacies. Look out for creams that don't include the chemicals oxybenzone and octinoxate, UV filters which damage coral when washed into the ocean.
More about Queensland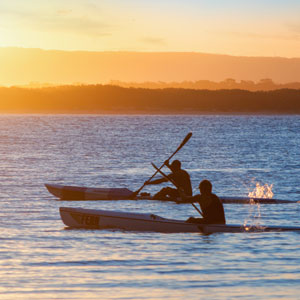 Read more on the best time to visit Queensland for the clearest waters on the Great Barrier Reef, to avoid box jellyfish or to enjoy Brisbane's arts festival.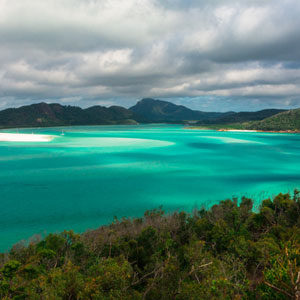 Queensland may be most famous for the Great Barrier Reef lying off its white sand-lined shores, but this ginormous tropical state is also home to the world's oldest rainforest, out-of-this world surfing and cities that are cultural powerhouses.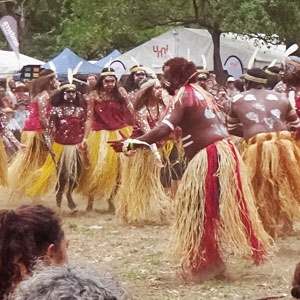 From respecting Aboriginal culture, to reducing your carbon emissions to protect the world's largest living structure, the Great Barrier Reef, we share our tips and advice on how to have a more responsible holiday in Australia's tropical north.