Itinerary tips
Marta Marinelli from our Rwanda supplier, Exodus Travels:
"The encounter with the gorillas was obviously the most special moment and one of the most memorable travel experiences to date. But Rwanda has so much more to offer. Some of my personal favourite places include Nyungwe National Park, an ideal place to trek in the nature reserve, to go chimp tracking and take a breathtaking canopy walk 60m above the forest with a 200m walkway -the first of its kind in East Africa and third on the continent after South Africa and Ghana. It allows visitors to see the forest from above the trees and be at eye level with birds and monkeys that inhabit the upper storeys of the forest. Lake Kivu is also picturesque and a perfect place to relax half way through the trip."
Transport tips
"Self-drive is possible but not recommended if you are planning to take a longer tour around the country and in remote areas. If you have mechanical issues it may be hard to get help due to language barriers and remoteness of some small villages. So if going on a guided group tour is not your thing, you could always choose to hire a car + driver/guide to tailor your itinerary and get a good level of support and assistance."
Responsible tourism tips
"Rwanda is extremely committed to responsible tourism and a lot of efforts, including the recent spike in gorilla permits, have been made to preserve the gorilla population but also to support various community projects around the parks. To help spread the positive impact of tourism to other communities outside of Ruhengeri, more should be done to promote the other treasures of this destination and to encourage tourists to go beyond the gorilla experience."
Gorilla trekking tips
Paul Calcutt at our supplier of gorilla trekking holidays in Rwanda, Natural World Safaris:

"All the guides that we use are the best of the best. Some safari companies are more about offering a copper bath, but we are more about the experience, the wildlife viewing and the quality of the guides first. And our clients are, too. That is not to say that luxury lodges and services are not available, they certainly have their place in a location such as this, just that our priority is always in providing luxury experiences. I would always recommend that people take more than one visit to the mountain gorillas. Every time is so very different from the others, after your first visit you will relax significantly and perhaps spend less time so focused on taking pictures but actually absorb the experience a lot more."
Natasha Preston, from our supplier, Exodus:
"You only get to spend an hour with the gorillas due to the strict code of conduct put in place for their protection. Those 60 minutes will fly by! Before the trek, double check your camera battery is fully charged and make sure there's plenty of space on your memory card. That said, don't spend the whole hour taking photos. You're only likely to do this once in a lifetime, so take the time to enjoy this very special encounter through your own eyes, not just though a lens. I limited myself to 30 minutes of taking photos and then I put the camera down so I could simply sit there and soak up every precious moment with these gentle giants."
Discover the history
Natasha Preston, from our supplier, Exodus:
"To learn more about Rwanda's history, take the time to visit the Kigali Genocide Memorial. It offers a powerful and poignant insight into the civil war that shook the country in 1994, which saw around one million people systematically slaughtered over a period of 100 days. After a couple of hours in the museum, take a wander through the tranquil gardens, leave a rose on the mass grave and gather your thoughts before heading back into the city."
Marta Marinelli from our Rwanda supplier, Exodus Travels:
"Learn and get familiar with the history of Rwanda before you travel to make sure you arrive prepared - it will be emotional to see firsthand how much the country has changed and the incredible resilience of locals."
Tips for families
Paul Calcutt at our supplier of gorilla trekking holidays in Rwanda, Natural World Safaris:
"You have to be 15 or over to get a gorilla trekking permit in Rwanda and so we don't get many family enquiries due to the age limitation. However, if you want to go as a family, I would highly recommend mixing gorilla watching in Rwanda with Tanzania. So you can do gorilla watching and watch the wildebeest migration on the same holiday. That is the ultimate east African wildlife holiday, really – for any age!"
Accessibility
Simon Mills from our supplier Native Escapes on gorilla watching in a wheelchair:
"In Rwanda, you can be carried in a throne chair by porters to see the gorillas of Virunga. The walk very much depends on the location of the gorilla families, so it can be as little as 30 minutes or as long as 4-5 hours. Of the seven groups that can be seen, there are a few that tend to be found on the saddle between Mount Sabyinyo and Mount Gahinga which is about two hours from the park entrance. You need to be ready for up-and-down terrain, and the odd overhanging branch, but it's very doable"
Health and safety in Rwanda
HEALTH
Visit your GP six to eight weeks before travelling to Rwanda to ensure you have all the necessary vaccinations and medication.
Malaria is present in Rwanda, so do inform yourself about any necessary precautions. This will depend on the region you are visiting and the time of year. So check in with your GP or travel clinic about whether to take medication or not. Wear long sleeved shirts and trousers, not shorts; use a strong repellent and sleep under a mosquito net. Yellow fever is also a risk in Rwanda; you'll need to show your vaccination certificate on entry.
Tse-tse flies are around and have a painful bite, as well as carrying sleeping sickness. They are attracted to the colour blue – so don't wear it.
HIV and AIDS are prevalent in Rwanda, so you do need to take precautions if you helping someone with an open wound.
Only drink bottled water and avoid ice in drinks. Responsible tour operators will encourage you bringing a reusable drinking bottle which they can refill from large bottles of bottled water to avoid excess plastic usage.
You can also buy filtering or purifying water bottles, which aren't cheap, but a lot kinder to your bodies and the planet. Check out LifeStraw and Water to Go as excellent filtration systems. Another excellent option, although pricey, is the Steripen UV water purifier.
Avoid swimming in fresh water, as water borne diseases such as schistosomiasis (bilharzia) are a threat. This includes just paddling. Having hand sanitiser in your bag is a good idea at all times.
SAFETY
Rwanda is generally a very safe country to travel in with relative political stability, but do keep up to date on the FCO website. Just to put it into perspective, it was voted the 9th safest country by the World Economic Forum in 2017, just after Switzerland.
There are exceptions on the border of Democratic Republic of Congo, but Rwandan troops monitor this area and itineraries are not likely to visit this region anyway. Although crime levels are low, you still need to be careful walking alone at night or in a crowded market and don't be flash with the cash, or gadgets.
If you are on a boat trip, make sure you wear a buoyancy aid or life jacket. The former is designed to help you swim if you capsize and the latter will keep even non swimmers afloat.
You do need to be wary of road safety with quite a lot of accidents on the roads, especially with motorbike taxis.
Only use licenced taxis which have an orange stripe on the side.
If trekking in the mountains and rainforests, you may want to bring a walking pole for extra stability and support. Wear walking shoes with plenty of ankle support to prevent sprains.
Always do what your guide says when on a gorilla trekking holiday. If a gorilla comes close to you or touches you, keep still and always follow your group leader's instructions. Young gorillas can be curious and might want to come close. Always keep lower than the gorillas, with your head held down as if in a submissive state.
Our top trip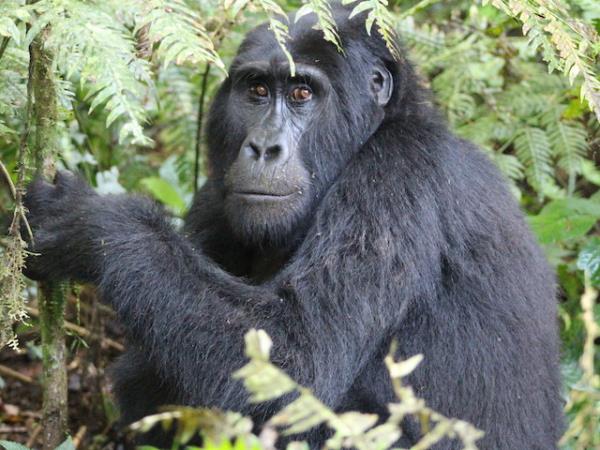 Gorilla, Chimp, Colobus and Golden Monkey trekking in Rwanda
From
US $3934

to

US $4741
6 days
ex flights
Tailor made:
This trip can be tailor made throughout the year to suit your requirements
If you'd like to chat about Rwanda or need help finding a holiday to suit you we're very happy to help.

Rwanda tips from our holidays reviews
At Responsible Travel, we think the best people to advise our travellers are often... other travellers. They always return from our tours with packing tips, weather reports, ideas about what to do - and opinions about what not to.
We have selected some of the most useful Rwanda travel advice that our guests have provided over the years to help you make the very most of your holiday – and the space inside your suitcase.

Try and book early, carry good hiking shoes, old pants and a good shirt, insect repellent and sunscreen

"The cost is very high to see the gorillas, but it is worth it. You do get to see them and the experience is once in a lifetime. Plus, the journey there is also a great part of the experience as the drive is beautiful." - Jacqui Wilson

"Get fit!! Don't worry about the hotels food etc as all fantastic and take a smaller lens than you think when visiting any of the apes, monkeys etc and use the porters!!" - Chrys Mellor

"Don't be put off for travelling in short wet season. We went at the end of Feb and still saw many animals." - Chris Hehir

"Be aware that the gorillas can be quite high up. I personally found the walk from 2400m up to 3000m very, very testing." - Stephen Cragg

Don't over worry what you take. The trip is well run, food is great, accommodation works really well, and go with the flow. It's just the best escape from our western lives.

"There are nettles on the trek to the gorillas. You are going through very thick underbrush and should have long, relatively thick pants and shirts so the nettles don't poke through. Our pants were light weight and the nettles got through to our legs." - Paul Oppenheimer

"Definitely take toilet roll and sweets as some of the journeys in the truck are long, maybe even a pack of cards. Wet wipes or hand gel is a must and make sure you enjoy the trip and don't spend too much time seeing it through the lens of your camera!" - Angela Platt

"Do hire a porter when trekking as not only will they carry your bag, but they're happy to give you a helping hand when the track gets muddy and slippy. In addition, you will be giving someone a day's income. Do your research on tipping before you go so that you're familiar with the going rates." - Siofra Brennan