Rwanda
is just one of three countries in the world where you can see mountain gorillas. They live in the Virunga Mountains, a steamy volcanic range along the border with Uganda and the Democratic Republic of Congo (DRC) that's protected by Volcanoes National Park. "It's a really unique environment," says Simon Mills, from our tour company Native Escapes. "The park itself has such a range of ecosystems, so you've got bamboo forest, and you've got the evergreen forest where the gorillas are, but you've also got grassland and swamp areas so it's a real mix."
There's no getting around the fact that gorilla trekking is expensive – in Volcanoes National Park it's an eye-watering US$1500 for a single permit – but your money will have a real impact on the gorillas' welfare, funding research projects, healthcare and protection for the gorillas, as well as investment into schools, roads and health centres for local communities.
The fee also delivers one of the most incredible wildlife watching experiences on the planet. Gorillas are one of our closest relatives, sharing 98 percent of our DNA, and their behaviour is so similar to our own that watching them play, relax and interact is both an uncanny and emotional experience.
What does a safari in Volcanoes National Park entail?
You should definitely do your research before signing up for a
gorilla trek
. This isn't like a jeep safari in Kenya, or even a walking safari in Kenya – depending on the location of the gorillas, you'll trek anything between one and six hours and often through thick undergrowth, so getting sweaty and muddy is all part of the deal. That being said, Volcanoes National Park is seen as an easier option than
Uganda
's Bwindi Impenetrable National Park, with paths that are generally more open and not quite as steep.
There are 10 habituated gorilla families in the park, varying in size between nine and 28 members, with each group including at least one huge silverback. Gorilla tracking is carefully managed, and a gorilla group will be located in advance, to increase your chances of spending time with them. "The trackers go out early, so that they can find the gorillas and radio in so that the clients can actually get to see them," Simon Mills explains. "They will go early and then they will direct you in. You have an hour with the gorillas and then that's it." Trekkers are organised into groups of eight and are accompanied by both a guide and two armed scouts; many pay uniformed porters to carry their gear, which could include waterproofs, cameras and water supplies – your tour operator can arrange this for you.
Gorilla trekking is a sensitive business and there are some rules to follow during your encounter, on which you'll be fully briefed before you set out. They include staying at least 7m away from the gorillas, keeping your voice low, lowering your head and avoiding sustained eye contact. Common colds can be transmitted to gorillas with serious consequences, so you won't be allowed to hike if you're ill.
Travellers in wheelchairs
or with mobility issues can still make the journey out to the gorillas, as Simon Mills explains: "They have something called a sedan chair which is a chair that is carried by four porters and enables people who are in wheelchairs or have disabilities to actually have the experience, which is fantastic." The journey of several hours means you probably won't be terribly comfortable, but what's waiting for you at your destination is more than worth it.
Other activities
While gorillas are the main attraction, there's enough to keep you occupied in Volcanoes National Park for several days. "The park has loads of animals. It's more than gorillas: there are monkeys, lots of birdlife and so on," says Simon Mills. "Because there aren't the predators there you can do a number of other activities, so you can hike in areas away from the gorillas, there's canoeing and mountain biking and that type of thing. People will usually spend two or three days in the park and then head to somewhere else in Rwanda – you find them going on to Lake Kivu or Akagera National Park."
Practicalities
Seeing gorillas doesn't come cheap at US$1,500 per person. Nor should it, as Rwanda has put in place exemplary conservation practices in order to protect the godfathers of the wildlife world. They book out well in advance as numbers are strictly limited, as early as 18 months in advance during peak season. This is when an expert gorilla safari company comes in handy as they know all the best times to book and will handle the process for you.

The gorillas are present all year round, with a great record of sightings, but the dry seasons of mid-December to early February, and June to September are more comfortable for trekking. If you're not bothered by the rain, November and March-May are good times to come as you'll be able to secure a permit more easily and there will be fewer tourists around.
Our top trip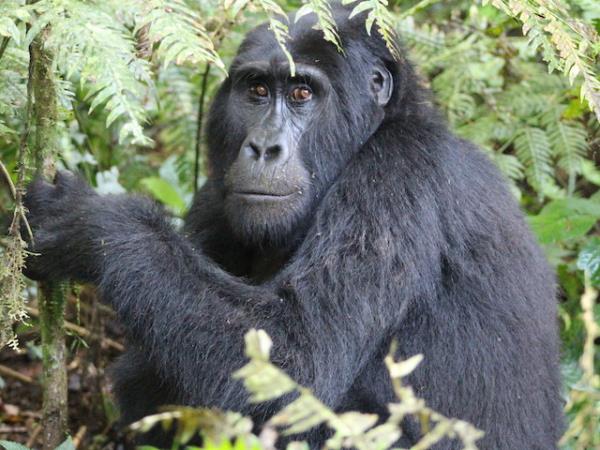 Gorilla, Chimp, Colobus and Golden Monkey trekking in Rwanda
From
US $4033

to

US $4843
6 days
ex flights
Tailor made:
This trip can be tailor made throughout the year to suit your requirements
If you'd like to chat about Rwanda or need help finding a holiday to suit you we're very happy to help.

Conservation in Volcanoes National Park, Rwanda
Rwanda's is a conservation story that's full of hope. Gorillas numbers are on the rise, with numbers in the Volcanoes National Park increasing
25 percent over the past decade
. That's because conservation in the park has become a national priority, with increased armed protection provided for the gorillas as well as intensive monitoring and research. Only 80 visitors are permitted to take one of the guided gorilla treks each day, and separate permits are needed to hike the volcanoes or explore the caves.
On the frontlines of conservation in the park are the guides, trackers and porters, and much of the funds raised from the permits goes into training local communities in these roles. In previous years, there had been conflict between wildlife and the communities surrounding the park, and gorillas were a lucrative source of bushmeat, but the careful development of the tourism industry, aided by the research and development of NGOs like the Dian Fossey Gorilla Fund, has provided a much more sustainable way of earning a living.
As Simon Mills explains: "There's much better management there than there has been in the past. So, there are a lot more rangers, a lot more guides, a lot more lodges have opened up, particularly at the top end, which support the local communities because not only are they are employing local people, they're taking their produce, so it's all a lovely knock-on effect really. The guides who work at the lodges get health cover, the kids get put through the local school and they are supported by the lodges, so it's a nice cycle."