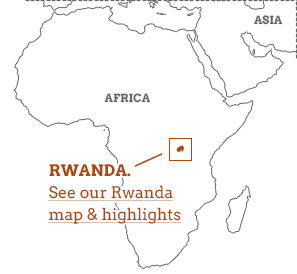 Visiting Rwanda is a bit like doing a triathlon. It's challenging, exciting, tiring and emotional. It also has three important aspects: people and culture, national parks and gorilla watching. It is most celebrated for its gorilla populations and strictly managed safaris in Volcanoes National Park. However, Rwanda's other two national parks are also habitat havens. Nyungwe boasts chimps and other primates, and Akagera is a veritable ark.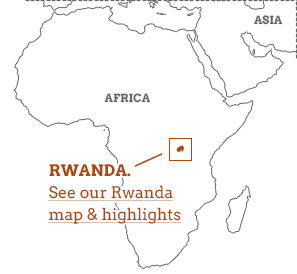 The last thing you expect to see at Rwanda airport is a sign saying that all plastic bags will be confiscated. They have a countrywide ban. Rwanda is full of surprises.

It is the people, their history and culture that will make your heart skip a beat or two, however; as you will discover not only in the beyond moving genocide memorials, but also by immersing yourself in the infectiously life affirming culture – dancing in Kigale's music hotspots, or taking a walking tour in its Nyamirambo Muslim quarter. Head out on a night trip with the fishermen of Lake Kivu, listen to their ekiovu songs echoing across this mountain enveloped waterscape, and you'll get a medal if you aren't moved to tears. See our Rwanda travel guide for more details.
Rwanda is…
reborn. And you will feel that way too after visiting it.
Rwanda isn't…
just about gorilla trekking.
What we rate & what we don't

UNDERRATED

RATED

OVERRATED
Eating & drinking in Rwanda
Eating & drinking in Rwanda
Brochettes (grilled meat or fish on a stick) are everywhere and delicious. A fishy treat is fried sambaza served with a peanut sauce.
Icayi is the word for Rwandan black tea, served everywhere. Have it with your mandazi deep fried dough balls.
Ugali is the staple: a white ball of maize served with vegetables or meat.
City cafes often serve 'Mélange' which is a buffet of potatoes, bananas, beans, rice, cassava and salads. Sometimes with meat too.
People & language
Hello = muraho
People & language
Kinyarwanda is the main indigenous language or Rwanda, and part of the Bantu linguistic family. English is the language used in schools, however, as the government switched from French to English in education after the genocide. Many Tutsi learned English while exiled in Uganda or Tanzania, and a small minority still speak French. Rwandan people are very friendly, and love their greetings too. Brave a few of these:
How are things going? = bite se?

According to the 2017 World Economic Forum's Global Gender Gap Report, Rwanda comes fourth in the world for equality, after Iceland, Norway and Finland.

Our top trip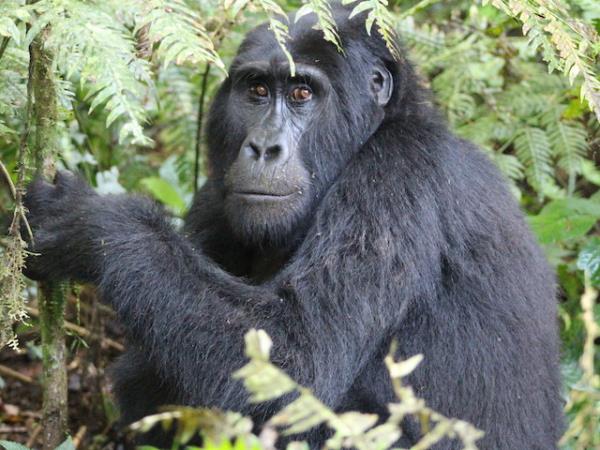 Gorilla, Chimp, Colobus and Golden Monkey trekking in Rwanda
From
US $3934

to

US $4741
6 days
ex flights
Tailor made:
This trip can be tailor made throughout the year to suit your requirements
If you'd like to chat about Rwanda or need help finding a holiday to suit you we're very happy to help.

Gifts & shopping
Akabanga chilli oil is a top and hot local gift.
There is a growing art gallery scene in Kigali, with bright bold paintings which reflect the kitenge fabric heritage. Ask for them to roll an unframed canvas for easy transport.
Sisal basketry is everywhere. Leave your hand luggage at home and bring a beauty back with you.

Banana wine is a Rwandan specialty. Best buy one with a Rwanda Standard Board mark, which means that the bananas weren't crushed by feet and it isn't bottled in old beer bottles. But it's your call.

Boat ride on Lake Kivu: £12-22
Gorilla watching permit: $1500 USD
Icayi or local black tea: £0.25
A brief history of Rwanda
There is no getting away from the word 'genocide' when writing about Rwanda's history, and nor should there be. Although the country has created one of the cleanest slates possible with calm, crime free streets, litter free landscapes and a social programme where every citizen helps out in the community once a month, they haven't swept the tragedy under a carpet. You just can't. n 1994, over one million people were slaughtered over a period of 100 days in a government led genocide. Rwanda's history will be forever stained by this horrific time; however, we must also look before and after to understand more about Rwanda's history.
Read more