Our Rwanda gorilla safaris & holidays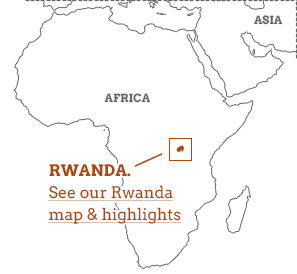 Rwanda is renowned for its carefully managed gorilla trekking holidays in Volcanoes National Park, as well as chimp tracking in Nyungwe Forest. And with the sale of sought-after permits and partnerships with guides and porters, your trip makes a huge difference not only to the protection of these animals, which are under constant threat of poaching, but also to local communities. For many visitors, it is the people and culture of Rwanda that have the strongest impact. Moving reminders of the genocide are everywhere, as are signs of reconciliation that show Rwanda is determined to focus on the future.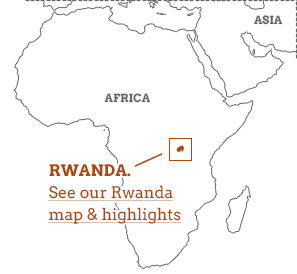 Our top Rwanda holidays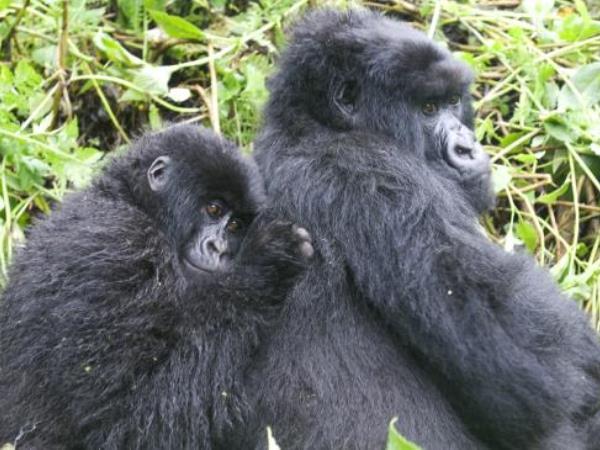 9 days
ex flights
Enjoy highlights of this amazing place with a turbulent past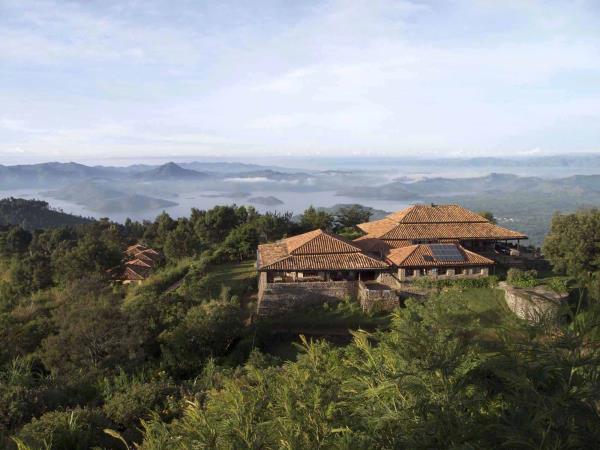 7 days
ex flights
Chimpanzee tracking, gorilla trekking & Lake Kivu relaxation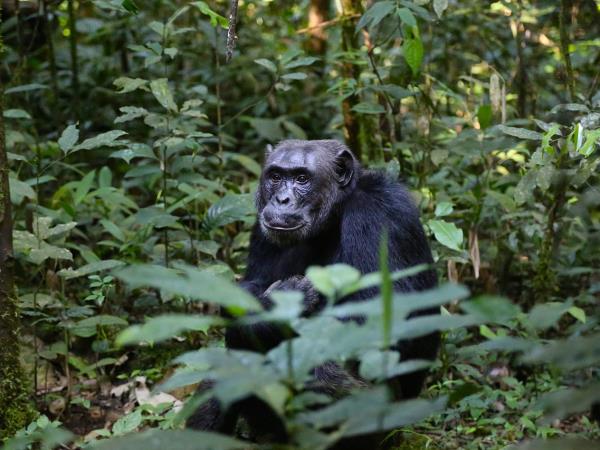 12 days
ex flights
Trek to mountain gorillas, then relax by the Indian Ocean
Best time to go on holiday to Rwanda
Don't be put off by the rains of November or March to May, as you will have the forests, lakes and mountains to yourself. And occasionally cheaper gorilla watching permits, too. The majority of visitors come to see these fascinating great apes, and so travel dates are often dictated simply by whenever you can get a highly in-demand permit. Keen wildlife photographers may even prefer the rainy season, as there is less light contrast coming through the trees, allowing you to focus solely on your subject matter.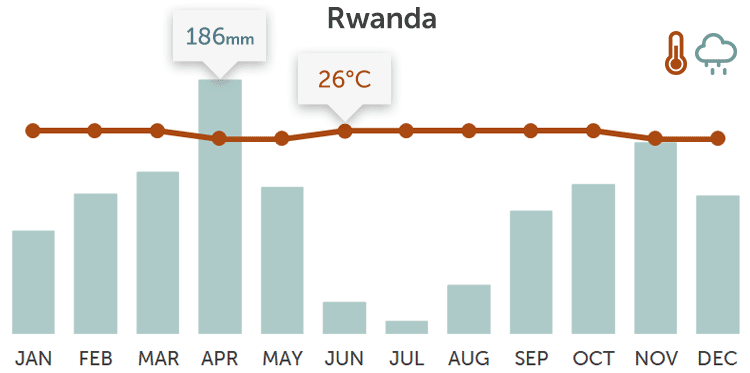 Map & highlights
Most travellers come to Rwanda to join a gorilla watching safari, and will head straight to Volcanoes National Park in the Virunga Mountains. While here, you might also pay your respects at Dian Fossey's grave – the gorillas' greatest champion. South of Volcanoes is Lake Kivu, one of the African Great Lakes, where night-time fishing trips can sometimes be arranged. And south of Kivu is Nyungwe Forest National Park, a primate-watcher's paradise. Perhaps not the best way to start your trip, but if passing the lively capital, Kigali, the Genocide Memorials offer a sombre reflection on one of the 20th century's worst crimes.
1. Dian Fossey grave
It's a morning's hike up to this poignant site, where seminary primatologist and conservationist
Dian Fossey
was buried after her 1985 murder. She lies alongside her beloved gorillas. Nearby is her mountain hut with views of Mounts Karisimbi and Bisoke, her Karisoke Research Camp, now in ruins, being a combination of these names. The Dian Fossey Gorilla Fund International remained here for many years before moving to Musanze.
2. Genocide Memorials
The first or last stop for many visitors is Kigali Genocide Museum and Memorial, en route to or from the airport. Best not make it your first stop though, but take time to absorb the country's beauty and rebirth first. The Nyamata and Ntarama Genocide Memorials, both under an hour from Kigali, are also must visits, once churches where thousands were massacred during the 1994 genocide when over a million Rwandans were killed.
3. Kigali
A busy metropolis set among lush valleys, Kigali, often left off travel itineraries, is kickin'. Visit Kimironko market at dawn, opt for the famous Panorama Ten to Two shack for lunch, go for a walking tour in the Nyamirambo Muslim quarter in the afternoon, and enjoy the music at one of the city's various music spots, be it Rwandan rap or Congolese Rhumba, throughout the night.
4. Lake Kivu
Kivu is one of the African Great Lakes straddling the border with DRC. Take a day trip out on the water and bask in the views of the enveloping Virunga massif. Even better, ask your tour operator to organise a nighttime fishing trip with the Lake Kivu fishermen in Kibuye. They light up the lake with lanterns hanging off their handmade elegant wooden boats to attract the small sambaza fish – a Rwandan fried specialty.
5. Nyungwe National Park
The largest swathe of tropical rainforest in East Africa, this is over 1,000km² of primate paradise, with a colossal collection of chimpanzees, plus Ruwenzori colobus and L'Hoest's monkeys. It also has 130km of hiking trails of varying lengths. The shortest one, the Igishigishigi Trail, takes in East Africa's highest canopy walk, and the longer Bigugu Trail leads you to the park's eponymous highest mountain at 2,950m.
6. Volcanoes National Park
Dramatically beautiful, with six active and three extinct volcanoes, and home to the far from extinct mountain gorilla. The latter is the park's biggest pull, however this Rwandan section of the Virunga Massif that straddles the borders of Rwanda, Uganda and DRC, has many other hiking trails to explore, without going in search of gorillas. Seek them out and you might spot endemic golden monkeys, forest elephants or buffalo.
Gorilla safaris in Rwanda
The American primatologist and conservationist Dian Fossey, who was murdered in 1985, is credited with bringing the plight of Rwandan mountain gorillas to wider attention, and possibly saving them from extinction.
Gorilla watching safaris
in Rwanda are well-managed, and could easily prove one of the most memorable moments of your life. But permits for a one-hour visit don't come cheap, and they sell out months in advance, so using a specialist company pays dividends. And by the way – if you have accessibility requirements, they're no barrier to gorilla safaris here, as porters can carry you in a throne chair.
Wildlife safaris in Rwanda
Gorillas hog the limelight – ironically, given how shy they are – but Rwanda's three national parks are absolutely teeming with other wildlife too. Nyungwe Forest National Park boasts one of Africa's highest canopy walks, an excellent way to spot the many primate species that hang around the treetops. And Akagera National Park, on the border with Tanzania, is a safari dream, with giraffes, zebras, hippos, crocodiles, and even the odd lion and elephant on display. Porters and guides are indispensable and, though not cheap, their services ensure that local communities view wildlife watching as a sustainable source of income.
Rwandan Genocide
Between April and June 1994, nearly 70 percent of Rwanda's Tutsi population was killed by Hutu extremists – an unspeakable horror that is explained across several grim and deeply moving Genocide Memorials such as those of the capital, Kigali. One legacy of the genocide was the Rwandan government banning ethnic distinctions in an effort to heal divisions – hence it's considered impolite to ask a Rwandan their ethnicity. While understanding the genocide is essential when visiting Rwanda, remember also that it is still so recent that many people will have lost friends and relatives, so it's usually best to avoid the subject unless it is brought up.
Volcanoes National Park
Rwanda's Virunga Mountains are one of only three places in the world where you can see mountain gorillas, and they are protected by the
Volcanoes National Park
. Gorilla watching safaris here are pricey (permit sales contribute to research, conservation and local infrastructure) and also require decent physical fitness. Accompanied by guides, porters and armed scouts, you'll be trekking through often thick undergrowth for several hours in each direction, depending on where the gorilla family is located. Each visit lasts one hour to minimise intrusion, but the experience of seeing the gorillas up close is so enthralling that it will feel like triple that.
If you'd like to chat about Rwanda or need help finding a holiday to suit you we're very happy to help.