Where to go on short break adventure holidays
---
Map & highlights
Gone are the days when going on a shopping weekend to New York or a golfing weekend in Dubai were seen as adventurous. Hiking along the Pembrokeshire Coast Path in a wetsuit and then jumping in and swimming back, however – now you're talking. Another half term traipsing across the autoroutes to packed pistes? Go snowshoeing and husky sledding through Finland's forests with the Northern Lights filtering through the trees for a whole new perspective on winter breaks. And if city breaks are your thing, but the sea also rocks your boat then get yourself to Dubrovnik and, after a few hours in the city, hop on board a sailing boat to take you to some island idylls. So, check out our map and highlights below and get shorty!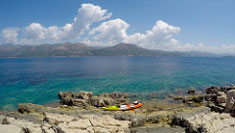 Croatia
Even though there are hundreds of islands to explore, it is possible to enjoy some of them in a short break, sailing around the Elaphiti Islands for three days, hopping on and off in Dubrovnik. Or head out to Lopud Island and base yourself there for four days of sea kayaking, swapping paddle for saddle in the evening for a cycle around its luscious woodlands. It's a land of littoral loveliness.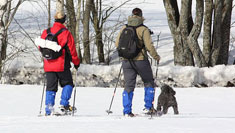 Finland
Finland does fun in sled loads. Husky sledding that is, but with so many other adventures packed into a short break here, particularly in Lapland, you will feel like all your Christmases have come at once. Go snowshoeing through wilderness in search of the Northern Lights. Learn how to kick sledge along remote trails. Or take safaris on reindeer-led sleds into tranquil Taiga terrain. Finland is a gifted multitasker.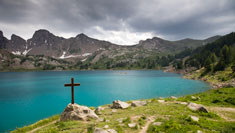 France
Tired of city breaks? France is falling down with adventurous short breaks such as snowshoeing/hiking in Mercantour National Park. Work up an appetite hiking in Provence and then take cooking lessons from experts living in this walk-in larder region. Or learn alpinism skills on a climbing weekend in Ecrins National Park. By the time you'd have queued for The Louvre, you'll have climbed a glacier.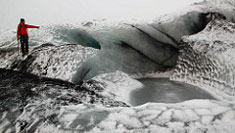 Iceland
Seeing the Northern Lights in Iceland is very zeitgeisty right now. But a short break here can be packed with other adventures. Visit the geothermal beauty of the Blue Lagoon, explore the Mýrdalsjökull glacier, ice climb on Sólheimajökull or even snorkel between the Eurasian and North American tectonic plates of Thingvellir. And then Northern Lights as well… Just another sleepy weekend, then.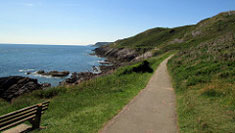 Wales
Pembrokeshire translates from the Welsh language as adventure. With a bit of poetic licence anyway. But when you take a short break to this glistening cove encrusted coastline, sea kayak from bay to bay, hike the Wales Coast Path and enjoy its number one adventure sport of coasteering, you'll be feeling fluent after just 24 hours. Five days of Welsh outdoorsiness and, well, you're practically a local.



Hello.
If you'd like to chat about short break adventure holiday or need help finding a holiday to suit you we're very happy to help.
Rosy & team.
01273 823 700
Short break adventure holiday travel advice
---
TIPS FROM OUR SHORT BREAK EXPERTS
Croatia advice
---
Short breaks in Croatia travel advice from Ivana Grzetic, of our supplier Adria Adventure:
"A lot of people who work in tourism come from the North - which is what we call the hinterland, such as Slavonia. They don't have tourism in their blood, like we do in Dubrovnik, and so sometimes they might come across as rude, but they don't mean to. Often they have come from a completely different profession, and so they are still getting used to how tourism works."
"Don't forget to buy an ice cream from a local slasticarna, the Croatian equivalent of the Italian gelateria."
Croatia advice
---

Vanja Kelemen at Huck Finn Adventure Travel in Croatia:
"We always make sure there is a great mix of activities so daily itinerary usually includes some hiking, cycling and sightseeing. The Adriatic Sea is warm and perfect for swimming and snorkelling too. We use single and double kayaks so kids can make sure their parents know what they are doing and keep them from capsizing."
Pembrokeshire advice
---
Jon Kellie, kayaking instructor and guide at Preseli Venture, Pembrokeshire, Wales:
"There is a lot of faff that goes with kayaking, because there is a lot of kit. You have to load the trailer, get the boats to the water, do the capsize drill and so on. So if people are late at the beginning of the day, you do run out of time a bit. So my main tip is be on time, be ready and don't faff."
Finland tip
---

Aki Käräjäoja, founded our Finland dog sledding holiday supplier, Routa Travel, after he fell in love with the huskies:
"Get in touch with the locals and try to find the small places – Finland has so many small tourism businesses. Always keep your eye out for local things. The local food is especially good – one thing I like about Finnish food is that you can really taste nature. We try to use a lot of berries and game, such as moose, which are monitored and hunted sustainably every year."
Short break adventure holidays travel advice
---
TIPS FROM OUR TRAVELLERS
At Responsible Travel, we think the best people to advise our travellers are often... other travellers. They always return from our tours with packing tips, weather reports, ideas about what to do - and opinions about what not to.

We have selected some of the most useful short break adventure holiday advice that our guests have provided over the years to help you make the very most of your holiday- and the space inside your suitcase.
"It was easy to put too many layers of clothing on when doing sporting activities. Take your own balaclava or two and glove liners. You can rinse out your clothes it you get too sweaty and dry them in electric dryers that each hotel has. So you don't need to go over the top with too many winter clothes. The warm winter clothes they supply are excellent and all you need are some thermals for a couple of days." – Thomas White on a short break to Finland adventure holiday

"Look at flights carefully. There are many different ways to fly there. Book a flight which arrives and leaves at a reasonable time of day. I think it would be good to stay one day after trip is over -for example in villa rhapsody, as I did. Be aware of temperatures/seasons- April is best, if only later suits-be prepared for it to be hot. Remember to have Turkey visa organised before you go. Have guide's number on Whats App." – Niamh McGarry on a Lycian Way walking holiday, Turkey

"Thick weather suits and snow boots are provided so don't bother to buy/take your own." – Anne Blagden on a Northern Lights short break in Norway

"Travel light as you are moving around so no chance to unpack properly. Take ski clothes if possible. Then need little else. I wore my walking boots all the time & didn't really need another pair of shoes. And no need to take a skirt or dress. Just spare trousers & layers." – Gillian Girling on an Iceland Northern Lights short break

"Be sure to keep drinking water during the day as it is easy to get dehydrated. Not everyone on our ride wore a riding hat but I was glad that I did. There were many branches that connected with my head and I was glad to have that extra protection! Consider bringing ibuprofen or muscle rub for muscle aches. Dress in layers so you can peel off/put on as required as the weather might change quickly. There were a few people on our ride who had never been on a horse before and they enjoyed the ride but I think it would be best to have a lesson/hack or two to at least be aware of what it feels like to be on a horse." – Jane Fox, horse riding in Mercantour National Park

"The most memorable part of our holiday was sitting on a frozen lake, watching our daughters disappearing off into the distance each driving a small team of huskies – and seeing their excited faces when they returned! Also playing with the beautiful, friendly huskies, our family sledding trips, enjoying the tranquility of the environment and the amazing wood fired sauna. Not to mention the delicious home cooked food. Aki and Suvi were the perfect hosts and as we were the only family there it did not feel at all like a 'package' – it was so relaxed and friendly." – Liz Booth on a husky safari in Finland