Artistic impressions
Vivienne Rickman Poole, Snowdonia artist and educator:
"I love the heritage of the quarries in Snowdonia. These were thriving communities years ago, and they still are. Such as Blaenau Ffestiniog which many visitors overlook when they go there on the steam train. And yet it is a gem of living culture. Similarly, Llanberis which is at the bottom of Snowdon is known for the Mountain Railway, but it has so much more. Such as our stunning lake, Llyn Padarn, which has just been designated a 'bathing lake', one of just a few in Wales. It is so stunning it has inspired much of my recent work."
Zip it
Ifer Gwyn, Principal Policy Officer at Snowdonia National Park:
"We are lucky to have Europe's largest zipline, which has been fantastic for Snowdonia. It has had a very low impact on the landscape and done very sensitively indeed. It is really worth a visit."
Claire Copeman, from our Snowdonia multi activity holiday supplier, Adventure Tours UK, shares some of her Snowdonia secrets:
Snowdon summit success
"Llanberis path is the least technical and manageable for most active people. This path follows the same route as the Snowdon Mountain Railway, which is an even easier way to reach the summit for anyone wanting to see the peak but may not be feeling fit enough for the full hike.

The Rangers path is slightly more technical, but combined with the Llanberis path creates a good circular route which any competent hiker would enjoy.

Another relatively easy route (you're still climbing Wales' highest mountain!) is the Pyg track. And the Watkins path is a scenic route which becomes technically more demanding as you approach the summit.

Crib Goch is the most technical and challenging route to Snowdon's summit. There are several sections of scrambling to reach it and Crib Goch itself is an exposed knife-edge ridge. Hikers attempting this path must be competent mountain walkers, experienced at scrambling and with a head for heights! It does have the potential to be very dangerous so must not be taken lightly. In our opinion, this route should only be attempted by very experienced hikers and preferably with a qualified local mountain guide. For anyone who does complete this route, it is an incredibly rewarding achievement to reach the other side and the views are just spectacular!"
Safety first
"Make sure you have the right gear! Whatever the weather at the start of your hike, it will be much colder when you're at the mountain peak. And in the mountains the weather can change quickly and unexpectedly. Warm and water proof layers, hat and gloves are a must even in summer. Sturdy walking boots with good grip and ankle support are strongly advised. Twisted ankles are one of the most common injuries in the national park and can quickly create an emergency situation. Take plenty of fluids and food to keep yourself hydrated and fuelled for a physically demanding day. And make sure you carry a first aid kit and know how to use it!

You'll also need a good quality map covering the full area you plan to hike. A 1:25,000 OS explorer map is a good place to start. Make sure you've carefully planned your route before you set off so you know how long you plan to be out hiking and, if necessary, you can locate early exit points off the mountain. A compass is a must too.

Make sure you've checked the weather forecast in detail, using a couple of different sources to get the best prediction possible. A whistle, head torch and GPS or mobile phone are also recommended, in case things don't go to plan.

If in doubt about your skills in hiking, scrambling, navigation or first aid, go with a professional. There are plenty of qualified local guides around the area and some companies, such as Adventure Tours UK, offer fully guided hiking tours."
HEALTH
Gwynedd Hospital in Bangor is the main hospital and A&E department in the area. Their number is + 44 1248 384 384.
Take note of local emergency numbers – like everywhere in UK, Snowdonia uses 999 and 112. If you are in the mountains ask for the police and then say you need mountain rescue. Or 'Lifeboat' if you are at sea.
Be wary of ticks They carry Lyme Disease and others, and best to take precautions. Make sure you carry tweezers so that you can remove them and be sure to inspect your bodies carefully. Always apply a deterrent (a natural one is best for children such as lemon eucalyptus) and then suncream.
It is likely you will engage in a lot of physical activity with your children in Snowdonia. It is one big playground after all. So you can never overestimate the amount of water they will need. Chocolate should also be encouraged at all times!
Suncream is not always top of the list for Snowdonia, but as it is pretty exposed and also high up it is sometimes tricky to gauge. So factor in the factors when you are packing.
SAFETY
If you are hiking, biking or on the water, it is always best to tell someone where you are heading. Plan your route carefully so that it caters for the abilities of all the family. And remember, if you are climbing, coming down is often more tiring than going up.
Bring a basic safety kit with you if you are in the mountains. Warmth and water are key. A whistle, torch and first aid kit can save a life.
It is good to know the national distress signal, which is six flashes with your torch, or six short whistles, repeated after a minute's pause. The reply is three flashes or whistles.
Wear suitable clothing for all activities. With thermal layers in winter, and sunhats in summer. Take a map and compass with you and make sure you know how to use them.
If you are off on an adventure, always check the Met Office website for a detailed weather forecast before you set out and if you are in the mountains, or indeed on the water, turn back if the weather turns bad.
If you are on the water wear buoyancy aids and make sure they are properly fastened, especially on children who can slip out of them more easily.
The Adventure Smart UK website is a font of mountain safety information, run by an impressive team of Snowdonia partners.
Our top trip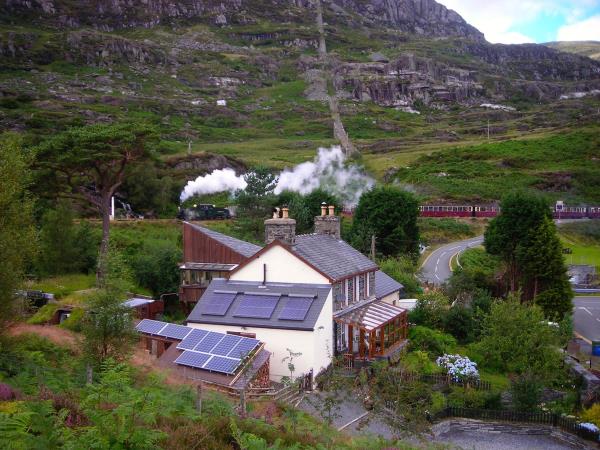 Carbon Neutral award 2021 eco house in Snowdonia 3 ev plugs
From
£210

to

£330
per house per night
Accommodation
If you'd like to chat about Snowdonia or need help finding a holiday to suit you we're very happy to help.

Snowdonia tips from our travellers
At Responsible Travel, we think the best people to advise our travellers are often... other travellers. They always return from our tours with packing tips, weather reports, ideas about what to do - and opinions about what not to.

We have selected some of the most useful Snowdonia travel tips that our guests have provided over the years to help you make the very most of your holiday - and the space inside your suitcase.

The Welsh Highland Railway is superb... stunning route through Beddgelert and the Aberglaslyn Pass.

"Be prepared to be busy, there is so much to see and do. Bear in mind that food is generally not served between 2 & 7pm anywhere around the region." – Kate Stranks

"Take more clothes than you'd think in case you get caught in the rain one day. Comes very suddenly down the valleys!" – Ben Alcott

"Take at least three days if it's a weekend escape – it's really hard to cram all the adventures into just a weekend." – Hayley Spurway

"Take your all-weather walking gear and DO go to the slate mines at Blauau Ffestiniog, We went in the quiet of February - it was great having places to ourselves at times! Don't expect a wide range of choices of restaurants in the area." – Graham Beck

Take your all-weather walking gear.

"The only tip that I would give is to book soon." – Terry O/Neill

"Take binoculars we spent hours watching the activity on Snowdon and the lake." – Paul Ellis

"The Welsh Highland Railway is superb - go to Rhyd Dddu or Waunfawr and catch the train to Portmadog. Stunning route through Beddgelert and the Aberglaslyn Pass." – Philip Burston

"Wrap up warm and be prepared for the British weather. Don't go expecting mod cons but enjoy the relief of not being connected!" – Billie Ireland

"Stout walking shoes. The weather is very changeable so don't be put off by low clouds. Save your appetite for Pete's Eats. The portions are huge." – Janet Ryerson