Escape into the heather-clad moors and plug-like volcanic outcrops of Snowdonia National Park and you'd be forgiven for thinking that this remote region's tracks and footpaths are known the world over. They're not, of course; many of Snowdonia's walking trails are known only to the local dog walkers, bird watchers, rambling groups and professional walking guides.

On a small group walking holiday, the walking guides will all be from the local area. This is because they've known many of the park's trails since they were a babi bach and as such they exude an enthusiasm and a passion that's the same as if they were welcoming guests into their own back yard. This always makes the entire experience all the more enlightening, and safe, as well as allowing walkers to find out which local pub serves the best pint of Purple Moose or where you can buy some Black Bomber cheese.
There is a summit, however, that stands out as something of an international celeb. Somewhere that's considered a challenge, albeit an achievable one, and is perhaps starting to gain a bit too much attention, truth be told, especially during the summer months. It's Snowdon, of course. You don't need a guide for Snowdon in the summer, and you can even take a train to the top, and back down again, if you wish.

This accessibility explains Snowdon's popularity, but the mountains still has her secrets. There are several paths to the summit that are a lot tougher, more technical, than the much more popular charity walker treks. In the winter, also, what was once considered easy going might well be treacherous, especially if undertaken without the correct gear. To make life easier, organised walking holidays here tend to only run from April to October.

If you're looking for recommended walking routes in Snowdonia National Park, as well as some of Snowdon's lesser known summiting trails, and some top tips on safety, grab a slab of mint cake, tie up your laces and read on because there's only one way we're going – and that's right to the top.
Recommended walking routes
There are plenty of villages to be found in the heart of Snowdonia National Park that have become synonymous with walking holiday makers and outdoor enthusiasts. Places like Capel Curig, Llanberis and Betws-y-Coed, close to the confluence of the Conwy, Llugwy and Lledr rivers.

Visiting these central hubs or, even better, staying nearby, is like placing yourself in the middle of a giant spider's web of walking trails with various distances, gradients and degrees of difficulty all to be discovered, if you know where to look. The start of numerous walking trails which wind up into the mountains and across high ridges can often be discovered behind a village pub or next to the church – if you weren't aware of their existence then you just wouldn't notice that they were there.

For instance, did you know that on a clear day you can see practically all of Wales' highest peaks from the top of Moel Siabod? The 12km walk from Capel Curig takes you to Siabod's rocky summit through peaceful riverside woodland before requiring a slight scramble to reach the grit stone ridge. There's also an easier, less technical, walk to the top – the views are exactly the same no matter how you choose to arrive.
You can also find a walking trail to the top of Pen yr Ole Wen from the shallow, stream-fed, Llyn Ogwen, a winding ribbon lake that's as steeped in scenery as it is in the legends of King Arthur. Pen yr Ole Wen is as tall as the highest peak in England although it only ranks as seventh tallest in Wales.

From abandoned slate quarries to views out to Cardigan Bay and opportunities to scramble to the top of Tryfan, Bristly Ridge, Devil's Kitchen and Gribin Ridge, the best walking routes take you to places that you might otherwise have missed.

Claire Copeman from our Snowdonia walking holiday specialists, Adventure Tours UK, shares some of her favourite walking routes: "Personally I love a quick lap of Llyn Idwal. It's a gorgeous spot and feels thoroughly wild and remote, yet you can do a circular walk in just 1.5 to 2 hours. Another gorgeous long walk I did just last week was the full length of the Carneddau range. Starting at Pen yr Ole Wen it's a long old hike up to the first peak and then a steady hike across this vast plateau. A particularly rewarding route down is to follow the river to the famous Aber Falls."
Our top Snowdonia Holiday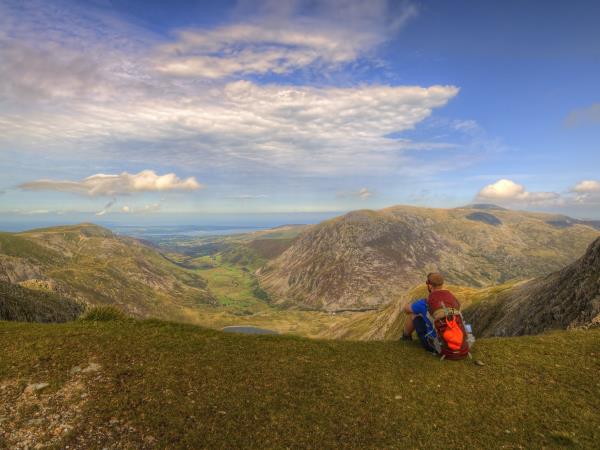 Experience stunning Snowdonia on a small group walking break
From
£895
7 days
ex flights
Tailor made:
This trip can be tailor made throughout the year to suit your requirements
If you'd like to chat about Snowdonia or need help finding a holiday to suit you we're very happy to help.
Point to point or centre based?
Although it is possible to hike from one village to the next in Snowdonia, it can be a bit of a faff when it comes to unpacking and packing your bags every night. A much better option is to stay in one place and return each night to a welcoming log burning fire, Welsh slate floors and comfy sofas.

There's actually award winning hostel accommodation just down the road from Betws-y-Coed in Capel Curig. The village is central to Snowdonia's walking trails and mountain routes, and has become a well respected base for anyone looking to make the most of the great outdoors. Our small group North Wales walking holiday uses this hostel as its base. It has a few private rooms for solo walkers who don't mind splashing out on an additional supplement. For those who prefer to bunk in with other guests, there are attractive dorm style bedrooms that sleep six.

You'll find a couple of pubs serving food within walking distance or you can use the hostel's own facilities if you fancy rustling up a spot of local grub after a good day spent walking outdoors. The hostel's outdoor fire pit and outdoor decking area is often the only place to be in the summer, especially with a bottle or two of Purple Moose. The start of walking trail heads can all be reached after a short drive from the hostel or right from the front door, after breakfast at the local café next door, of course.

For many walkers there's only one reason to stay in Capel Curig, and that's Snowdon, but if you think there's just one way to get to the top then here's where you find out a few more:
Summiting Snowdon
There are several trails leading to Snowdon's peak, some more technical than others. All of them are stunning, though and all of them rewarding. Join a small group guided hiking holiday and your gide will take into account several factors before deciding which route, including the weather on the day, and the group's ability. Snowdon is a very popular hike, so the guide will also use his or her knowledge of the routes to avoid other walkers as far as possible.
Llanberis Path is the least technical and manageable for most active people. It follows the same route as the Snowdon Mountain Railway, which is an even easier way to reach the summit for anyone wanting to see the peak but not feeling fit enough for the full hike.


Another relatively easy route is the Pyg Track.


The Ranger Path is slightly more technical, but combined with the Llanberis Path it creates a good circular route which any competent hiker would enjoy.


The Watkin Path is a scenic route which becomes technically more demanding as you approach the summit.


Crib Goch is the most technical and challenging route to Snowdon's summit. There are several sections of scrambling to reach it and Crib Goch itself is an exposed knife-edge ridge. Hikers attempting this path must be competent mountain walkers, experienced at scrambling and with a head for heights. It does have the potential to be very dangerous so must not be taken lightly. This route should only be attempted by very experienced hikers and preferably with a qualified local mountain guide, and most week long walking holidays would not include it. For anyone who does complete this route, it is an incredibly rewarding achievement to reach the other side and the views are just spectacular.
How to stay safe when
walking in Snowdonia
Make sure you have the right gear. Whatever the weather at the start of your hike, it will be much colder the higher you get. And in the mountains the weather can change quickly and unexpectedly. Warm, waterproof layers, hat and gloves are a must, even in summer. Sturdy walking boots with good grip and ankle support are strongly advised. Twisted ankles are one of the most common injuries in the national park and can quickly create an emergency situation. Take plenty of fluids and food to keep yourself hydrated and fuelled for a physically demanding day. And make sure you carry a first aid kit and know how to use it. Walking with a qualified local guide in a small group with a guide to walker ratio of 1:10 is the safest, and sometimes the most enjoyable, way to appreciate walking in Snowdonia National Park. Even on a guided hike, it's a nice idea to have a map covering the full area you plan to hike. A 1:25,000 OS explorer map is a good place to start. A compass is helpful, too. Your hiking guide will have checked the weather forecast in detail, using a couple of different sources to get the best prediction possible, before leading you out each day. Guides typically carry a whistle, head torch and GPS or mobile phone, too, but feel free to bring your own.