Snowdonia travel guide
---
2 minute summary
The name Snowdonia evokes different things for different people. Mountains usually come first, what with the pater of all peaks, Snowdon, Wales' highest at 3,560 ft (1,085 m) overlooking this magnificent National Park, like a grand eagle protecting its nest. Indeed, the Welsh word for eagle is Eryr and it is sometimes thought that this is the ancient origin of the region's Welsh name, Eryri. However, Snowdonia feels like a bit like a giant BOGOF. Buy one get one free that is. If you go hiking you can take in a bit of river gorging en route. Go cycling and swap saddle for paddle as you discover Snowdonia from water level. There is so much more here than you expect. And the icing on the cake, a bit like the dusting on its most famous peak, is that it has a coastline too.
And all of Snowdonia's lakes, forests, rivers and mountains are in safe hands, with Snowdonia National Park having having been a protected landscape since 1951. Or landscapes really, with mountains, lakes, woodland and coast; Snowdonia is not only an evocative Eryri, it is an eclectic one.

Snowdonia is...
for those who seek
silence
but also a little
silliness
in nature.
Snowdonia isn't...
just about mountains. With coast,
lakes
and
forest
you can dip and dive 'til your heart's content.
What we rate & what we don't
---
Our guide to the best and worst of Snowdonia
Underrated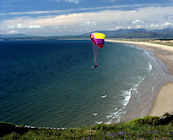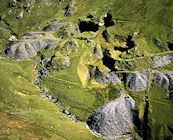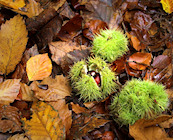 I can see the sea
Few people associate Snowdonia with the sea, but there are twenty kilometres of coastline within the National Park, with Harlech being the salty hub.
Slate is the new cool
Don't overlook the quarries. Although they are not picture postcard, they have an industrial beauty, the likes of which we celebrate in derelict power stations, transport museums or canal systems around the world. Visit the quarrying villages too for real Snowdonia.
Autumn warmth
Snowdonia has native woodland which explodes with the seasonal change. Check out the Woodland Trust and National Trust websites for spots to embrace the seasonal change.
Rated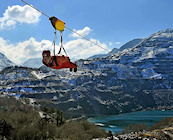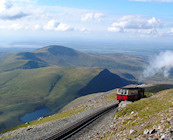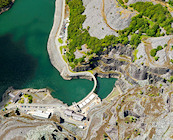 Zip World
Is out of this world. Not only can you go flying at speeds of up to 100 mph, but you also get to support a now revitalized quarry Penrhyn Quarry which is nestled amongst the mountains of north Wales.
Train up Snowdon
Might seem cheesy, but it's actually cheese-tastic and a fine legacy to the engineers who installed it. You also have the stunning Hafod Eryri building on the summit as its terminus. Train geeks gone chic.
Electric Mountain
Yep. They put a power station into the mountain. Just like that. So cool, they have turned it into a visitor experience. This is no hydro hype, but an almost Orwellian marriage of machines and nature.
Overrated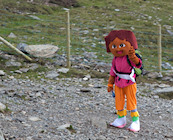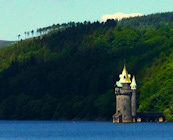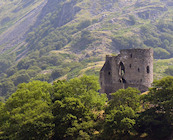 Charity climbs
Great for the charity, but not so great for Snowdonia as most events only involve people staying for a night, leaving loads of waste and going home. Come for longer and take in all of the Park, not just the peak.
The package holiday
Snowdonia is so not package. More of a pass the parcel, where you have to unwrap all the layers carefully to discover the treats that await. It is rawer than, say, the Lake District. Less fudge, more fun.
English castles
The English still upstage the Welsh when it comes to castles, with Harlech and Caernarfon always top of the tourist maps. But check out the famous creations of the Welsh Princes of Gwynedd, as stunning architecture plays a huge part of their legacy. Visit Castell y Bere , Castell Dolwyddelan and Castell Dolbadarn to delve more deeply into Snowdonia's history. See www.snowdoniaheritage.info for more information.
Food, shopping & people
---
Travel like a local with our Snowdonia travel guide
Eat & drink in Snowdonia
---
Lamb is very local, with farmers like award-
winning
Aran Lamb
going strong.
Local ales run through Snowdonia's veins. Look out
for names like Purple Moose, Snowdonia Ale, Cader Ales or Big Bog.
Conwy Mussels
which you can buy straight off the pier in this lovely medieval town.
Oh, the cheese. It's everywhere. Addicts have ample space to walk it all off though. Discover the Little Black Bomber from
Snowdonia Cheese
and you are doomed.
Any doubts that Welsh is a living language? Check out their

National Eisteddfod Festival

, taking place in a different place every August.
People & language
---
Snowdonians have a real link with their landscapes. Historically they farmed the land or worked the quarries and slate underground. So, when you tell them you loved your walk or cycle and the secret corners of Snowdonia you discovered, they appreciate it. Not just because they want to please visitors, but because there is an innate link between people and place here.
Snowdonians are also Welsh (Cymraeg) speakers, with over half of the population speaking it as their first language.
Bore da – Good morning (pr bor-er dah)



Hwyl

– Goodbye
(pr. who-ill)



Diolch

– Thanks
(pr. dee-olck)



Iechyd da

– Cheers
(pr. Yah-key-Dah)
Gifts & shopping
---
Buy some Snowdonia slate now produced as table mats, coasters and custom made signs.
Snowdon is the tallest mountain in Snowdonia, standing at

1,085m

above sea level and attracting

half a million visitors

a year.
How much does it cost?
---
Entry into National Park: Free
Hire a kayak on Lake Bala: £12 per hour or £28 for half a day
Train up Mount Snowdon: £20 one way or £27 return
Round of Little Black Bomber cheese: £4
Snowdon Sherpa bus ticket: from £1 single