Best time for a family to go to South Africa

Wildlife watchers should head to South Africa between July and September, when game is easier to spot and southern right whales visit the Western Cape.

Family holidays to South Africa will always be dictated by the school term, but beyond that, the best time to visit South Africa depends on your interests – game is easier to spot in Kruger National Park and Hluhluwe-Imfolozi Game Reserve during the dry winter months of July, August and September, before the rains start to appear in October. This is also the best time to see southern right whales off Hermanus, though sightings may come with a serving of windy, cold weather. The Western Cape is at its most beautiful during the summer months of November, December, January and February, while in Kwazulu Natal summers are hot and wet, with March and April the best time for the beach. Remember things can get crowded during the December school holidays.
Things for a family to do in South Africa
Things to do on a family holiday in South Africa
You shouldn't visit South Africa without spending time watching wildlife. Children as young as seven are allowed on safari drives, and some lodges offer specially tailored drives for younger children, or special activity programmes for children as young as three. You can watch whales at Hermanus, see prolific birdlife at St Lucia Wetland Park, check out the penguin colony at Cape Town's Boulders Beach or make for Kosi Bay Nature Reserve, and area that's home to jungle, mangrove and a coral reef that's teeming with aquatic life.
South Africa's wilderness is ripe for adventure so treat the kids to some fun activities. Blyde River Canyon is an excellent place for hiking, or you could kayak or snorkel at Kosi Bay, take a hike to the top of Table Mountain or stay on a ranch for a horse riding holiday.
If you want to gain greater insight into the local environment or culture while giving something back at the same time, then consider a family volunteering holiday. Children as young as eight can join fun and rewarding monkey rehabilitation projects
While there's plenty to keep you occupied in SA, it's worthwhile combining countries, too. Several small group trips visit other Southern African countries, for example, Swaziland, Namibia, Botswana and Zimbabwe, while if you go tailor made, you could tag on a luxury beach break in Mozambique.
Things not  to do on a family holiday in South Africa
While it's true that violent crime generally takes place away from popular tourist areas, and larger towns and cities have tourist police, don't be blasé about safety. Keep valuables out of sight, avoid using ATMs in secluded places and after dark and don't withdraw large amounts. Be alert when driving, too. Speed limits are often broken and overtaking can occur from any lane.
Don't ignore the immigration rules concerning parents travelling with children under 18. You'll need to bring a full unabridged birth certificate for each child. Check the FCO website for more.
You may have come to South Africa for the national parks, but don't ignore the culture and history. In Johannesburg you could visit the Apartheid Museum, while in Cape Town, Robben Island, where Nelson Mandela was imprisoned for 27 years, is a must and the city's District Six, which saw 60,000 residents 'resettled' is also compelling. If you want to visit a township with your children then Soweto in Johannesburg or Langa in Cape Town are both good bets. Remember, though, that you should only go on a tour that has been created and supported by the residents of that township.
There's plenty of 'international' food to be found here, but don't ignore South African food - it's diverse and delicious, reflecting the country's multicultural society. Kids will love boerewors (spicy sausages), traditional braai (barbeque) and koeksisters (sticky doughnuts); and the more adventurous could go for bunny chow (a hollowed out loaf of bread filled with curry), bobotie (sweet-and-spicy mince with a creamy golden topping) or mealie pap (maize porridge).
If you'd like to chat about South Africa family or need help finding a holiday to suit you we're very happy to help.

Advice for families going to South Africa
Why South Africa is great for families
Dyan Mckie, from Intrepid Travel:
"South Africa has all the key elements which make for a great family holidays. A vary of accommodation to suit all budgets, scenery that will wow the entire family, fantastic activities from cycling Soweto to kayaking in Kosi Bay and of course the wildlife. With more than 20 National Parks, including two of the world's most renowned wildlife reserves, the Kruger National Park and the Kgalagadi Transfrontier Park there are plenty of opportunities to view animals in their natural habitat."
Small group holidays
Dyan Mckie, from Intrepid Travel:
"The biggest benefit is travelling with other likeminded families. Children get to meet other children from all over the world while viewing some of the best wildlife in the world. It also allows parents to sit back and enjoy the holiday while the local experts take care of all the logistics for them. If families are considering a camping holiday then travelling with a tour company and group ensures all the camping equipment is supplied so they just need to arrive ready for their game drives!"
Volunteering
Anne Smellie, from Oyster Worldwide:
"Families are often better suited to volunteering with wildlife in South Africa rather than community projects. Often kids might be quite shy at first; however, once they've been given a task, such as caring for an infant monkey or helping to prepare food, they stick to it and often display a really keen work ethic as well as growing in confidence as their holiday progresses. It's also great for children and their parents to work side by side. This allows adults to show a different side to just being mum or dad, in addition to the whole family working as a team towards a common goal."
Health and Safety
Dyan Mckie, from Intrepid Travel:
"Always check with the national park if you are planning on joining a safari as many don't allow children younger than six on the daily game drives for safety concerns. All travellers should consult their doctor for up-to-date medical travel information or for any necessary vaccinations before departure. Talk to your doctor about malaria and where you are travelling. South Africa has some strict regulations regarding travelling with children. Such regulations have has been put in place to protect children from being abducted, kidnapped and trafficked. So check with smart traveller before travelling to seek what additional paperwork you may need to take with you."
At Responsible Travel, we think the best people to advise our travellers are often... other travellers. They always return from our tours with packing tips, weather reports, ideas about what to do – and opinions about what not to.

We have selected some of the most useful South Africa family holiday tips that our guests have provided over the years to help you make the very most of your holiday – and the space inside your suitcase.

Be prepared for very long journeys, we did 5600kms. They warn you about this in the pre-tour info and they are not joking but it is a very big place!

"As we were traveling with small children, it is important to do your research but trust your travel agent at the same time. Give them as much information as possible of what you are looking for, so they can tailor your trip around your needs." – Monica Belan, Family luxury safari & beach holiday, South Africa & Mozambique

"Be prepared for very long journeys, we did 5600 kms. They warn you about this in the pre-tour info and they are not joking but it is a very big place! Take Kindle and music and a small backpacks for walks etc and you do not need too much in the way of clothes. A good pair of sandals and a sun hat is essential. Plenty of cash machines but dollars are very useful." – Tim Gregory, Cape Town to Victoria Falls small group lodge tour

"If they were planning to take children to a school, as we did, I would encourage them to be in touch with the school before leaving and discuss how their children could be kept occupied. I was helping to teach classes - and on two days, was teaching full-time - so my kids had to look after themselves. They were fine, but I think that some kids could find it tricky and boring to be on holiday, but attending classes. I'd also suggest that people consider the time of year - we were there in the S. African winter, so the snakes were hibernating. I would have been a bit tense if my children had been wandering freely round the playground and village, knowing that black mambas can and do appear." – Anita Simon, Family volunteering and safari holiday, South Africa

Although you might be tired, try and make sure you get out as much as possible while on safari - animals are not always predictable so never assume that the ranger will find what you want to see.

More South Africa family articles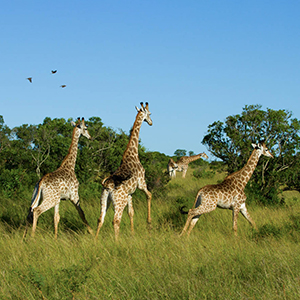 There's a host of natural and cultural wonders in South Africa to fascinate every member of the family. Our guide to South Africa family holidays has more.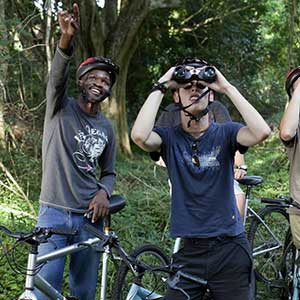 A small group family holiday involves perfectly planned itineraries, super knowledgeable guides, and a readymade gaggle of travel companions.