WILDLIFE VOLUNTEERING IN SOUTH AFRICA
Wildlife volunteering projects offer a unique opportunity to work in the South African bush where tasks focus on protecting ecosystems and preserving the natural environment rather than a 'hands-on' approach to caring for animals. Daily duties can include monitoring and counting animals, erosion patrols and taking out invasive plants. It's a much more affordable and interactive alternative to a safari, but hard work is involved; don't expect to put your feet up all day, every day. You'll form part of a team of volunteers with full training to increase skills and ensure safety as well as enabling interaction with local workers and conservation experts. Accommodation can be anything from a permanent research camp to a backpacker lodge where you can become part of the community and gain a deeper understanding of life in wild South Africa.
LAND BASED WILDLIFE CONSERVATION
Land based wildlife conservation
Land maintenance, predator monitoring and animal release are just some of the ways volunteers are asked to assist within South Africa's national parks and underfunded game reserves. Volunteers interested in wildlife conservation in Kruger National Park, for instance, might find themselves monitoring leopards, identifying bird species, radio tracking lions, observing elephant behaviour and donating time to dung data collection as part of on-going wildlife conservation projects.
KwaZulu-Natal
also features several unique national game reserves that need the help of volunteers to ensure endangered black rhino, African wild dogs, cheetahs and vulture populations are safeguarded in their natural habitat.
This is a chance to experience the African bush, way beyond the safari tours, where you'll be taught how to track, identify, relocate and reintroduce endangered species as part of a professional conservation team. Depending on the length of your stay, and the time of year, there are a great many 'as and when' activities that volunteers can also get involved in. Radio collaring, identity marking (notching), bird ringing and night time excursions to study nocturnal animal behaviour – the more you put in, the more you'll get out, and so will the animals.
Our top trip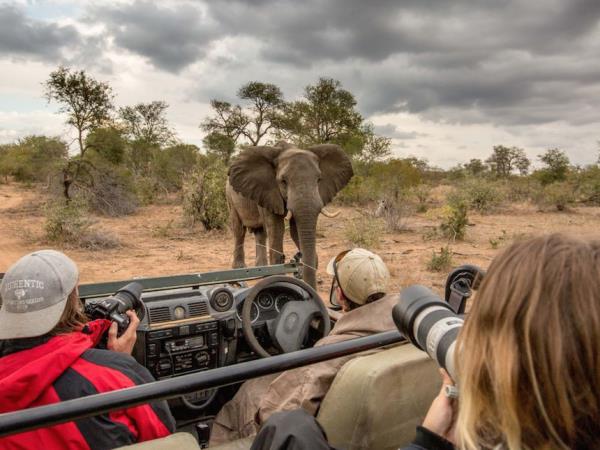 Enjoy amazing wildlife photography while giving back!
From
£2595
4 weeks
ex flights
Small group travel:
2023: 24 Dec
2024: 21 Jan, 18 Feb, 17 Mar, 14 Apr, 12 May, 9 Jun, 7 Jul, 4 Aug, 1 Sep, 29 Sep, 27 Oct, 24 Nov, 22 Dec
If you'd like to chat about South Africa volunteering or need help finding a holiday to suit you we're very happy to help.

Great white shark research

Overfishing, shark finning, habitat destruction and completely unfair media coverage have led great white sharks in South Africa to come under increasing concerns from conservationists.

Although abundant within the chilly waters off the Western Cape, great whites are still incredibly vulnerable; volunteering to join a
shark conservation project near Cape Town
lets you instantly find out why. Volunteers will mainly assist with eco-tours, where they'll be given full instruction on how to cage dive safely (no experience necessary) as well as enjoying daily opportunities to cage dive on a rotational basis with other volunteers and eco tourists. Aside from data collection and field research, volunteers on great white conservation projects will also get to grips with boat handling and basic seaman skills and safety procedures. This is in addition to helping to correct negative perceptions of great whites through interaction with local communities and tourists.

If you're looking for a diving holiday with a difference, there's nothing like volunteering to protect and monitor the marine ecology of Sodwana Bay on the east coast of KwaZulu Natal.

Marine conservation
As part of the vast iSimangaliso Wetland Park, South Africa's third largest protected area, Sodwana Bay provides the perfect underwater environment for turtles, rays, sharks and fish to flourish. The role of volunteer divers is to monitor the reef and record animal behaviour patterns as well as keeping an eye out for rarely seen species. Beginner divers will be given PADI Open Water training whilst PADI Advanced Open Water courses will be given to divers who are already qualified. Sodwana Bay is one of the world's best regarded dive sites and volunteering to collect data whilst learning to dive is just an absolute privilege on so many levels.
Anne Smellie, from our supplier Oyster World, explains the different challenges that wildlife faces, both inside and outside of protected areas:
"There are major issues concerning the areas that fall outside the perimeters of national parks and private wildlife reserves in South Africa. In these areas wildlife may come into greater contact with humans. Some animals, primates in particular, are considered to be vermin and will often be killed by car drivers or shot by farmers. There's a very real human vs. primate conflict occurring in South Africa, due to the drought and competition for crops. Private game reserves and national parks, on the other hand, need to have a much more managed approach to ecosystems; they need to ensure there's a natural balance as opposed to allowing lions, for instance, to completely dominate the deer population which, in turn, leads to certain types of flora getting out of control."
More South Africa volunteering articles