Family holidays in Spain guide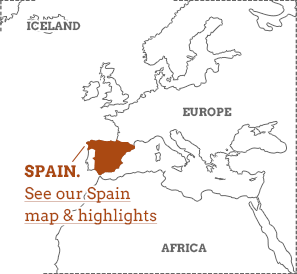 Paella, what many people (usually non-Spaniards if we're honest) consider to be Spain's national dish, can be prepared with lots of different food combinations, but is typically built around three main ingredients: rice, olive oil and saffron. And we think in a similar way about family holidays – they can come in all shapes and sizes, depending on your interests, ages and abilities, but they too have certain must-have ingredients: fun, relaxation, quality time together and happy memories to take away.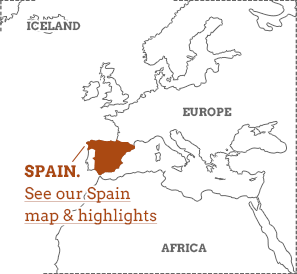 Perhaps more than any other European country, Spain offers vast potential for every member of the family to get involved in activities they'll adore.

Sun-kissed resorts on the Costas Brava and Dorada are not short on appeal for those that love nothing more than a scenic beach holiday. However, we suggest looking further afield to less well known but no less attractive destinations such as the rural countryside of Andalucia and Catalonia, or the rugged Spanish Pyrenees, where you'll find a mix of adventure and tranquility as wholesome as any good paella. Find all the secret spots in our Spain family holidays guide.
Who is this kind of trip suitable for?
Practically everyone, is the easy answer to that, but we'll not leave it there. Family holidays in Spain have something to offer every generation, so that those who like a bit of rough and tumble can get thoroughly stuck into one or two action-packed activities every day, while those who want to take things a little easier can soak up the atmosphere, the scenery and the local culture. You can come together again in the afternoons, and even in structured itineraries there is always plenty of free time to do your own thing as a family.
Most holidays will have suggested minimum ages, depending on the type of activities involved, although in some places, such as the Altiplano de Granada in Andalucia, these can often be adapted to suit younger children, too. Where you have water sports involved obviously everyone participating will need to know how to swim, but apart from that no experience is needed to join in.
Of course every family is different and some have special requirements, whether that be allergies to certain foods, or a family member with some form of disability. Catalonia in particular is exceptional when it comes to this area, and accessible holidays here mean exactly that: activities led by professional instructors can be tailored for people with mobility issues, and guests with cognitive disabilities will feel extremely welcome.
You'll stay in locally owned and often family run accommodations where your hosts are immersed in their communities, meaning they can rely on personal connections built over years to provide you with reliable recommendations on what to do – something you just can't get in big, faceless hotels and resorts.
This will naturally depend on where you're staying but in most cases you'll be able to introduce the kids to a little of the local culture alongside the more active stuff. In Andalucia you can take a fun class in flamenco dancing, or learn traditional Andalucian cooking; if you're staying in the Spanish Pyrenees you can easily make a day-trip down to Barcelona to admire the architectural genius of Gaudí; while in the Picos de Europa you can even throw in a few Spanish language lessons.
Spain lends itself perfectly to outdoorsy activities though, and older children will absolutely love the thought of canyoning and white water rafting, skiing or mountain biking. Parents may be slightly more cautious about the more adventurous activities but the enthusiasm is infectious, and the chances are you'll be keeping up with the kids throughout.
Some destinations, and activities, may require use of a hire car, as they can be quite remote. Others, however, will include all the necessary transfers from airports or train stations. In most instances though having a car at your disposal is a good idea as it leaves you free to get around as you please.
Our top trip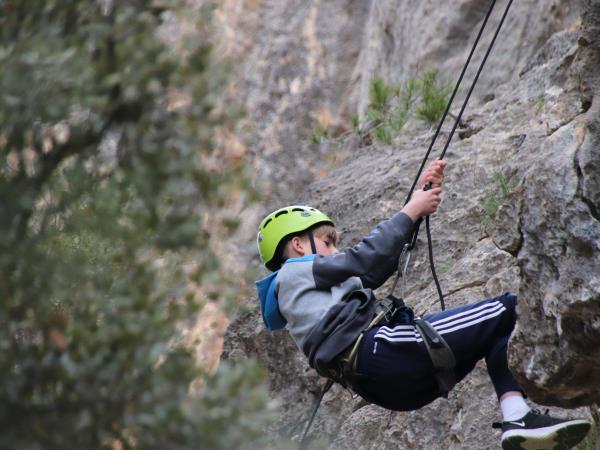 Multi-activity family holiday in the Spanish Lake District
From
€495

to

€793
8 days
ex flights
Tailor made:
This holiday is available April to October and can be tailor-made to suit your requirements.
If you'd like to chat about Spain family or need help finding a holiday to suit you we're very happy to help.

Small group or tailor made?
Our family holidays in Spain are a mix of both tailor made and small group holidays. A tailor made trip allows you greater flexibility with your dates, and to choose what activities to do on what days, while a small group trip will typically follow a set itinerary and be accompanied by a tour leader. In both cases you will normally be accommodated be in an accommodation with families with other children of similar ages, often sharing activities. You might be surprised, and will certainly be happy, how quickly everyone bonds over the fun and at mealtimes. And as for screens, in all likelihood they'll be completely ignored until it's time to go home.
More Spain family articles