Best time to visit Sri Lanka & Maldives

The Maldives and Sri Lanka are typically tropical, mixing balmy dry weather with humid wet seasons.

Dec-Apr is the best time to visit the Maldives and southern Sri Lanka, as temperatures are warm and there's little rain. On the downside the Christmas period is very busy, with prices high and hotels booked up way in advance. May-Oct sees the wet season move in, with the worst weather from Jun-Aug but it's generally more affordable then, with the exception of the Aug school summer holiday period. Northeast Sri Lanka has its monsoon season from Oct-Jan so it's perfect during the European summer. And the rest of the year? There's quite a bit of rain. It's the tropics, after all.
Sri Lanka & Maldives month by month
December to January is a very busy time in Sri Lanka and the Maldives, and although you can find quiet spots off the beaten track, you do need to book well in advance. If messing about in the water is your main priority, then visibility for snorkelling and diving is at its peak from December to March. This is also the best time for small ship cruising in the Maldives, before the winds pick up in April, pre southwest monsoon. Late February and early March is the best time to see blue whales. The southwest monsoon takes place in southern Sri Lanka and the Maldives from mid May until October, so it's not the best time for cruising or sailing. Despite the rainy season, late July and August are busy and expensive in both the Maldives and Sri Lanka due to the European school summer holidays, so this is a good time to head for the stunning beaches of northeast Sri Lanka. This region has its monsoon season from October to January meaning that there's perfect weather during the European summer months of June, July, August and September. Even though the Cultural Triangle is in a drier region, it does still get hit by the monsoon in November and December. In the Maldives local people will be feasting and fasting during Ramadan, and some businesses will close, but this doesn't usually affect cruising or resort holidays. For 2024, 2025, 2026 and 2027 Ramadan falls in February and March.
Trincomalee Weather Chart
Things to do in Sri Lanka & Maldives
Things to do in Sri Lanka & the Maldives…
Cruising on board a traditional dhoni boat is a magical way to see the Maldives. These simple wooden vessels sleep a maximum of 14 guests, and while the vibe is sociable, it's a tranquil experience that aims to connect you with the sea and nature. Days are spent snorkelling, swimming, line fishing and visiting traditional islands, where you have time to enjoy local food and learn about Maldivian culture. And after yet another sunset, you can stargaze from the deck and swap stories with newfound friends about your adventures.
Taking a train ride is a spectacular way to see Sri Lanka and an excellent value one, too. You can journey down the coast from Colombo to Galle or into the interior, taking in temples, tea plantations and many other cultural delights. Particularly special is the journey through the emerald valleys between the hill station town of Nuwara Eliya and Ella, which is known as one of the most scenic rail journeys in the world.
You can't visit Sri Lanka without being aware of its rich history and culture, and you should definitely visit at least one of its heritage sites. The Cultural Triangle is the starting point for most cultural tours in Sri Lanka. The ancient artery of Sinhalese civilisation, it includes the vast palaces of Anuradhapura, the ruins of Polonnaruwa and the citadel at Sigiriya. Kandy, meanwhile, is home to the celebrated Temple of the Tooth and Galle is infused with colonial history, with evidence of its past as a Portuguese, Dutch and British colony all around.
Things not to do in Sri Lanka & the Maldives…
Yes, there are brochure worthy beaches and warm seas aplenty in the Maldives and Sri Lanka, but don't spend all your time snoozing on the sands. Sri Lanka's interior is fertile ground for hiking, biking and cultural sightseeing, while the Maldives gets you going with diving, snorkelling, sailing and surfing. Both countries come up trumps when it comes to yoga and wellness activities, so you'll have a chance to declutter your soul after all that action.
It's really easy to spend a holiday here sealed away in a luxurious beach bubble, but don't miss out on meeting local people. In Sri Lanka, spend some time in locally owned hotels or guesthouses or ride local transport; and in the Maldives, consider visiting a traditional island, or spend time in the big city bustle of Male before or after heading out to your resort island.
You could spend your time eating bland, 'international' cuisine but it would be a crime to miss out on the local eats. In Sri Lanka, visit Negombo's fish market and eat crab curry in Mirissa, or curry and rice pretty much anywhere. In the Maldives step away from the standard resort offering of haute cuisine and all-you-can eat buffets and seek out true Maldivian cuisine – influenced by trade with the Indian subcontinent, Africa, Arabia and the Far East. Some resorts offer traditional food but for a true taste check out Male or one of the local islands, where spicy fish curry, fish soup, and mas huni – a healthy Maldivian breakfast of tuna, onion, coconut and chilli – are must trys. Note that alcohol is only served in resorts.
If you'd like to chat about Sri Lanka & Maldives or need help finding a holiday to suit you we're very happy to help.

Sri Lanka and Maldives travel advice
John Beswetherick, from our Sri Lanka and Maldives experts, Tikalanka, offers his top tips for visiting these two Indian Ocean nations together:
Why visit Sri Lanka & the Maldives at the same time
"With just an hour and a quarter flight between them, Sri Lanka and Maldives are an ideal tropical islands combination. The superb soft white sandy beaches, exotic sea life around colourful reefs and world-class resorts in Maldives amply complement the rich experience of the history, culture, scenery and wildlife of Sri Lanka."
Best time to visit
"You can visit Sri Lanka at any time since you can avoid the seasonal monsoons by visiting the unaffected areas of the island. Maldives is best visited from November to April, outside of the southwest monsoon season, but May to October will offer you much better prices and discounts."
Sri Lanka & the Maldives for families
"Both islands are perfect for families. Sri Lanka offers the excitement of seeing leopards and elephants in the wild on a jeep safari, staying in tree houses and mud huts in the jungle, running rapids on a white-water rafting trip, and cycling between paddy fields and tea plantations. The island resorts in Maldives have some very special family villas, on land and over water, as well as kids' clubs, banana boat rides and manta ray feeding."
Sri Lanka & Maldives holiday tips
from our travellers
At Responsible Travel, we think the best people to advise our travellers are often... other travellers. They always return from our tours with packing tips, weather reports, ideas about what to do - and opinions about what not to.

We have selected some of the most useful Sri Lanka and Maldives travel tips that our guests have provided over the years to help you make the very most of your holiday – and the space inside your suitcase.

I would suggest to try the local curries and road side stalls in Sri Lanka. The food was amazing. Also take a rain coat!

"Make sure you book some days (ideally a week) at the end of the Sri Lanka tour to relax. The tour was amazing, but there was quite a lot of travelling by car which does wear you out. We had a week in the Maldives at the end which was amazing, but a few days on a beach in the south of Sri Lanka would also be a good option." – Greg Harris

"Take good mosquito repellant! Pack clothing for a variety of temperatures (from high heat on beaches close to the equator, to temperate cooler places in the tea-growing hills). The nice thing about this tour operator was that the itinerary which they provided took in the highlights of Sri Lanka with enough relaxation time in between. Although Sri Lanka is a small island it takes time to get to places as the roads are not always good- so we would recommend not trying to fit too much travelling in" – Jay Das-Munchi
More Sri Lanka & Maldives articles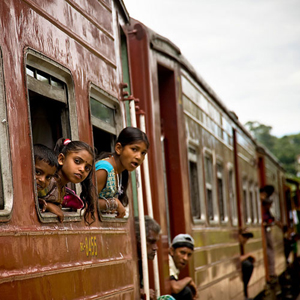 There are many good reasons to experience the neighbouring nations of Sri Lankaas part of the same tour.