Family canoeing holidays in Sweden
Give stuffy museums and dry YouTube documentaries the heave-ho. The best way to help your kids' history lessons sink in is to let them live them out for real. Follow in the footsteps – or rather the paddle strokes – of Viking warriors with a
family canoeing holiday
through Sweden's stunning Marviken lake system. You can leave the axe at home, though; no pillaging is necessary, as meals and cooking equipment are provided. And what many visitors find really amazing is that the serenity and spectacular landscapes can be found just a very short distance from Stockholm.
Sweden canoe trips take you through the province of Sörmland, just to the southwest of the capital. It's a land of royal palaces and castles, charming seaside towns and, above all, blissfully quiet countryside which is even more peaceful when seen from the water.
Week-long holidays involve three days of canoeing along an ancient Viking waterway, over the Marviken, Klämmingen and Sillen lakes. You begin in Mariefred, just an hour by road from Stockholm, and finish in the popular resort town of Trosa, long a favourite with Swedish royalty (and pop royalty – ABBA's Benny and Björn are also known to frequent these parts). And if you've really got your water wings, then you can bookend your canoeing with kayaking day trips in Stockholm and Trosa – both lovely places to explore by water. Kayaking and canoeing are very similar, the key differences being slightly different seating arrangements, and that a kayak paddle has a blade at each end while a canoe paddle has only one.
These lakes are, for the most part, pleasantly calm and flat – ideal for the family that fancies a bit of wholesome exercise on their holidays, but nothing too strenuous. If the wind is against you, though, it gets a little tougher, so putting in even a few hours on the rowing machine before you go could pay off later.
Our Sweden family family Holidays
Canoeing in Sörmland
One potential itinerary will see you practice your stroke as you descend Lake Marviken, notable for the 50m cliffs on either side, which formed as a result of a mountain splitting down the middle. On day one, paddle for around 13km and reward your exertions with a night of camping right on the shore, bedding down to a soundtrack of gently lapping waves and the lake's birdlife.

Day two sees you tackling Lake Klämmingen, a 17km journey, past the handsome Södertuna Manor on the shore of Lake Frösjön, and Gnesta, which eagle-eyed fans of mediocre movies may recognise as a filming location for The Girl with the Dragon Tattoo (2009). Klämmingen is lined with little beaches ideal for tucking into the picnic lunch you'll have been provided with. Holiday companies take every opportunity to boost the regional economy with food sourced from independent suppliers in the local area, and in the evenings there will always be a locally owned restaurant for your dinner. Hearty Swedish cuisine will leave you full and happy. Leaving Klämmingen, you follow a narrow canal out of Klämmingen that leads you to Lake Sillen, and a gorgeous lakeside country house where you'll spend the night.
In Mälby, it's time to shoulder your paddles for the last time as you descend Lake Sillen, leaving the lakeland region, and following the river to lovely Trosa, where there are plenty of restaurants and pubs around to satisfy the appetite you've no doubt built up over the last 16km. After Trosa it's just a short bus journey back to Stockholm (you can leave the canoes behind, in case you were wondering), where there's the option to do a little kayaking if you still have strength in your arms. If not, perhaps explore the capital's beautiful Ecopark, or some of its many prestigious museums.
When the wind is with you, you'll be surprised how quickly you can cover the distances involved, so you can take it nice and leisurely. Have a little swim after lunch, maybe; in the summer the water is okay – not warm, but still lovely. There will be a few 'carries' involved where you need to move your canoes across land. The longest is just less than a kilometre, but wheels are handily provided.
Our top Sweden family family Holiday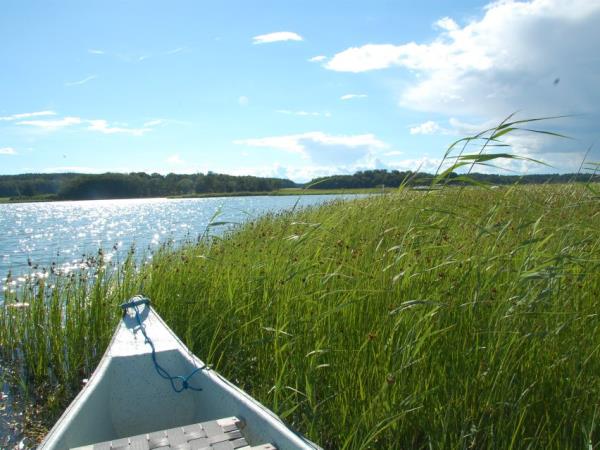 Multi-activity tour in Stockholm's picturesque countryside
From
SKr10500
7 days
ex flights
Small group travel:

If you'd like to chat about Sweden family or need help finding a holiday to suit you we're very happy to help.

Practicalities
The minimum age for canoeing holidays in Sweden is usually eight, but younger kids can always be considered on request. Why shouldn't they get to play at being Vikings too?
Holidays operate between May and September, and last a week including three days of canoeing the lakes. They are self guided, but you need have little fear of getting lost as you'll be equipped with detailed maps, as well as route notes describing the area's flora and fauna, culture and history.
Basic instruction and safety advice will be given, but these are generally very smooth waters. That said, given you'll be travelling unguided, gaining a little prior experience before you go will do wonders for your family's confidence. As will picturing themselves as marauding Vikings on the warpath.
"The canoeing was fabulous," says Ian Buckley, a previous traveller, "especially the first day in the narrow Marviken lakes. Going through the tunnel that connected two of the lakes was especially exciting for our five-year-old. The rivers connecting the wider lakes were also very memorable, as was the camping... Although only a relatively short time, we felt we got to see a real snapshot of Sweden and some of the beautiful places (and off the usual tourist track)."