Family multi activity holidays in Sweden
They are organised, in the words of one recent traveller, "like a military operation". From the outside, multi activity holidays in the Swedish countryside are relaxed and immensely fun throughout. Behind the scenes, however, an immense amount of time and effort has been put in to ensure that families can happily get around by themselves with the minimum support. Adventurous, but sensible too. How very Scandinavian.

You'll follow a prearranged itinerary around the province of Sörmland just to the southwest of Stockholm. Getting to your start point in the picturesque village of Mariefred is simply a short steamboat ride across Lake Mälaren. From here, it's a week of hiking, cycling and canoeing through Sörmland's peaceful scenery, liberally scattered with royal palaces and castles, around lakes and into deep pine forests. You'll stay in a different location every night: a historic seaside town such as Trosa; a lakeside campsite; or a guesthouse near the town of Gnesta, which was used as a filming location for The Girl with the Dragon Tattoo (2009).

All routes are well-marked, and comprehensive maps and notes are provided by holiday companies that know the area firsthand, so the chances of getting lost are minimal. Then again, if you're going to get lost anywhere for a little while, you'd probably want it to be somewhere like this. As George Clayson, who visited the area in 2018, puts it, "…the peace and tranquillity combined with the beauty of the countryside was simply incredible and the water in the lakes like a lovely warm bath... Four nights in the countryside kayaking, mountain biking, walking and boat tripping was a fabulous success for my family, including two teenage kids who are eager to return." Daily itinerary timings are generous, so if you do want to wander off the route for a bit, or enjoy an extended lunch, then it's entirely up to you.
Our Sweden family Holidays
Wild about Sörmland
A constant theme of reviews of these holidays is how off the beaten track you feel, when in fact you're just an hour from Stockholm. True, Sörmland and locations such as Trosa and Mariefred are very popular holiday destinations – especially in summer – but once you're off on your bike or paddling your canoe, any hint of a crowd just drifts away.
Carmen Hamdi, from our Swedish travel specialists Nordic Trails, emphasises the convenience with which you can find blissful isolation: "What makes these trips so great for families, I think, is partly that you can easily mix city and country. You're so close to Stockholm, but you're amid wilderness. Especially on a multi activity trip – you're hiking and you might not meet anyone else all day. It's amazing how quickly and easily you can get into the countryside, within an hour. And there's no mass tourism here."
No mass tourism perhaps, but still plenty to do. Expect a healthy mix of cultural sightseeing, perhaps touring the historic Gripsholm Castle or the Royal Tullgarn Palace, and (moderately) adventurous activities. Sure, you won't be rafting over Grade V rapids here or abseiling down sheer rock faces, but you will certainly be sleeping well every night after plenty of exercise in the fresh air. You'll cycle over rural hillsides and across idyllic open meadows, canoe through the Marviken lake district, and break up your hikes with a refreshing swim now and again. It's not the Med by any means, but in midsummer the Sörmland waters are very inviting.
Going local
Sörmland is the type of place where you can't help but support the local economy with pretty much every move you make. Holiday companies such as Nordic Trails are thoroughly immersed in the region and make every effort to spread the benefits of tourism around. "We really try hard to use local providers wherever possible," says Carmen. "Equipment for activities is sourced from local suppliers. When you're camping we help you get biscuits from the local baker, and sandwiches from local café. The furthest that food comes from is Stockholm." Swedish produce is used for meals at every opportunity, and recommendations for restaurants to use in the evenings are readily forthcoming.
And while these holidays are usually self guided, the attention to detail when it comes to pre-tour information means they're less of an immersive experience. You'll be provided with all you need to know about the local area, including the flora and fauna, as well as historical and cultural points of interest to look out for along the way. Support is there if you need it, but in all likelihood you won't. Carmen is confident in leaving her groups to it: "Although our trips are for the most part self guided, I make a point of meeting everyone on arrival. But then I'm confident about releasing people into the wild afterwards because I know these routes like back of my hand, and I've drawn up the maps. I let local people step in for the rest."
Our top Sweden family Holiday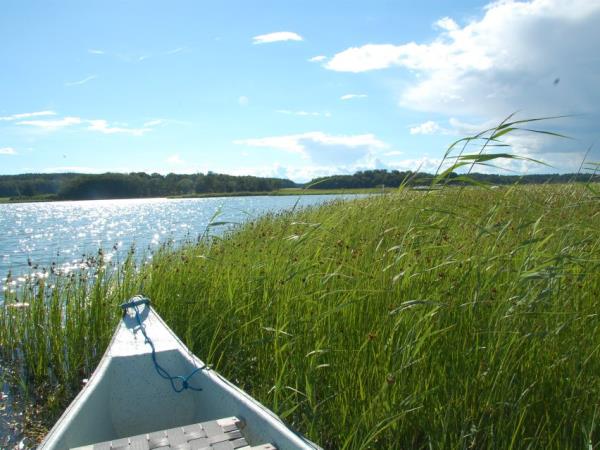 Multi-activity tour in Stockholm's picturesque countryside
From
SKr10500
7 days
ex flights
Small group travel:
2023: 9 Jun, 16 Jun, 30 Jun, 4 Jul, 11 Jul, 18 Jul, 1 Aug, 18 Aug, 1 Sep, 8 Sep, 15 Sep, 22 Sep
If you'd like to chat about Sweden family or need help finding a holiday to suit you we're very happy to help.

Practicalities
The minimum age for multi activity family holidays is usually 10, as some of the activities can be fairly strenuous. That said, no one knows what your kids are capable of better than you, so if you think they're up for a bit of a challenge then it's always worth discussing it with the holiday company. Routes and activities can potentially be adjusted to your requirements with enough prior notice.

That's because while these are essentially small group tours, you will for the most part be travelling around on your own, often only encountering the rest of your group during transfers. "Guests do like the hybrid nature of the tours," says Carmen. "You're part of a group, but it's entirely up to you how much you engage, as you're also self guiding so you can go at your own pace and detour whenever you like."

Family multi activity holidays in Sweden typically operate over a week between May and September, with the warmest and sunniest weather to be found in July and August – although there'll be more people too, of course. Given you're out in the countryside, bug repellent will be handy in summer especially when near water, and packing for the possibility of rain is wise. Other items you'll want to think about slipping into your suitcase, based on advice from previous travellers, include a watertight phone bag for canoeing days and sufficient chargers for phones on the off-chance you need to refer to an online map.
Your luggage will be transferred between accommodations for you, so that all you'll need to carry with you are daypacks. That being said, a modicum of fitness is necessary, as traveller Jonathan Moreland found with his family: "Although the activities are certainly not overly challenging, you do feel you have earned your supper in the evening." Good thing the food is so appetising. Local venison, elk or wild boar for the carnivores perhaps, and moose milk pie for the vegetarians? Taxinge Manor, a stately home in Mariefred, is said to boast the largest cake buffet in northern Europe – an irresistible treat for dessert lovers.
As for the distances you'll cover, they vary by the activity. On a bike you might ride anywhere from 30km to 45km, so figure 2-5 hours a day in the saddle. You might hike up to 15km over undulating terrain, so assume about five hours in a day. When canoeing, you'll be going around 13km but it's surprising how quickly you go across calm water. Note that you will occasionally need to carry your lightweight canoes for short distances too. A good pair of trainers for everyone will be fine.