The trees are so closely packed that there could be anything moving behind them and you wouldn't know. You look ahead to your guide for reassurance, and he puts his finger to his lips then points down at the ground at your feet. A huge paw print, unmistakably that of a tiger, shows you're on the right trail. Another hundred metres and your guide pauses again, this time indicating a large pile of fresh dung: this is rhino territory, as well. The massive one-horned rhino of Nepal uses dung as a kind of social network, the zoologist guide explains, able to tell from the smell the age, sex, reproductive status, even the health, of other rhinos passing by. A foot safari is hard work, trekking over uneven ground, and nerve-wracking at times too. But what a thrill – you never get this type of excitement behind the window of a jeep.

Nepal is one of the best places in the world for tiger safaris. There are thriving populations in Chitwan and Bardia national parks. Expert local guides know precisely where to go for optimal chances of sightings. But most significantly of all, Nepal is among the few places where you can track tigers and other wildlife such as leopards, rhinos and sloth bears on foot. And don't worry, they're as adept at keeping a safe distance from you as your guides are at tracking them.
Nepal tiger safaris
explore the richly diverse ecosystems making up the Terai region, a fertile ribbon of land that runs parallel with the Himalayas. The habitats here – a mix of jungle, sal forest, grasslands and river systems fed by monsoon run-off from the mountains – can be explored on foot and by jeep, boat and canoe, enabling sightings of a huge range of species. You can also spend the night in a watchtower, training a spotlight on the jungle edges for animals on the hunt under cover of darkness.
Martin Royle, founder of our expert wildlife watching partner Royle Safaris, has no hesitation in recommending Nepal: "The tiger population here is quite healthy – in fact, probably at the maximum that many of the habitats can support. But they are finding more and more evidence of tigers in the higher altitude parts of the Himalayan foothills too, which is great news. Whether the tigers have always been there but it is just now we are sampling the area with more scientists and camera traps, or whether they are making their way back to their historical range, we don't know yet. But either way, it is very encouraging and increases the potential tiger habitat massively in a small country."
There are thought to be up to 250 tigers in Nepal, which is one of the few countries where numbers are on the increase. Almost all of them are found in two national parks: Chitwan and Bardia. Elsewhere, there is little to no tourist infrastructure to help with exploring wild terrain. Read on to learn what you can expect from tiger watching in Nepal, from the wildlife you'll see to the best time to go.
Where can I see tigers in Nepal?
Chitwan National Park
Chitwan National Park offers ideal habitat for tigers and many other birds, reptiles and amphibians across habitat composed of jungle, sal forest, grassland and river systems. It's not exaggerating to say that Chitwan is among the world's greatest wildlife watching destinations. There are leopards and sloth bears here, mugger crocodiles in the river, and over 500 Indian one-horned rhinos – the reason why the park was created in the first place.
Chitwan jungle safaris take three forms, each of which give a unique perspective. Canoeing is a relaxed way to travel, promising sightings of wading rhinos, gharials basking on the riverbanks, and large mugger crocodiles. Canoeing is also an excellent way to admire Chitwan's wondrous birdlife: kingfishers, bee-eaters, storks, crested serpent eagles, hornbills, parakeets, sand martins and barn swallows.
Jeep safaris along Chitwan's extensive road network depend on weather conditions, but can take you to all of the best wildlife watching areas, as well as breeding and research centres for gharial, freshwater turtles and vultures. You will also head out through forest and grasslands on foot with your guides in search of elusive tigers and other animals – an incredible experience where the colours, sounds, smells and textures of the landscape grow even more vivid.
Bardia National Park
Bardia, along with Chitwan, is among the largest and most pristine national parks in the Terai region. Of the two, Bardia has a slightly higher success rate in tiger spotting – full-day jungle treks are recommended here. What makes Bardia special, though, is that its remote location means it is far quieter than Chitwan, and at times it can feel as though you have it all to yourself.

You can also visit breeding centres for freshwater turtles and gharials in Bardia, both of which are in serious trouble and in desperate need of effective conservation. These projects are essential for their long-term survival and your visit will contribute financially to their work. There is also a sanctuary for blackbuck antelopes in Bardia – a beautiful animal that's all but disappeared in Nepal.
Koshi Tappu Wildlife Reserve
This protected area in eastern Nepal derives its name from the river bordering the sanctuary, and spans some 175km2 of wetlands comprising mudflats, reed beds and freshwater marshes in the floodplain. Guided walks take you along the riverbanks, through lagoons, grasslands and woodlands, and on the river itself aboard boat safaris. Not as well-known or well-visited as Chitwan, it can also be easier to find the wildlife here.

Koshi Tappu Wildlife Reserve is home to the last remaining wild water buffaloes in Nepal, and they are often seen from the river. If you're extremely lucky, you may also see the rare Ganges river dolphin. Gharials and mugger crocodiles, otters and the occasional big cat trying its luck with the fish can also be seen. The birdlife includes swamp francolins, red-necked falcons and striated marsh warblers, while on foot your guides can also point out hog deer, chital, nilgai (the largest antelope outside of Africa) and golden jackals.
Our top trip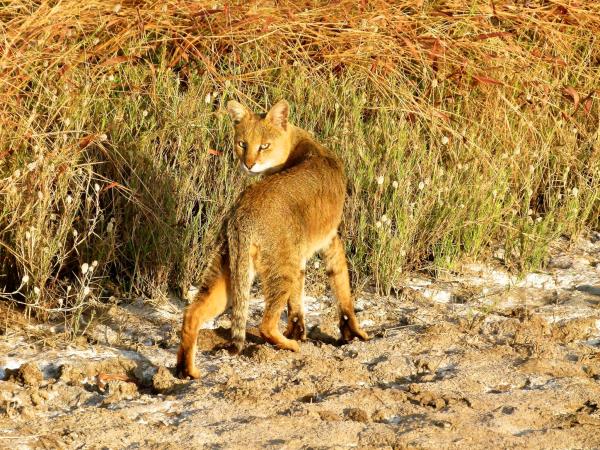 Explore Nepal's terai region on this unique safari
From
£2950
10 days
ex flights
Tailor made:
This trip can be tailor made throughout the year to suit your requirements
If you'd like to chat about Tiger safari or need help finding a holiday to suit you we're very happy to help.

What do tiger safaris in Nepal involve?
Nepal tiger watching tours are usually tailor made trips, allowing you to select the dates and level of accommodation you want, and also giving you flexibility in your itinerary. In fact, these trips can be organised for just one person if you have the budget, so that you can say exactly where you'd like to go, what activities you'd like to do, and what other wildlife you'd like to track. A typical itinerary is around 11 days long, with plenty of time for jungle tours and river canoeing deep in the national parks, and therefore greater opportunities for finding tigers.
You'll fly into Nepal's capital, Kathmandu, with potentially some time for sightseeing while you acclimatise to the high altitude. Moving on to Chitwan or Bardia, you will either take short internal flights or longer road journeys. You'll have a private air-conditioned vehicle carrying a supply of filtered or bottled water throughout your trip.
Most importantly, tiger safaris are accompanied by local cultural and naturalist guides who have spent years in Chitwan and Bardia, and who have superb connections to local communities that ensure they get great information on the latest sightings. You'll also benefit from the company of a zoologist experienced in big cats, and occasionally scientists and researchers. Not only will there be more expert eyes scanning the jungle, but you'll also get a deep understanding of animals' behaviours and habitats.
Tiger sightings can never be guaranteed, but the success rate is very high, and nearly as good when on foot. Trekking through jungle, forests and grasslands over uneven terrain for up to eight hours a day can be hard going at times, so the minimum age is 18 and a decent fitness level is needed. There are plenty of potentially dangerous animals around too (tigers, yes, but also rhinos and elephants) and on rare occasions evasive action may be needed to give them their space.
A night on watch
The buffer zones around Chitwan and Bardia are dotted with watch towers – mostly concrete structures with a few basic rooms including a toilet and balconies around the outside for observation. Nepal tiger safaris will usually include spending a night in a forest clearing about 10m above the ground. With the aid of a high-powered spotlight, you may see tigers and leopards skulking in the shadows, rhinos, deer, wild boar and monkeys foraging, even distant herds of elephants in the long grass.
Cultural activities
"In general, local people around the Terai like the tiger," says Martin Royle. "They've lived with many large and potentially dangerous species for thousands of years and so have established sustainable ways of living alongside them. Of course, with increasing human population comes deforestation and many other human/animal conflicts and Nepal is no different. But the combination of Buddhism and animist views among the Terai peoples means that the animals are not persecuted as in other areas."
Another major influence in terms of conservation and the local people's positive attitude to tigers is that the locals around Chitwan and Bardia are granted 30-50 percent of the revenue generated from the parks via tourism. This money is given to community leaders and used to establish infrastructure such as roads and schools. Locals can still graze livestock and collect wood and food from the forest at certain times of year too.
Nepal's efforts can be considered some of the best examples of sustainable ecotourism in the world, with increasing populations of tigers, bears, leopards, rhinos and elephants. The government has had the confidence to scale its conservation projects back a little, increasing people's sense of goodwill.

Wildlife watching tourists are therefore welcomed with open arms, and lodges will sometimes help families living nearby by organising cultural activities for their guests. Village community halls host traditional dance performances in the evenings, so that people not directly involved in the parks can still benefit financially from tourism.
Best time to go on a tiger safari in Nepal
The best time to go on a tiger safari in Nepal coincides with the optimal trekking season: mid-January to mid-May. This is the middle and end of the hot dry season, before the monsoons when wildlife gathers around waterholes, and there is the chance to witness predators in action. March heralds the glorious Nepalese spring, with longer days and warmer temperatures, though it still gets very chilly at night.
What animals can I see in Nepal?
When people think of Nepal, the images that come to mind are probably Himalayan peaks, Buddhist temples and trekking to Everest base camp. But this is one of the best countries in Asia for wildlife safaris, and a big reason for that, as Martin Royle points out, is the level of protection afforded to animals such as tigers, elephants, rhinos and leopards that are often victims of poaching rings.

"There wasn't a rhino poached inside Chitwan for over a decade until around 2018," says Martin. "And quite simply, that's down to military action. There is a state-sponsored, well-equipped and trained anti-poaching army available in all protected areas of the country, with leftover troops and forest bases from tackling decades of Maoist insurgency. That added threat has massively reduced the desire to risk poaching in Nepal."
Besides tigers, wildlife safaris in Nepal may encounter:
Asiatic elephants Indian one-horned rhinos Leopards Jungle cats Sloth bears Ganges river dolphins Gharials (fish-eating crocodiles) Masses of birdlife, both endemic and migratory
Tigers are rarely seen outside Bardia and Chitwan, but if you're on a tailor made holiday you can easily add an extension to go further. There are clouded leopards in Langtang, snow leopards around Manang, red pandas in the far east of Nepal, and you can also add in some Himalayan trekking or cultural activities. Responsible tiger safaris in Nepal use expert local guides to ensure that you're going to the right places at the right times. Their extensive contacts across the country mean that if an animal is known to be in a new location, a diversion can quickly be arranged.
Budget vs luxury tiger safaris in Nepal
There are three main differences between luxury and
budget tiger safaris in Nepal
. On a luxury Nepal tiger safari, you'll usually take internal flights between destinations instead of long and often bumpy road transfers. You will have more private jeep safaris (which can be very expensive) on a
luxury tiger watching tour
, and more canoe and walking safaris on a budget trip, though every trip includes at least one of these activities to give you the full experience.
The final key difference is the accommodations used. While you will always enjoy good restaurants on-site serving a mix of Western and local foods, rooms with fans and air conditioning, private bathrooms and grounds to wander, on a luxury Nepal tiger tour you might also benefit from free spas and pools, larger rooms, and lodges that are more remote and quiet. Wherever you stay, though, if you're on a responsible tiger safari then the lodge will invest in the surrounding communities, perhaps by organising cultural activities or employing local people.
It's worth pointing out that Nepal safari lodges will frequently offer a range of optional activities not included in your tour itinerary which you can pay for as a supplement. Elephant riding is sometimes among these activities.
We don't support elephant riding
, and you won't find us selling holidays that feature it.
Where is best for tiger safaris: Nepal or India?
You have a greater chance of seeing tigers in India's Ranthambore or Pench than you do in Nepal's Chitwan or Bardia. However, there are several key advantages to choosing a tiger safari in Nepal over India.
The first and most obvious is that you can experience the thrill of tracking tigers on foot in Nepal. India only offers jeep safaris. Secondly, the Nepalese national parks and reserves tend to be far less busy than their Indian counterparts. And lastly, Nepal is usually a little less expensive. When you add the fact that the success rate for tiger spotting in Nepal is excellent – not too far off that of India – it's clear that Nepal one of the best places in the world to see tigers in the wild.
More Tiger safari articles